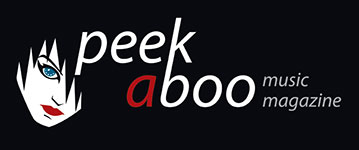 like this cult movies review
---
GILLES BEHAT
Rue Barbare
Movie
•
Cult movies
Action
•
Drama
[81/100]

Studio Canal
15/08/2015, Didier BECU
---
Not everything in life is crystal clear. Someone has to explain me why one of France's best (and if not, surely one of the most brutal) films is totally ignored. It is almost impossible to find the movie on DVD, there is no vendor (not even in France) who has ever heard of it and despite all that, Rue Barbare remains a great cult movie.
The story is simple. It takes place in the future (we do not know exactly when), but it is certainly an era in which any kind of moral sense has been lost. Daniel Chetman (Bernard Giraudeau) has promised himself never to get involved again in the misery of others as it always gets him in trouble. But from the first minutes of the film, he must break that promise when he takes care of a young Chinese girl, who is raped by Matt Hagen (Bernard-Pierre Donnadieu). He better had not done so, because Matt is the leader of the Barbarians, a gang of which he used to be a member. In no time Chetman is embroiled in a game that knows no mercy. He meets his old love Manu again (Christine Boisson, who was once a femme fatale in Emmanuelle).
With some good will you can compare Rue Barbare with Mad Max, at least if you replace the barren desert with some French desolate streets. The characters are so over the top that they're funny, but because of their dangerous excesses they never seem ridiculous. Giraudeau, who later became one of France's finest actors, is excellent as an underdog hero, while Bernard-Pierre Donnadieu (once a terrible serial killer in Spoorloos by George Sluizer) is ideally cast as a dangerous lunatic. Rue Barbare has a very decadent character and was very daring for its time. And let us not forget that brilliant rock soundtrack by Bernard Lavilliers, that fits perfectly with the atmosphere.
Everything about the film is cult, and it is a movie that you should definitely see. It is one that you have to seek at the flea market, which might be a long search (but yours truly can tell you that at the end of the day persistence wins). Rue Barbare was released by StudioCanal through the Crime & Cinema-series. A brilliant series with titles that now have become a collector (also Rue Barbare), for example you have to pay 185 euros on Ebay for Descente aux Enfers with Sophie Marceau. Good luck!
Didier BECU
15/08/2015
---
Niet alles in het leven is even duidelijk. Zo moet er mij maar eens iemand uitleggen waarom één van Frankrijks beste (en zo niet, toch een van de meest brutale) films totaal genegeerd is. Je vindt de film allesbehalve vlot op dvd, er is geen verkoper (zelfs niet in Frankrijk) die er ooit van gehoord heeft, op de IMDb-site wordt hij amper aangeklikt en toch is Rue Barbare een fantastische cultfilm.
Het verhaal is eenvoudig. Het speelt zich ergens in de toekomst af (wanneer weten we niet precies), maar het is in ieder geval een tijdperk waarin elke vorm van moreel besef verloren is gegaan. Daniel Chetman (Bernard Giraudeau) heeft zichzelf beloofd om zich nooit nog wat aan te trekken van de miserie van anderen, want zijn goede wil heeft hem steeds in de penarie gebracht. Maar vanaf de eerste minuten van de film moet hij deze belofte vaarwel zeggen als hij zich bekommert om een jong Chinees meisje dat verkracht is door Matt Hagen (Bernard-Pierre Donnadieu). Dat had hij beter niet gedaan, want Matt is de leider van de Barbaren, een bende waarvan hij vroeger ook deel uitmaakte. Binnen de kortste keren zit Chetman in een spel verwikkeld dat geen genade kent en ontmoet daardoor opnieuw zijn oude liefje Manu (Christine Boisson, ooit nog een femme fatale in Emmanuelle).
Met wat goede wil kan je Rue Barbare met Mad Max vergelijken, ten minste als je de kale woestijnvlakte door desolate Franse straten vervangt. De karakters zijn zo over the top dat ze grappig zijn, maar door hun gevaarlijke uitspattingen worden ze toch nooit belachelijk. Giraudeau, die later één van Frankrijks beste acteurs zou worden, schittert als held, terwijl Bernard-Pierre Donnadieu (ooit nog een verschrikkelijke seriemoordenaar in Spoorloos van George Sluizer) ideaal is gecast als levensgevaarlijke gek. Rue Barbare heeft een zeer decadent karakter en was zeer gewaagd voor zijn tijd. En laten we ook de briljante rocksoundtrack van Bernard Lavilliers niet vergeten, die perfect bij de sfeer past.
Alles aan de film is cult, en het is eentje die je absoluut moet zien, al zal je de dvd op de rommelmarkt moeten zoeken, en dat is een calvarietocht die wellicht lang kan duren (maar ondergetekende kan je verklappen dat de aanhouder uiteindelijk wint). Rue Barbare werd destijds op Studio Canal via de Crime & Cinema-reeks uitgebracht. Een schitterende serie waarvan nu bijna alle titels een collector zijn geworden (ook Rue Barbare). Zo mag je tegenwoordig voor Descente Aux Enfers met Sophie Marceau op Ebay 185 euro neertellen. Zoeken tussen de rommel dus!
Didier BECU
15/08/2015
---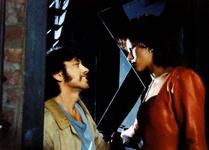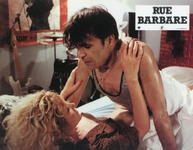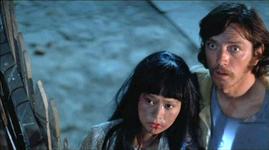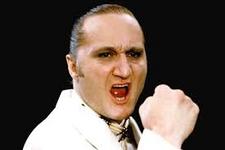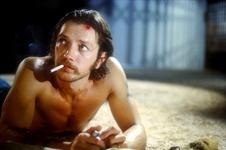 ---