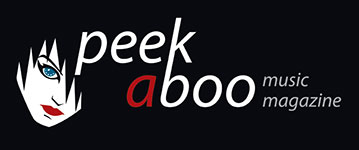 like this tv series review
---
THE 100 SEASON 1
Movie
•
TV series
Action
•
Science Fiction
Warner Home Video
13/07/2015, Didier BECU
---
It was of course only a matter of time, but in the wake of blockbusters such as The Hunger Games , The Maze Runner or Divirgent, there is now a series based on a young adult book. Over here the books of Kass Morgan are less known, but in the States they are bestsellers. Reason enough for CW to make a series of it. That's no coincidence, because with series like Arrow and especially The Vampire Diaries production company already focuses on the youth. Just as in the above examples, The 100 is about survival.
The series is set in the future, 97 years after a nuclear war that caused the death of most humans. There are still some 2,400 people left, but they all live in space stations with Chancellor Thelonius Jaha (Isaiah Washington) as their leader. After a century, they begin to wonder whether it is possible to live on the earth, because there is an acute shortage of oxygen in the Arch (no, we're not talking about the wooden ship of the Bible figure with the animals, but this name refers to the whole of the twelve space stations). Because not everyone is keen to do this dangerous task, they send 100 young people to the former Washington. That might seem like a cruel decision, but there are strict rules on the Arch. Those who commit the slightest misdemeanor, are liquidated immediately, unless the offender is under 18. For the 100 young people the earth is a totally different world that they only know from television images. They are heading to the Mount Weather Emergency Operations Center, but as a result of all sorts of problem, they are far away from it. It is not a tedious journey, because there are still people living on earth. Well, they look like people, but they are extremely dangerous. There are three groups: Grounders, the cannibalistic Reapers and Mountain People.
Perhaps, the concept of The 100 does not look new, but this science fiction series certainly is. Because it involves a group of young people, we feared that it would be a bit too mellow, but despite a few superfluous love affairs, The 100 is a series that will attract young and old. Some may complain that this series looks anything but realistic, but if you want drama, adventure, excitement and entertainment in a series, then The 100 belongs in your collection.
The 100 is now available on DVD through Warner.
Didier BECU
13/07/2015
---
Het moest er natuurlijk een keer van komen, maar in het kielzog van bioscoopkrakers zoals The Hunger Games, The Maze Runner of Divirgent is er nu ook een youngadult-boek in serievorm. Bij ons zijn de boeken van Kass Morgan iets minder bekend, maar in de States zijn ze bestsellers. Reden genoeg voor CW om er een serie van te maken. Heel toevallig is dat niet, want met reeksen als Arrow en vooral The Vampire Diaries, mikte de televisiezender eigenlijk altijd al op de jeugd. Net zoals in de opgesomde voorbeelden gaat het in The 100 om overleven.
De serie speelt zich in de toekomst af, 97 jaar nadat een nucleaire oorlog ervoor zorgde dat bijna de hele mensheid is verdwenen. Er zijn nog zo'n 2400 mensen overgebleven, maar die leven allemaal in ruimtestations met Kanselier Thelonius Jaha (Isaiah Washington) als leider. Na een eeuw begint men zich af te vragen of de aarde niet opnieuw bewoonbaar zou zijn, er is immers een nijpend tekort aan zuurstof op de Ark (neen, we hebben het niet over de houten boot van die bijbelfiguur met zijn dieren, maar zo heten de twaalf ruimtestations). Omdat niet iedereen staat te springen om deze gevaarlijke opdracht uit te voeren, stuurt men gemakshalve 100 jongeren naar het vroegere Washington. Dat lijkt misschien een wrede beslissing, maar de leiders verweren zich door te stellen dat het om jongeren gaat die in de gevangenis zitten. Er gelden immers strenge regels op de Ark. Wie ook maar het kleinste misdrijf pleegt, wordt meteen geliquideerd, behalve als de dader nog geen 18 is. Voor de 100 jongeren is de aarde een totaal andere wereld, die ze alleen maar van televisiebeelden kennen. De 100 moeten naar het Mount Weather Emergency Operations Center, maar door allerlei problemen zijn ze een flink eind daarvan verwijderd. Een vervelende tocht wordt het niet, want er blijken nog steeds mensen op aarde te wonen. Nou ja, ze zien eruit als mensen, maar ze zijn levensgevaarlijk. Er zijn drie groepen: de Grounders, de kannibalistische Reapers en de Bergmensen.
Het concept van The 100 oogt misschien niet nieuw, maar deze sciencefictionreeks is dat wel degelijk. Omdat het om een groep jongeren gaat, vreesden we bij aanvang dat het allemaal iets te afgelikt zou zijn, maar ondanks een paar overbodige liefdesscènes is The 100 een reeks die jong en oud zal kunnen boeien. Azijnpissers zullen zich misschien storen aan het feit dat deze serie allesbehalve realistisch oogt. Maar als je drama, avontuur, spanning en amusement in een serie wil, dan moet The 100 in je collectie.
The 100 is vanaf nu beschikbaar op dvd via Warner. Wie op het puntje van zijn stoel zat tijdens de avonturen van Katniss Everdeen, zal dat ook doen bij deze honderd avonturiers!
Didier BECU
13/07/2015
---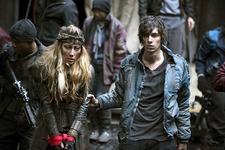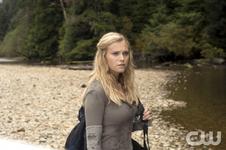 ---