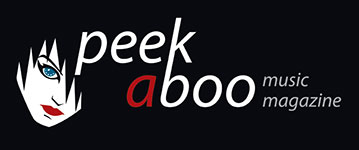 like this movie review
---
ALAN TAYLOR
TERMINATOR GENISYS
Movie
Action
•
Science Fiction
[69/100]

Paramount Pictures
01/07/2015, Didier BECU
---
It remains difficult to review reboots or remakes. One is looking forward to it, while the other sees it as pure sacrilege. Anyway, it is impossible to delete them from modern Hollywood, because these movies still brings in tons of money. With a production budget of 170 million dollars the producers still had apparently plenty of confidence in the Austrian beefcake. That's strange when you know that all his recent films (apart from The Expendables 2) barely made ​​ the cinema. But no fear, Hollywood is crazy, but not that crazy! In this reboot Arnie was reduced to (as it is been said in the film) an old relic that is still useful.
If you have the original Terminator 1984 by James Cameron in your collection, then we give you the advice to rewatch it before entering the movie palace as Terminator Genisys is (to put it mildly) a fairly complex film that will let explode the brains from those who are not familiar with the original one. In the first one Arnie was the baddie, a cyborg that had to kill Sarah Connor. The waitress does not know it yet, but in the future she will bear a son who can save the world (after a nuclear war ) from the destructive power of the machines that exploit people in work camps. The two sequels were a perfect story. Nobody understood how Hollywood could change that, but in 201( , there is such a thing named CG effects.
Rebel leader John Connor ( Jason Clarke) already send a protecting terminator to Sarah Connor (Emilia Clarke of Game Of Thrones) when she was a child! We see parts from the original Terminator in where the old Schwarzenegger exterminates his younger self. On paper it looks pretty grotesque, but it works on the big screen! The ode to the old Cameron movies goes even further when suddenly the T1000 (Lee Byung Hun) turns up: a terminator that can adapt himself to anything! Sarah gets a second guardian angel, because just like in the first film Kyle Reese ( Jai Courtney ) travels to the past. That is of course necessary because he must fall in love with Sarah as he is John's father.
As if this story is not complicated enough, the makers have added a lot of other storylines (John Connor has chosen the other side so he has to be killed too) and in the end the logic is completely lost. After two hours of film you are completely exhausted. The sloppy scenario is indeed the weak link of this reboot. For the rest, the creators have chosen a first-rate solution. You do not see an old man who cleans up the streets of Los Angeles, but an ancient robot who laughs with himself. Schwarzenegger is two hours long named as the "old one". These jokes adorn Arnie, as sometimes it seems as if he's laughing with all those films that have made him an icon. The special effects are outstanding. There will (here we go again!) of course be people who prefer the old tricks of Cameron over modern CG effects, but Hollywood today also lives in 2015. Afterwards you can ask yourself whether a fourth part was really necessary, but for the fans it is and remains a pleasant opportunity to see that old icon back. Oh, and do not leave the room if the end credits show up, because Alan Taylor subtly gives a hint that the end is not in sight yet!
Didier BECU
01/07/2015
---
Het blijft moeilijk om reboots of remakes te recenseren. De ene kijkt er reikhalzend naar uit, terwijl het voor de andere puur heiligschennis is. Hoe dan ook, het is onvoorstelbaar dat je deze dingen uit het moderne Hollywood wegdenkt, want tot spijt van wie het benijdt: dit soort films brengt nog steeds tonnen geld op. Met een productiebudget van (zucht) 170 miljoen dollar had men blijkbaar nog volop vertrouwen in de Oostenrijkse spierbundel. Dat is vreemd als je weet dat al zijn recente films (op The Expendables 2 na) amper de bioscoopzaal haalden. Maar niet gevreesd, in Hollywood is men wel gek, maar niet knettergek. In deze reboot werd Arnie gereduceerd tot (zoals het in de film wordt gezegd) een relikwie dat wel oud is, maar nog steeds nuttig.
Mocht de originele Terminator uit 1984 van James Cameron in je collectie zitten, dan geven we je de raad om die eerst nog eens te bekijken alvorens het filmpaleis te betreden want Terminator Genisys is op zijn zachtst uitgedrukt een vrij ingewikkelde film die de hersenen van leken zullen doen tilt slaan. In de eerste film was Arnie de baddie: een cyborg die Sarah Connor uit de weg moest ruimen. Het Amerikaanse dienstertje weet het zelf nog niet, maar in de toekomst zal zij een zoon baren die de wereld (na een kernoorlog) kan redden tegen de vernietigende macht van de machines die mensen in werkkampen exploiteren. De twee sequels die volgden vormden een perfect verhaal. Niemand begreep hoe Hollywood hier nog kon aan sleutelen, maar in 2015 bestaat er zoiets als CG-effecten waarmee je alle wegen uit kan.
Rebelleider John Connor (Jason Clarke) heeft ervoor gezegd dat Sarah Connor (Emilia Clarke uit Game Of Thrones) reeds van kindsbeen af een terminator had! We zien dan ook stukken uit de originele Terminator waarin de stokoude Schwarzenegger zijn eigen jonge ik elimineert. Op papier ziet zoiets er potsierlijk uit, op het witte doek werkt het! De ode aan de Cameron-films gaat nog verder wanneer plots de T1000 (Byung Hun-Lee) opduikt : een terminator die zich aan alles kan aanpassen! Sarah krijgt nog een tweede beschermengel, want net als in de eerste film komt ook Kyle Reese (Jai Courtney) terug. Dat is natuurlijk nodig want hij moet, zoals de Terminator het zelf zegt, nog paren met Sarah zodat John wordt geboren!
Alsof dit verhaal nog niet ingewikkeld genoeg is, hebben de makers er nog een heleboel andere verhaallijnen bijgegooid (zo komt bijv. John Connor terug als de boeman die moet worden uitgeschakeld) en ook de logica is op het einde volledig zoek. Na twee uur film ben je volledig uitgeput. Het scenario is dan ook de zwakke schakel van deze reboot. Voor de rest hebben de makers voor een puike oplossing gekozen. Je ziet geen hoogbejaarde aan het werk die de straten van Los Angeles opkuist, maar een stokoude robot die met zichzelf lacht. Zo wordt Schwarzenegger twee uur lang aangesproken als de "ouwe". Deze grapjes sieren trouwens Arnie, soms lijkt het erop alsof hij zelf aan het lachen is met de films die van hem een icoon hebben gemaakt. De special effects zijn uitmuntend. Er zullen wel (daar gaan we weer!) een hele hoop mensen zijn die de oude trukendoos van Cameron boven de hypermoderne CG-effecten zullen verkiezen, maar ook Hollywood leeft vandaag in 2015. Achteraf kun je je wel de vraag stellen of het nu echt nodig was om een vierde deel te maken, voor de fans is en blijft het een prettig wederzien. O ja, en de zaal niet verlaten als de lettertjes opkomen, want Alan Taylor heeft subtiel aan dat het einde nog niet in zicht is!
Didier BECU
01/07/2015
---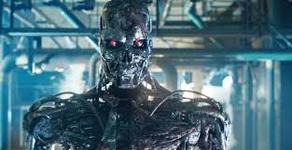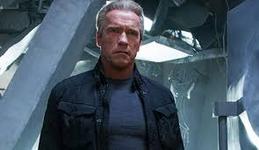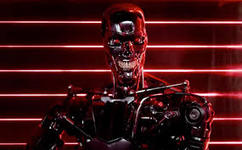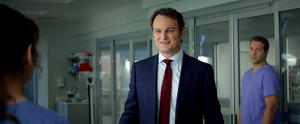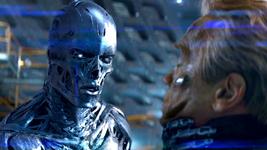 ---