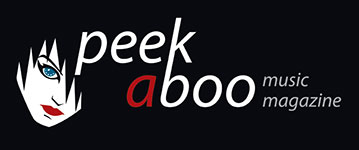 like this movie review
---
JAUME COLLET-SERRA
Run All Night
Movie
Action
[65/100]

Warner Home Video
24/08/2015, Didier BECU
---
It's almost official, Liam Neeson is without a doubt the new Charles Bronson. Just about every script in which a man of 50 wants revenge, lands one day on Neeson's lap. The only question is how long he can go on with it, because all the movies are similar to each other. As long as the money keeps coming in, Neeson won't lose his sleep, and neither will the Spanish director Jaume Collet-Serra, who has made his third Neeson-action movie after Unknown and Non-Stop.
The story is set in the mafia milieu of New York. Jimmy (so Neeson) is an assassin who works for Irish mob boss Shawn Maguire (Ed Harris). He is hardly useful these days, the exhausted drunkard is only used when the family needs a Santa Claus to entertain the children. The biggest concern of Shawn is his son Danny (Boyd Holbrook), who wants to do business with Albanian criminal gangs. Shawn informs his son that this is not without risk, but the spoiled brat refuses to listen to the advice of his dad. Coincidentally, Jimmy's son Mike (Joel Kinnaman) is a limousine driver. And yes, believe it or not, the Albanian criminals choose his limousine when they go to a place where they meet Danny. It gets completely out of hand and Jimmy is forced to shoot Shawn's son. He has no choice, whether it is his son or Danny who dies.
No worries if your eyes start spinning when reading this intricate plot, because director Collet-Serra has enough experience to make a routine action movie full of adrenaline. The big disadvantage is that you have seen this movie before (Taken and A Walk Among the Tombstones). If you can forget that, then Run All Night is an action movie of the better kind, especially the first part is reminiscent to the style of James Gray (The Yards and We Own the Night). Liam Neeson plays the fighter as we known him for years, but the star of this film is Ed Harris, who can perform a dangerous mafia boss like no other and without mercy! Run All Night is certainly not a memorable film, but one that is full of adrenaline, and that can work too!
Run All Night is released on Warner, both on DVD and Blu-ray.
Didier BECU
24/08/2015
---
Het is bijna officieel, Liam Neeson is zonder twijfel de nieuwe Charles Bronson. Zowat elk script waarin een vijftiger wraak neemt, komt op een dag op Neesons schoot terecht. De vraag is alleen hoe lang je daarmee kan blijven doorgaan, want alle films lijken ongelooflijk sterk op elkaar (zowel wat het verhaal betreft als de outfits van Neeson, want ja hoor: de leren jekker die hij in Run All Night draagt, lijkt verdraaid veel op die uit Taken!). Zo lang het geld blijft binnenstromen zal Neeson daar niet van wakker liggen, en ook de Spaanse regisseur Jaume Collet-Serra niet, die na Unknown en Non-Stop met deze film zijn derde Neeson-avontuur op zak heeft.
Het verhaal speelt zich in het maffiamilieu van New York af. Jimmy (Neeson dus) is een huurmoordenaar die voor de Ierse maffiabaas Shawn Maguire (Ed Harris) werkt. Jimmy hoeft nog nauwelijks iets te doen, de uitgetelde dronkaard wordt hooguit nog gebruikt als de familie een kerstman nodig heeft om de kinderen te animeren. De meeste zorgen heeft Shawn met zijn zoon Danny (Boyd Holbrook), die in zee wil gaan met Albanese misdaadbendes. Shawn verwittigt zijn oogappel dat dit niet zonder gevaar is, maar het verwende nest weigert om te luisteren naar de raad van zijn pa. Het toeval wil dat Jimmys zoon Mike (Joel Kinnaman) een limousinechauffeur is. En jawel, geloof het of niet, maar de Albanese boeven kiezen zijn limousine als ze naar een plek gaan waar ze Danny ontmoeten. Het loopt volledig uit de hand en tijdens een wilde achtervolging wordt Jimmy gedwongen om Shawns zoon neer te schieten. Hij heeft geen keuze, het is zijn zoon die doodgaat of Danny.
Geen nood als je ogen rondtollen bij het lezen van deze ingewikkelde plot, want regisseur Collet-Serra beschikt over genoeg ervaring om zoiets vakkundig in een routineuze actiefilm vol adrenaline te verpakken. Het grote nadeel is wel dat je deze film al eens eerder hebt gezien (Taken en A Walk Among the Tombstones). Als je dat kan vergeten dan is Run All Night een actiefilm van de betere soort, die zeker in het eerste gedeelte wat doet denken aan de stijl van James Gray (The Yards en We Own The Night). Liam Neeson speelt de vechtjas zoals we hem al jaren kennen, maar de ster van deze wraakfilm is Ed Harris, die als geen ander een levensgevaarlijke maffiabaas zonder genade kan vertolken! Run All Night is zeker geen memorabele film, maar qua adrenalinegehalte kan hij tellen!
Run All Night is uitgebracht op Warner, zowel op dvd als Blu-ray.
Didier BECU
24/08/2015
---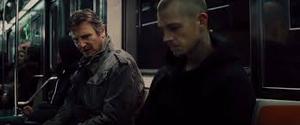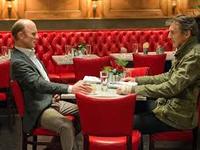 ---