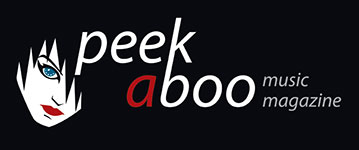 like this movie review
---
THE SPIERIG BROTHERS
Predestination
Movie
Action
•
Science Fiction
[60/100]

SONY SPHE
03/12/2014, Didier BECU
---
Perhaps you better known Michael and Peter Spierig as the Spierig brothers: the Australian twin brothers who are loved by the horror audience because of their zombie film Undead of 2003. It took them six years before releasing another picture (Daybreakers) and they almost needed the same amount of time for their third one: Predestination that also features Ethan Hawke.
Hawke apparently can do no wrong for critics, and so Predestination became a favorite at various film festivals (Ghent is one of them), but for the rest this film is directly launched on the DVD market. The two brothers are DIY-men. The film is released by Sony, but they had a very small budget and did almost everything themselves, from writing the complicated scenario to design special effects on their computers. The scenario is based on the short story All You Zombies by Robert A. Heinlein, who you might know of the Verhoeven classic Starship Troopers. We have not read the original story, but we hope it is less complicated than the film, because the remote control is almost essential if you want to follow this futuristic story.
Ethan Hawke plays a bartender who is actually a temporal agent, an agent who can travel in time to stop major criminals. On top of his list is the Fizzle The Bomber: a terrorist who wants to attack New York. Especially the mysterious Jane (Sarah Snook) plays a crucial role.
Story wise Predestination has much in common with Looper by Rian Johnson. There is a lot of time travel and the characters are constantly changing (from appearance and task). The makers did not opt for an easy story which makes it sometimes difficult to follow. The efforts that are needed are compensated by good performances of both Hawke and Sarah Snook, an actress we soon will see in the horror film Jessabelle.
Predestination is now out on Sony SPHE both DVD and Blu-ray.
Didier BECU
03/12/2014
---
Michael en Peter Spierig zal je misschien wel gewoon als de broertjes Spierig kennen: de Australische tweeling die geliefd is bij het horrorpubliek door z'n zombiefilm Undead uit 2003. Het duurde zes jaar vooraleer zij met de sciencefictionprent Daybreakers iets nieuws uitbrachten, en ze hadden bijna even veel tijd nodig voor hun derde Predestination die met dezelfde hoofdrolspeler (Ethan Hawke) is gemaakt.
Hawke kan blijkbaar maar weinig fout doen bij de pers en dus werd Predestination een lieveling op diverse filmfestivals (Gent is er daar eentje van), maar voor de rest moet deze film genoegen nemen met de dvd-markt. De twee broertjes zijn echte doe-het-zelvers. De film is uitgebracht door Sony, doch beschikten zij over een piepklein budget en deden bijna alles zelf: van het schrijven van het ingewikkelde scenario tot het ontwerpen van de special effects op hun computers. Het scenario is trouwens gebaseerd op het kortverhaal All You Zombies van Robert A. Heinlein, die je wellicht kent van de Verhoeven-klassieker Starship Troopers. Zelf hebben we het verhaal nog niet gelezen, maar we hopen dat het minder ingewikkeld is dan de film zelf, want de afstandsbediening is bijna onmisbaar als je dit futuristische verhaal wil volgen.
Ethan Hawke speelt een barman die eigenlijk een Temporal Agent is, dat is een superagent die door de tijd kan reizen om grote misdadigers tegen te houden. Op het lijstje van uit te schakelen criminelen staat The Fizzle Bomber: een terrorist die het op New York heeft gemunt. Vooral de geheimzinnige Jane (Sarah Snook) speelt daarin een cruciale rol.
Predestination lijkt qua verhaal een beetje op Looper van Rian Johnson. Er wordt heel wat in de tijd gereisd en de verschillende personages veranderen voortdurend (van uiterlijk en functie). De makers kozen niet voor een kant-en-klaarverhaal waardoor het toch geregeld wat slikken wordt. Na 90 minuten inspanning blijft er uiteindelijk niet veel over, toch wordt veel goed gemaakt door de knappe vertolkingen, zowel van Hawke als van Sarah Snook die we binnenkort ook in de griezelfilm Jessabelle aan het werk kunnen zien.
Predestination is nu uit op Sony SPHE, zowel op dvd als Blu-ray.
Didier BECU
03/12/2014
---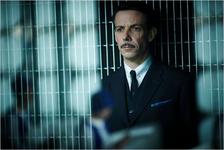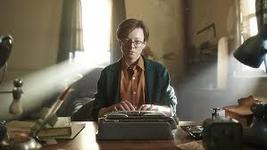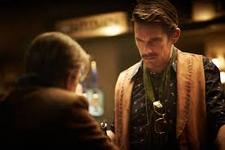 ---