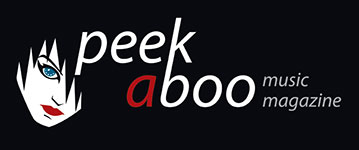 like this movie review
---
JULIUS AVERY
Son Of A Gun
Movie
Action
[62/100]

Dutch FilmWorks
31/08/2015, Didier BECU
---
What do you think when Ewan McGregor stars in a small Australian heist movie? Is this a sign that his career is in the doldrums or is it just because he absolutely wanted to do it? Whatever the answer might be, it is a fact that the movie fan wasn't interested in Son Of A Gun, as after only a few weeks the movie disappeared from the movie halls. That's a bit unjustified, because even though you might think that this is a B-movie that can only enchant Steven Segal fans (a synonym for terrible), Son Of A Gun is surely more than that.
Brendan (McGregor) is a convict who still has twenty years to go. He doesn't want to wait that long, therefore the criminal invents an ingenious escape plan. He can't do this alone, and he makes contact with the naive JR (Brenton Thwaites) who thinks he owes his new friendship and protection to his mastery in chess. Once JR is released from prison, he has to help Brendan and his henchmen out of prison. The plan works, but it does not stop there. JR does not know where to goo, and he helps the gang in stealing a large amount of gold. For the young guy this has just become a part of his life, although it is hard for JR to get used to the brutal violence. As always (sorry ladies!) it's a woman who throws a spanner in the works, especially if she is called Alicia Vikander. JR falls in love with the mysterious Tasha and Brendan does not like that.
It is a pity that Julius Avery, who also directed the film, wrote a sloppy and far too predictable scenario. But, despite all that, the actors lift the film above the average standard. McGregor might deserve better than this, just like Brenton Thwaites, who we remember as Prince Philippe of Maleficent. The best part is (how could it be otherwise?) by Alicia Vikander: the Swedish beauty, who conquered the heart of the film audience in a short time, even if it seems as if she has to wait for a real big hit.
It is not so difficult to sum up several reasons why Son Of A Gun could be better, but you can make up at least as many reasons to give him a chance.
Didier BECU
31/08/2015
---
Wat moet je denken als Ewan MCGregor de hoofdrol in een Australische heistfilm vertolkt? Is dit nu een teken dat zijn carrière in het slop zit of is het gewoon omdat hij er zin in had? Wat ook het antwoord mag zijn, het is een feit dat de bioscoopbezoeker de film links liet liggen waardoor Son Of A Gun slechts een paar weken op de affiche stond. Een beetje onterecht, want ook al denk je misschien dat het om een B-film gaat die alleen maar de fans van Steven Segal kan bekoren (verschrikkelijk slecht dus), is Son Of A Gun toch meer dan dat.
Brendan (McGregor) is een bajesklant die nog twintig jaar te gaan heeft. Zo lang wil de crimineel niet wachten en hij bedenkt daarom een ingenieus ontsnappingsplan. Dat kan hij echter niet alleen en zoekt daarom contact met de naïeve JR (Brenton Thwaites) die denkt dat hij de vriendschap en de bescherming te danken heeft aan het feit dat hij een aardig potje kan schaken. Eens JR uit de cel wordt ontslagen, vormt hij meteen de schakel die Brendan en zijn trawanten uit de gevangenis moet zien te krijgen. Het plannetje lukt, maar het blijft daar niet bij. JR, die niet weet waar naartoe, wordt tevens gebruikt als hulpje om een grote lading goud te stelen. De jonge kerel vindt dat helemaal niet zo erg, alhoewel het eventjes wennen is aan het brute geweld dat de boeven hanteren. Zoals steeds (sorry dames!) zijn het de vrouwen die roet in het eten gooien, zeker als ze Alicia Vikander heet. JR wordt verliefd op de mysterieuze Tasha en dat zint Brendan totaal niet.
Het is jammer dat Julius Avery, die ook de film regisseerde, een slap en te voorspelbaar scenario schreef, want ondanks de beperkingen tillen de acteurs de film boven het gemiddelde. Wellicht verdient McGregor beter dan dit, toch toont hij zich van zijn beste kant. Net als Brenton Thwaites die we ons natuurlijk nog als Prins Filip uit Maleficent herinneren. De uitblinker is natuurlijk (hoe kan het ook anders) Alicia Vikander: de Zweedse schone die op korte tijd het filmpubliek heeft veroverd, ook al blijft een echte grote hit tot nu toe nog wat uit voor haar.
Het is niet zo moeilijk om diverse reden op te noemen waarom Son Of A Gun beter kan, maar je kan er minstens evenveel verzinnen om hem een kans te geven.
Didier BECU
31/08/2015
---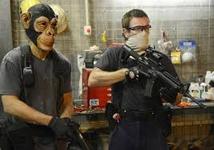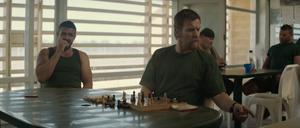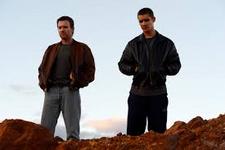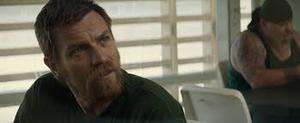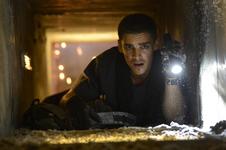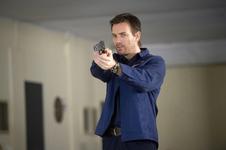 ---