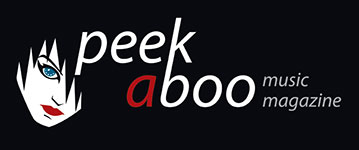 like this concert review

---
Coalescaremonium editie 4
Concert
09/12/2016, Jurgen BRAECKEVELT
---
On Saturday, April 2nd, people gathered at La Bouche à Oreille (Brussels) for the fourth edition of Coalescaremonium. The old monastery is the ideal location for a spectacle that combines fashion, art, performances and very diverse musical styles. And with 350 attendees and some amazing shows, it was a successful event.
Around three o'clock, we enter the building, which was already an experience itself. At the heart of Etterbeek, near the Parc du Cinquantenaire, La Bouche à Oreille is actually unremarkable. Only when you enter the building, you get an idea of the great location and the people, dressed with feathers or baroque creations to cybergoths. For that reason alone, this event is great.
The concept of the previous years was maintained: the opening show in the old chapel, which was rather modest. In the dance room where DJ Totentanz started at half past three and played aggrotech and industrial, people danced.
The avant-garde electro boys and girls of Hedera Helix played in the Concert Room. The nice thing is that you never know what to expect. And therefore, they waited to release the first beats until half past six. And this time it was a nice combination of assorted electro, regularly punctuated with guitar and backed by two dancers and a (!) butler. The audience was well present and enthusiastic, the show entertaining, the music good.

The nice thing is that there is never a dead moment, because in the meantime DJ Sisen was in the Dance Room behind the turntables. The small Japanese played dark wave, but of the sort I did not know. He got the dance floor moving. Sisen remained fairly stoic during the set, but anyway: it worked!

The Dutch DJ XIII played a set of intelligent dance music, seamlessly followed by DJ Necromantix who played gothic and EBM. A set with a combination of classics and a wide range of gothic and EBM. It was clear that many identify themselves with the genre, because the dance floor was completely filled. DJ Dargor played a style that was announced as ' artistic metal'. The man did his best, but soon it was clear that the music did not really invite people to dance. Or was the larger part of the public just getting tired, because it was after midnight when Dargor played his metal disks.In the Concert Room we got a spherical interlude with the art nouveau fashion show of Somnia Romantica from the Netherlands. We got dark classical music, with some amazing creations on the catwalk. A break between the rumble of the Dance Room and the industrial set of S.E.M. in the Chapel.
The gothic rock band Pretentious, Moi? was next. Three guitarists and a male and female voice, more than enough to fill the entire room. Rightly so. This was a very good set, varied and catchy songs that rocked, but the electronics and the occasionally beats gave it something extra. After the show, I heard from many people that "despite not known, it was a really good band". A discovery for me, it was good, hard, yet dark and what really stood out was the fact that the band liked it too.
While waiting for the Norwegian symphonic metal Sirenia, I went into the chapel to see KnK. Drone noise/EBM from Belgium. The boys played really pretty solid beats and noise, melodic, but especially hard. Musically varied, but on the vocal side it was somewhat monotonous. Distortion in the voice is just a part of the game in this genre, but it was too flat and monotonous. But color and taste are not debatable, the audience in the chapel liked it, and that's what counts.
Back to the Concert Room, an hour delay in the time schedule, but what the hell... Sirenia on stage. The Norwegians provided the harder guitar sound. The genre has the typical combination of tight riffs, occasional grunts of Morten Veland (former guitar and grunt of Tristania ) and the typical high vocals of Aylin. The band started in 2001 and now has a lot of CDs out. The set was a combination of old and recent material. The guitar work was at times quite impressive, the vocals a bit in the background, but the public appreciated it anyway.

Cello combined with electro? Yes! Max Lilja, a Finnish top cellist and former member of the band Apocalyptica, who deals with 1,001 things: film music, solo performances, guest musician, projects... He's a man and a cello and you could feel that. It was a surprising set. The cello was pure and dark, supported by a wide range of electronics with numerous effects. It was quite incredible to grasp. Some songs were on the brink of industrial, others felt as a movie score. It shows the diversity of Max Lilja and his urge to experiment and to explore the limits with his cello.
It was one o'clock at night when the Canadian Iszoloscope performed in the Concert Room his noise, ambient and industrial. The man is famous in the genre and did many numerous collaborations. At Coalescaremonium, he immediately tempted the public. Just an Apple and another electronic box, sweat on his forehead and he was really into the music. Not my style, but the audience went completely crazy.
With the first signs of fatigue, we went to the chapel, where Luminance played. The small room was filled with smoke and the first synth sounds vibrated through the air. David-Alexandre Parquier grabbed the 30 listeners by the neck. The set was varied and he managed to do almost everything in a perfect way. The music speaks for itself. Armed with a glass of Cointreau, two keyboards, a guitar and his deep voice, Luminance played a great set. It's contagious, dark, 'simple' and minimal, yet so catchy. Luminance was for me the real headliner of another great edition of Coalescaremonium.
The location, the atmosphere, the people, the enormous diversity of musical styles, they convert Coalescaremonium into a great event. Up to the fifth edition? Yes!
Jurgen BRAECKEVELT
09/12/2016
---
Op zaterdag 2 april was het weer verzamelen geblazen in La Bouche à Oreille voor de vierde editie van Coalescaremonium. Het oude klooster met zijn heel aparte ruimtes en gloomy kantje, is de ideale locatie voor een spektakel dat mode, kunst, performances en heel diverse muziekstijlen combineert. En met 350 aanwezigen en geweldige shows, werd het een geslaagde editie.
Rond drie uur betraden we het gebouw en dat was al een belevenis op zich. In hartje Etterbeek, vlakbij het Jubelpark, staat La Bouche à Oreille eigenlijk onopvallend. Pas als je het gebouw binnentreedt, krijg je een idee van de geweldige locatie. En publiek: van met veder getooide medemensen over barokke creaties, tot cybergoths. Alleen daarom al is dit event geweldig.
Het concept van de vorige jaren werd behouden: van de openingsshow, die eerder bescheiden was en doorging in de oude kapel, tot de grote zaal. Er werd voortdurend gefuifd in de Dance Room, waar DJ Totentanz al vanaf half vier aggrotech en industrial losliet op de 30 danslustigen die de houten dansvloer onveilig maakten.
De avant garde electroboys and girls van Hedera Helix mochten de aftrap geven in de Concert Room. Het leuke is dat je nooit weet waaraan je je mag verwachten. En daarom lieten ze het publiek ook wachten om pas om half zes de eerste beats op de massa los te laten. En ook deze keer was het een leuke combinatie van lekkere elektro, regelmatig doorspekt met gitaarwerk en geruggensteund door twee danseressen en een butler die in de show een rol toebedeeld kreeg. Het publiek was ruim aanwezig en enthousiast, de show onderhoudend, de muziek goed.
Het leuke is dat er nooit een dood moment is, want intussen was DJ Sisen in de Dance Room achter de draaitafels gekropen. De kleine kleurrijke Japanner draaide dark wave, maar dan van het soort dat ik nog niet kende. Hij kreeg de dansvloer vlotjes in beweging. Sisen was al meer aanwezig hier en bleef vrij stoïcijns staan tijdens de set. We zagen ooit meer emotie en plezier, maar hoe dan ook: het werkte!

De Nederlandse DJ XLll volgde daarop met een set vol intelligent dance music, naadloos gevolgd door DJ Necromantix die gothic en EBM draaide. Een set met een combinatie van klassiekers uit de brede range van gothic en EBM. Het was heel duidelijk dat velen zich identificeren met het genre, want de dansvloer vulde zich zonder problemen. DJ Dargor rondde af met wat werd aangekondigd als 'artistic metal'. De man deed zijn best, maar het werd algauw duidelijk dat de muziek niet echt tot dansen aanzette. Ofwel had de vermoeidheid zich meester gemaakt van een groot deel van het publiek, want het was ruim na middernacht toen Dargor zijn metalschijven mocht draaien.
In de Concert Room kregen we een sferisch intermezzo met de art nouveau fashion show van Somnia Romantica uit Nederland. We kregen donkere klassieke muziek, met geweldige creaties op de catwalk. Even rust tussen de dreunen in de Dance Room en de industrial set van S.E.M in de Chapel.
De gothic rockband Pretentious, Moi? stond als volgende op het programma. Drie gitaristen en een mannelijke en vrouwelijke stem, meer dan genoeg om de hele zaal mee te krijgen. En terecht. Dit was een heel goede set, afwisselend, aanstekelijke songs die rockten, maar waar electronica en af en toe beats net dat extraatje gaven. Na de show hoorde ik van vele mensen dat dit 'ondanks niet bekend, toch echt een goede band was'. Ook voor mij een ontdekking, het was goed, hard en toch donker en wat heel erg opviel was het plezier dat de band er zelf aan beleefde.
In afwachting van de Noorse symfonische metal van Sirenia, was ik even de kapel ingedoken voor KnK. Drone noise/EBM van Belgische bodem. De jongens speelden inderdaad vrij stevige beats en noise, met melodieuze flarden, maar vooral hard. Muzikaal gevarieerd, maar de vocale kant was wat eentonig. Distortie op de stem hoort er bij in het genre, maar het bleef te vlak en eentonig, wat maakte dat ik het vrij snel voor bekeken hield. Maar over kleur en smaak valt niet te twisten, het publiek in de kapel kon het appreciëren en dat telt.
Dan weer naar de Concert Room, intussen met een dik uur vertraging in het tijdsschema, maar what the hell... Sirenia op het podium. De Noren zorgden voor de hardere gitaarnoot op deze dag. De voor het genre typische combinatie van strakke riffs, af en toe een grunt van Morten Veland (voormalig gitaar en grunt-man bij Tristania) en de typische hoge vocalen van zangeres Aylin, waren ingrediënten die er allemaal waren. De band startte in 2001 en heeft intussen een vrij groot aantal cd's uitgebracht waaruit geput kon worden. De set was opgebouwd met een combinatie van ouder en recent materiaal. Het gitaarwerk was bij momenten vrij impressionant, vocaal had ik het gevoel dat de stem niet steeds voldoende naar voren trad. Het publiek kon het in elk geval appreciëren.
Cello gecombineerd met elektro? Ja! Max Lilja, Fins topcellist en voormalig lid van de band Apocalyptica en vandaag met 1001 dingen bezig: filmmuziek, solo-optredens, gastmuzikant, projecten,... De man is één met zijn cello en dat voelde je. Het was op zich een bevreemdende set. De cello was dan weer puur en donker, ondersteund door een breed gamma van elektronica. Dan weer gierde het instrument met snerpend geluid doorheen een beat, of werden er talloze effecten op losgelaten. De man genoot en gaf het beste van zichzelf. Het was vrij ongelooflijk om dit mee te maken. Sommige nummers klonken op het randje van industrial, andere kon je zo op een film zetten. Het toont de veelzijdigheid van Lilja en zijn drang om te experimenteren en de grenzen met zijn cello af te tasten. En die zijn heel breed, konden we horen.
Het was ruim 1 uur toen de Canadees Iszoloscope in de Concert Room zijn noise-ambient-industrial op de massa losliet. De man verdiende al zijn strepen bij de aanhangers van het genre, bracht al veel uit en heeft talloze samenwerkingen met vele andere groten in het genre op zijn actief staan. Ook op Coalescaremonium had hij de zaal meteen op zijn hand. Hij ging heel erg op in wat hij deed, ook al bestaat zijn set maar uit een Apple en een ander elektronisch doosje. Het zweet gutste van zijn voorhoofd en hij zat echt in de muziek. Deze stijl is niet voor mij weggelegd, maar de enige graadmeter is het publiek en dat ging compleet uit zijn dak.
Met de eerste tekenen van beginnende vermoeidheid, gingen we tijdig postvatten in de kapel, waar rond half twee Luminance speelde. De kleine ruimte vulde zich met rook en de eerste synthklanken trilden door de lucht. David-Alexandre Parquier pakte meteen de dik 30 toehoorders in. De set was afwisselend en hij presteert het om alles nagenoeg perfect te brengen. De muziek spreekt voor zich. Gewapend met een glaasje Cointreau, twee keyboards, een gitaar en zijn diepe stem, speelde Luminance een geweldige set. Stilstaan kon niet. Het is aanstekelijk, donker, 'eenvoudig' en minimal, maar tegelijk zo aanstekelijk. Ik wil er nogmaals op wijzen dat er over smaak en geur niet te twisten valt, maar Luminance was voor mij de echte headliner op alweer een geweldige editie van Coalescaremonium.
De locatie, de sfeer, de mensen, de enorme diversiteit qua muzikale stijlen, het maakt van Coalescaremonium een geweldig event. De organisatie was af, de inkleding ook. Dat de programmatie door iets langere podiumwissels in de Concert Room wat uitliep, nemen we er graag bij. Op naar de vijfde editie? Ja!
Jurgen BRAECKEVELT
09/12/2016
---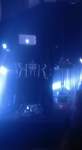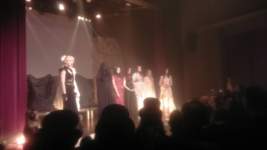 ---