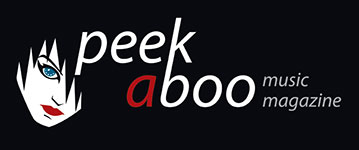 like this concert review
---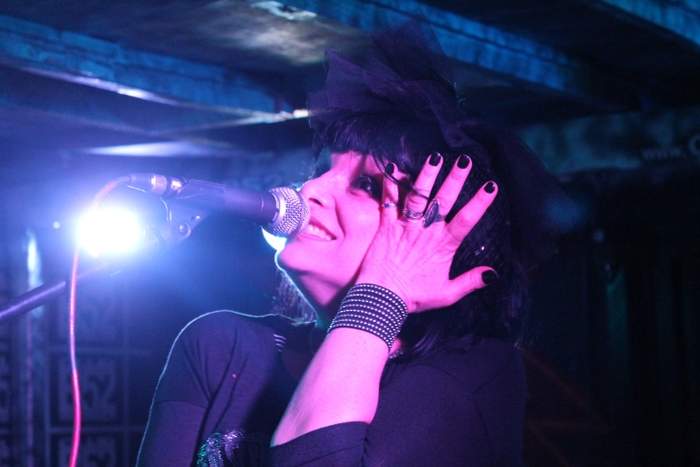 SIMI NAH
B52, Eernegem (26/03/2016)
Concert
09/12/2016, Manu L DASH
---
I was kind of familiar with the name of this band, but I have to admit that I never saw Simi Nah on stage before. Not very smart, because at the B52 (venue in Belgium, Eernegem-ed.), I saw for the first (and probably not the last) time this great act.

This electro band consists of Simi and KGB, and although not many people showed up, this very sympathetic Française (vocals) and her partner in crime KGB (synths, guitar and programming) played the gig in the most intense way possible.

For those who want to know everything about it: KGB worked as a sound engineer with greats names such as The Mission , Erasure and Boy George. In Simi Nah this musical centipede also does the vocal support.

My attention was caught by the compelling analog beats of La Machine. And the next song, Coco Chanel & Fashion, could tempt me as well: a thumping electro dance with a link to haute couture and French designers. Simi Nah, who was born and raised in Nice, initially wanted a career in the fashion world, but it eventually was music. She played with The Chicks and she was the bassist of Praga Khan and Coma for a while. The set continued with Flashback, in which the song title is repeated as a conjuring mantra, and then Batcave, plus a really strong version of No Pain No Game.

During this gig, Simi Nah had a guest: Chesko, the front man of Der Klinke. Earlier that day, Chesko played at the Black Easter Festival with his side project Story Off. They played You Spin Me Round (Like A Record) by Dead Or Alive, Nag Nag Nag by Cabaret Voltaire. and Coitus Interruptus by Fad Gadget, all in an excellent way. In between, Simi Nah performed some songs of her own, like Cabaret and Dressing Room, which deals with the oppression of women, a song that quickly became one of my favorites. It was great to see Simi Nah's attractive and very expressive face, and of course the passion and the mesmerizing tempo and that rhythm!

Grauzone's Eisbär was the last song, again presented in the special Simi Nah way. This track was sung by KGB, and he is did it very well.

After the concert, I bought the album Be My Guest. The title is very well chosen, because the whole concept is to invite renowned guests like Luc Van Acker and Dirk Ivens to play a duet with Simi Nah to create new versions of new wave classics. I listened to this CD several times by now and it really is great.
Manu L DASH
09/12/2016
---
De naam van deze band liet een belletje rinkelen, maar ik moet eerlijk zijn, zelf had ik nog niet de eer en het genoegen gehad om hem live aan het werk te zien. Zeer erg onterecht, want de verrassing was bijzonder groot toen ik in de B52 voor de eerste (en ongetwijfeld niet de laatste keer) getuige was van een puik optreden van Simi Nah.
Deze elektroband bestaat uit Simi en KGB. En hoewel het publiek eerder beperkt vertegenwoordigd was, gaf deze zeer sympathieke Française en haar partner in crime KGB een optreden alsof hun leven er van afhing.
Voor de liefhebbers van muzikale trivia: KGB werkte als geluidsingenieur met enkele groten der aarde zoals The Mission, Erasure of Boy George. Bij Simi Nah is hij een muzikale duizendpoot die ook niet vies is van wat vocale ondersteuning.
Mijn aandacht werd getrokken door de meeslepende analoge beats van de geweldige starter La Machine. Ook Coco Chanel & Mannequin kon me heel erg bekoren: dreunende dansbare elektro met een knipoog naar de haute couture en Franse designers. Simi Nah, geboren en getogen in Nice, ambieerde aanvankelijk een carrière in de modewereld, maar belandde na enkele omzwervingen in diverse muziekgroepen zoals The Chicks. Ze was ook een tijdje de bassiste van Praga Khan en Coma. De set vervolgde met Flashback, waarin de songtitel als een bezwerend mantra werd herhaald, aansluitend volgden Batcave en het ijzersterke No Pain No Game.
Simi Nah had voor deze set tevens een gastoptreden voorzien van Chesko, de frontman van Der Klinke. Die trad een paar uurtjes eerder op het Black Easter Festival op met Story Off , maar stond dus nu voor een paar songs aan de zijde van Simi Nah. Ze speelden klassiekers als You Spin Me Round (Like A Record) van Dead Or Alive, een sterke versie van Cabaret Voltaire's Nag Nag Nag, alsook een geweldige cover van Fad Gadgets Coïtus Interruptus.
Tussendoor bracht Simi Nah nog eigen tracks als Cabaret en Dressing Room, een lied over de onderdrukking van vrouwen en eentje dat ik voortaan tot één van mijn favorieten reken. Wat mij steeds opviel was het ongelooflijke plezier dat deze zangeres uitstraalt, alsook haar aantrekkelijke en bijzonder expressieve gezicht. En natuurlijk ook de gedrevenheid en het bezwerende tempo en ritme dat beide bandleden aan de dag legden.
Eisbär van Grauzone was het laatste nummer dat ze brachten en het werd alweer door die speciale Simi Nah-mixer gedraaid zodat stilstaan heel erg moeilijk werd. Deze track werd door KGB gezongen, en ook hij deed dat erg goed.
Na afloop van het concert heb ik me het album Be My Guest aangeschaft. De titel is erg goed gekozen, want het hele concept bestaat erin dat gerenommeerde gasten zoals Luc Van Acker of Dirk Ivens in duo met Simi Nah een nieuwe versie van newwaveklassiekers maken. Ik beluisterde deze cd intussen meermaals en die is echt zijn geld waard. Je kan Simi Nah nog gratis live aan het werk zien op 4 juni in Geraardsbergen. Ik zou gaan als ik jou was…
Manu L DASH
09/12/2016
---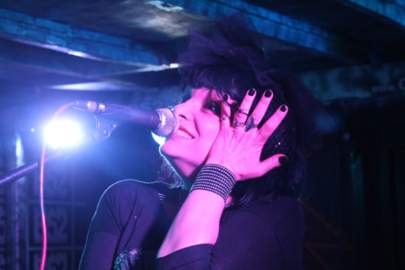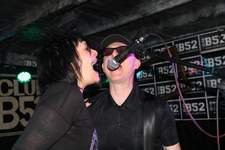 ---