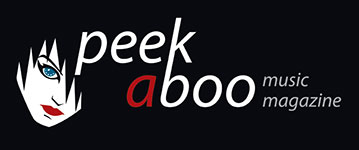 like this cd review
---
SIMI NAH
Be my guest
Music
•
CD
Dark Electro
•
Electro
•
Electronics
[84/100]

W2K Music
17/07/2014, Benny CALUWE
---
Simi Nah is the band formed by female singer Simi Nah, the French woman who used to be the bassist player from Pragha Khan and who is of course the daughter from Micky Mike (Snowy Red).
When I saw on Facebook that Simi Nah would make a cover album with some guests, I was immediately wild about this idea. Especially because Simi Nah earlier proved that she has the ability to make covers strong and surprising. A fine example of that is when she ended her gig at Rewind Fest 2013 with a splendid cover from Snowy Red's Euroshima (Wardance): on stage a real bomb! Do also check out the 2083 mix from Alice (indeed the Sisters Of Mercy-classic) that appeared on her Cherchez La Femme-debut.
The including guests are big names from the Belgian wave and alternative scene: Dirk Ivens, Dirk Da Davo, Luc Van Acker, Danny Mommens from Vive La Fête, Nicky Van Lierop and WimPunk.
The CD starts with Cheree: a track by electro punk pioneers Suicide. Simi Nah is assisted here by Wim Punk: the founder of The Wolf Banes. It's kind of strange that Dirk Ivens isn't involved in here, as after all he's a huge fan of this duo. Then comes the Neue Welle-classic Eisbear (with Danny Mommens): a very strong opener that is! Other wave classics that get a restoration are Euroshima (with Saphyée), Cabaret Voltaire's Nag Nag Nag (with Dirk Da Davo) and Visage's Fade To Grey (with KGB): all performed with delicious beats!
A special note is for You Spin Me Round (like a record) that is duet with Dirk Ivens. This cover has a much more dark and threatening feel then the original from Dead Or Alive: the new wave band from singer Pete Burns. Disco Rough (feat. Luc Van Acker) also sounds quite different as the original: the tempo has been slowed down and that graces the result! The strangest track on here is Follow Me. The original has been sung by Amanda Lear. For me she's unknown, but Wikipedia taught me that she was the White Queen Of Disco. A fantastic electrotrack that features the gorgeous voice from Nicky Van Lierop (original female singer from Lords Of Acid).
So even if the styles differ from the original songs we can say that this collection of covers is a winner.
Benny CALUWE
17/07/2014
---
Simi Nah is de band rond de zangeres Simi Nah, de Française die voorheen bassiste was van Pragha Khan. Samen met KGB en Safyéé, de dochter van Micky Mike (Snowy Red)
Toen ik op Facebook de aankondiging zag dat Simi Nah een coveralbum ging maken met enkele gasten, was ik meteen enthousiast. Simi Nah bewees eerder al dat ze het in zich heeft sterke en verrassende covers te maken. Ze sloot haar optreden op Rewind Fest 2013 af met een uitstekende cover van Snowy Red's Euroshima (Wardance). Live echt een bommetje. Check ook Alice – the 2083 mix, een heerlijke bewerking van the Sisters Of Mercy-klassieker dat op haar debuut Cherchez La Femme verscheen. De aangekondigde gasten blijken grote namen uit de Belgische wave en alternatieve muziek: Dirk Ivens, Dirk Da Davo, Luc Van Acker, Danny Mommens van Vive La Fête, Nicky Van Lierop en WimPunk.
De CD vangt aan met Cheree, een track van electropunk-pioniers Suicide. Simi Nah wordt bijgestaan door Wim Punk, de oprichter The Wolf Banes (en niet door Dirk Ivens, nochtans een notoire fan van Suicide). Gevolgd door Neue Welle classic Eisbear (met Danny Mommens): een sterke opening. Andere New Wave klassiekers die onder handen worden genomen zijn Euroshima (met Saphyée), Cabaret Voltaire's Nag Nag Nag (met Dirk Da Davo) en Visage's Fade To Grey (met KGB): allen met heerlijk voortstuwende beats.
Een speciale vermelding voor You Spin Me Round (like a record) in duet met Dirk Ivens. Deze track klinkt heel wat donkerder en dreigender dan het origineel van Dead Or Alive: de new wave band rond de androgyne zanger Pete Burns. Ook Disco Rough (feat. Luc Van Acker) klinkt heel anders dan het origineel: het tempo werd naar benden gehaald – met resultaat. Buitenbeentje tussen deze verzameling new wave songs is Follow Me, origineel van de mij onbekende Amanda Lear. Wikipedia leert mij dat ze de white Queen of disco was. Een heerlijke electrotrack werd het met de hese sexy stem van Nicky Van Lierop (originele zangeres van Lords Of Acid)
Hoewel de stijlen van de originele nummers nogal verschilt, vormen de covers ervan een consistent geheel: geslaagd album
Benny CALUWE
17/07/2014
---