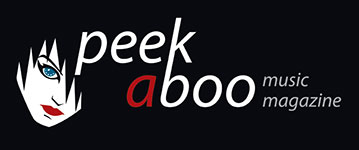 like this cd review
---
SIMI NAH
Be My Guest
Music
•
CD
Dark Electro
•
Electro
•
Electronics
[95/100]

W2K Music
07/06/2014, Peter HESELMANS
---
Simi Nah is an electro live trio composed by, Simi Nah herself, a French musician and songwriter, but known as the originally bass player for Phraga Khan. KGB (Kenny), producer, songwriter and musician, and Safyée, daughter of Micky Mike aka Snowy Red.
On stage they bring a wide spectrum of electronic musical styles. After their two normal studio albums they bring us 'Be My Guest', a cover album from 70' and 80' disco and new wave hits. They invited some Belgian artists to give these tracks a kind of dark electro or EBM twist. In my opinion a good cover is a track that is better or more authentic as the original. And in this case it works for most tracks.
Starting with 'Cheree', brought by Wim Punk from The Wolf Banes, perhaps the most real rock guest on the album, but he brings us a brilliant hypnotic version of this Suicide classic. Followed by Danny Mommens from Vive la Fête, who covers the ultimate 'Neue welle' classic Eisbar from Grauzone. Danny is a fantastic guitar player, but I'm not so sure about his vocal qualities, luckily Simi Nah takes over and together this track is really nice.
The next one is perhaps the most surprising song on the album, 'Follow Me' from 70's disco queen Amanda Lear, brought by Niekkie Van Lierop, the original singer from lords of Acid. The disco changes to electro, and with the deep voice of Niekkie a brilliant new version of this dance classic, and could easily be a small hit again in the electro club scene.
Dirk Da Davo from The Neon Judgment brings the new wave back alive with the Nag Nag Nag version from Cabaret Voltaire, really great. More nice beats on 'Disco Rough' from Mathématiques Modernes, Luc Van Acker back to his 'The Ship' period as a vocalist, crazy track, the original is rather up-beat, but they managed to transform this song into a slower, more powerful song that suits Luc's voice perfectly.
Then my personal favorite of this album, Dirk Ivens, famous for his numerous projects (The Klinik, ABC, Sonar…), covers a real disco song: 'You Spin Me Round', a massive hit in 1984 by'Dead Or Alive is brought in a completely different way, really fantastic, the song is transformed into a real 'club killer', and sounds like a track he could have composed.
For the version of Visages Fade To Grey, Simi invites her partner KGB to sing this track in a duet, and it matches perfectly. And of course the track 'Euroshima' had to be on this album, already brought live by Safyée, the daughter of Snowy Red, and this studio version is even stronger and better, a perfect and emotional tribute, really great!
I am quite euphoric about this album, this is a nice cocktail of fantastic covers from early, some even forgotten disco, punk or new wave tracks, and a nice sampler of different artists. Something new to discover for young listeners, and maybe some new nostalgia for the 'not so young' listeners anymore, like me.
Tracklisting:
'Cheree' , featuring Wim Punk
'Eisbaer' , featuring Danny Mommens
'Follow me' , featuring Nikkie van Lierop
'Nag Nag Nag' , featuring Dirk Da Davo
'Disco Rough' , featuring Luc Van Acker
'You Spin Me Round , featuring Dirk Ivens
'Euroshima (Wardance)' , featuring Safyée
'Fade to Grey' (Visage), featuring KGB (Coma)
'Dressing Room' - the Naked mix
Peter HESELMANS
07/06/2014
---