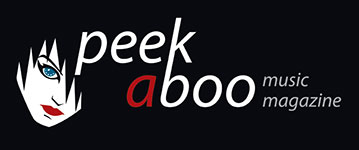 like this article review

---
Black Easter Day 1: an impression
Article
09/12/2016, Christophe KOWALSKI
---
As a frequent visitor of BodyBeats parties, I am quite used to the cream of the crop. That applies to the second edition of Black Easter, which I attended for the first time. After reading so many beautiful things about ther bands and the exciting line up, I really wanted to be there... Something else was planned, but the choice was quickly made: Black Easter.

Only friendly faces at the box office and the cloakroom Many familiar faces, a little chat here and there, and then quickly toward Whispering Sons: what a band, and as always nice and loud, and yet you are easily distracted by what is happening around you. The bar staff, the merchandise stalls, the lounge or the chippy outside! The organization has thought of everything.
Hekate, the band from Germany. Before, I heard some songs on YouTube and SoundCloud, but I was extremely surprised by the female voice and the special instruments which were used. There was a lot to see during this gig, and I was so excited that I bought a copy of Sonnentanz, the recent album.
After visiting the market stalls, it was time for Attrition. I follow this band since I was sixteen and I saw a first gig in De Buze, a venue in Steenwijk, The Netherlands. Then I already knew: this is a band I want to know everything about! Martin Bowes was ready for Black Easter and I really liked the gig, especially because Miss Attrition, as I call her, tuned with Martin in the finest way. This concert was memorable for me. Old and new were played, I intensely enjoyed it all.
Mila Mar then. When viewing the band photo, I had the feeling that this woman has a very domineering appearance, but also something very natural. And then she came on stage, dressed in a kimono, with a voice that made the my hair stand straight. I got some goose bumps and Imade the comparison with Dead Can Dance, and yes, Mila Mira is definitely of the same level! She looked the audience right in the eyes, even challenging, I notice that I avoided her gaze, what a power and such a golden voice! Definitely recommended!
Already the last band of the night? It is already night? Well, good things always happen fast. A beer, some shopping, a snack at the chippy and quickly to the hall to see In The Nursery! Did time stand still for Klive and Nigel Humberstone? Are they still young at heart, because their appearance suggested that time has stood still. The setting on stage was impressive: five large peacocks drums and synths! Old and new tunes went hand in hand during this show to satisfy both new and old fans. Industrial EBM with a romantic touch, all equally beautiful. Great to dance to, as standing still surely was not an option. One last drink and then back to the hotel where I hardly slept. I had to rest and stay fit, because a second day was ahead! This first concert day was already a crazy event.
Christophe KOWALSKI
09/12/2016
---
Als frequente bezoeker van Bodybeats-feestjes ben ik behoorlijk gewend aan het neusje van de zalm. Dat geldt beslist voor de tweede editie van Black Easter, dat ik voor de eerste keer mocht meemaken. Na het lezen van zoveel moois over de bands en gezien de boeiende line-up, zou ik er bij zijn. Eerst stond er wat anders op de planning, maar de keuze was snel gemazaktr: het werd Black Easter.

Aan de kassa en de vestiare alleen maar vriendelijke gezichten. Veel bekende gezichten, hier en daar een praatje maken, maar snel naar Wispering Sons: wat een band, en zoals altijd lekker luid, en toch word je snel afgeleid met wat er om je heen gebeurt. De barmedewerkers, de merchandisestalletjes, de lounge of gewoon buiten bij het frietkot! Eigenijk is aan alles gedacht.
Hekate, de band uit Duitsland. Ik had wel hier en daar een liedje op YouTube en Soundcloud meegepikt, maar ik was verrast door de stem van de zangeres en de aparte instrumenten die werden bespeeld. Er was veel te zien tijdens dit optreden, ik was blij verrast en ben snel overgegaan tot de aanschaf van Sonnentanz, her recente album.

Na een bezoek aan de marktstalletjes, was het tijd voor Attrition. Deze band volg ik al ongeveer sinds mijn zestiende en ik zag hun eerste optreden in De Buze in Steenwijk, Nederland. Toen wist ik het al: hier wil ik alles over weten! Martin Bowes was er klaar voor op Black Easter en ik vond het optreden dan ook meer dan geslaagd. Miss Attrition, zoals ik haar maar even noem, was goed gefinetuned met Martin. En dat maakte dit optreden voor mij onvergetelijk. Oud en nieuw kwamen aan bod, ik heb dus intens genoten.

Mila Mar dan. Bij het bekijken van de bandfoto dacht ik meteen dat die vrouw een erg dominante uitstraling heeft, maar ook iets heel natuurlijks. En daar kwam ze dan, getooid in kimono en met een stem die mijn haar overeind deed staan. Ik kreeg kippenvel van zoveel afwisseling. Ik maakte gelijk de vergelijking met Dead Can Dance, en daar doen ze zeker niet voor onder! Toen ze niet zong en het publiek recht in de ogen keek en zelfs uitdaagde, betrapte ik er mezelf op dat ik haar blik ontweek, zo'n kracht: een band met allure en een zangeres met een strotje van goud. Absoluut aan te raden!

Jee, was de laatste band nu al aan de beurt? Is het al weer nacht? Zo snel werkt gezelligheid en samenhorigheid, pintje hier en wat shoppen daar, een snackje bij het frietkot en snel weer de zaal in voor de afsluiter van de avond: In The Nursery! Stond de tijd stil voor Klive en Nigel Humberstone? Of zijn ze nog steeds jong van geest, want hun uiterlijk deed vermoeden dat de tijd stil is blijven staan. De setting op de bühne was indrukwekkend: 5 grote pauwen van trommels en synths waar je likkebaardend naar mocht kijken! Oud en nieuw gingen in dit optreden hand in hand en het was daarom voor zowel de nieuwe als de eerste fans een set die iedereen aansprak. Industrial EBM met een romantische vormgeving, allemaal even mooi. Er werd behoorlijk gedanst, want stilstaan was geen optie. Nog een laatste drankje en snel naar het hotel, waar ik nauwelijks sliep. Ik moest rusten en fit blijven, want er stond nog een tweede dag op het programma! De eerste dag gaat alvast mijn agenda in als een te gek evenement.
Christophe KOWALSKI
09/12/2016
---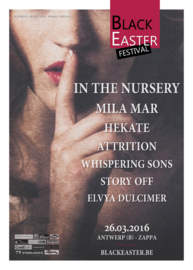 ---