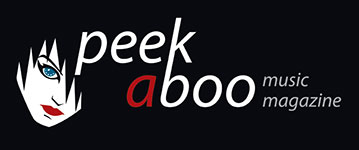 like this concert review

---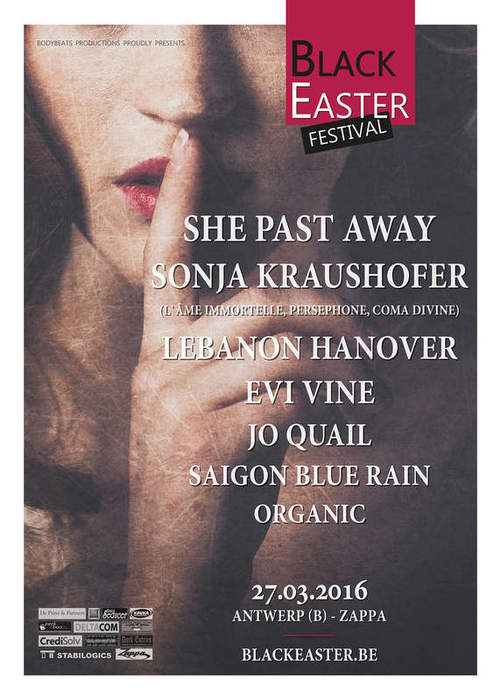 Black Easter 2016 Day 2 (27/03/2016)
Concert
09/12/2016, Didier BECU
---
Easter, a day of rest? Not, if you're a music lover! Less than 12 hours after the impressive sounds of In The Nursery, music connoisseurs gathered in the Zappa (Antwerp) again to enjoy a host of beautiful names.

It is unfortunate, but someone needs to open a festival, and playing at such an early hour means that only a part of the public is present. In any case, music lovers who came early enjoyed the perfect modern post-punk sound of Organic. It is very easy to name drop Joy Division, but after just one song, it was clear that for this Brussels trio post-punk is only a manual to make something beautiful. The songs are quite ingenious, Raphael Haubourdin is a dream frontman (and no, it's not fair to say that he reminds us of Ian Curtis in a way), with melodies that would do pretty well on the radio. In short, as in the case of Whispering Sons the day before, we saw Belgian talent that must be spoken and written about!

Of course, enumerating highlights is a matter of personal taste, but if you ask me, Saigon Blue Rain was definitely one of them. This ethereal pop band was recently added to the bill after Les Panties announced the split of the band, and what a substitute it eventually was! The French band just released a second CD (Noir Psyché) and from the first tones we heard the heavenly sounds of Cocteau Twins, without Saigon Blue Rain being a copy. Beautiful music to dream away on, heavenly vocals and a stunning soundscape of guitars. Perfect? Something like that!
And then, we got something completely different! How about a woman with a cello and an army of loop stations? Jo Quail presented her brand new album Five Incantations in London recently, and now she did the same in Antwerp. A friend pointed out to me how to listen to a musician that mimics the sound of the sea with a cello, and indeed, Jo did: the performance was an aural highlight of a great artist who is praised by musicians worldwide. It is art that demands some efforts, but if you closed your eyes (even though there is a lot to see on stage), you had the opportunity to dream away on this unique sound carpet. A discovery? More than that...
Time for another prodigy: Evi Vine. Her CD ...And So The Morning Comes was praised by many musicians (from Mark Burgess to Wayne Hussey, with whom she will be touring soon). The British artist chose a very intimate set that is situated between folk and shoegaze. Evi's music sounds like you're walking into a fairy tale, you meet some lovable characters, but terrifying demons too. Those who started the adventure, had no regrets afterwards!
William and Larissa of Lebanon Hanover probably were the audience's favorite of the festival. After three CDs, the cold wave of this German-Berlin duo is still popular. Lebanon Hanover certainly is not the sole band that makes this kind of music, but the result is super and that is what we witnessed on this second day of the festival. The contrast between the über-cool Larissa and the emotional William couldn't be any bigger: music that comes from the basements of the 80s, but because of the insane reality of today's world, you don't think of that past era. Lebanon Hanover was sublime and the fans who greeted the two as heroes in Antwerp.

If there is a prize to be awarded for the daredevil of the evening, then Sonja Kraushofer is the winner. Most people know the Austrian artist as the half of the EBM duo L'Ame Imortelle or from her ethereal solo project Persephone, but what she showed on Black Easter was something completely different. Sonja grabbed in her musical past and transformed her songs into a style that is close to operetta. A very bold concept which of course resulted in a camp of supporters and opponents. The faces of those who stayed showed that this was the highlight of the evening. It was another overwhelming proof of the diversity of Black Easter, a festival that does not care about hype.
Let us be honest, Black Easter is not an easily festival and it is clearly intended for musical value seekers (how strange this may sound). The festival closed with something lighter: the very danceable (but sublime) post-punk sound of She Past Away. The band was in top form and invited the audience to an ultimate dance party. Crazy, you say? Indeed, an hour earlier we enjoyed the (almost) classical music of Sonja Kraushofer, and now we were dancing to to the fine tunes of She Past Away.

Perhaps, a reviewer isn't supposed to say it, but then again, so what? Black Easter is a festival that is organized by Bodybeats with only one goal in mind: to bring bands (which are often ignored) on a Belgian stage. Just try to come up with something better than that!
Didier BECU
09/12/2016
---
Pasen, een rustdag? Toch niet als je een muziekliefhebber bent! Een halve dag na de indrukwekkende geluiden van In The Nursery, stonden de fijnproevers al weer in de Zappa om te genieten van een resem mooie namen.

Het is natuurlijk jammer, maar iemand moet het festival openen, en dat betekent natuurlijk dat op zo'n vroeg tijdstip het voltallige publiek nog niet is opgedaagd. In ieder geval, zij die er wel waren konden met volle teugen genieten van het moderne postpunkgeluid van Organic. Het is natuurlijk zeer gemakkelijk om de naam van Joy Division te laten vallen als je het over een band als Organic hebt, maar na één lied is het al duidelijk dat dit geluid voor het Brusselse trio niet meer dan een handleiding is om er zelf wat moois van te maken. De songs zitten heel ingenieus in elkaar, Raphaël Haubourdin is een gedroomde frontman (en neen, het is niet eerlijk om te stellen dat hij ons aan Ian Curtis laat denken) en met melodieën die het beslist goed op de radio zouden doen. Kortom, net als in het geval van Whispering Sons gisteren, zagen we opnieuw Belgisch talent op het podium waarover moet worden gesproken en geschreven!

Hoogtepunten opsommen op een festival is een kwestie van persoonlijke smaak, maar als je het mij vraagt was Saigon Blue Rain er beslist eentje. Deze ethereal popband werd recent aan de affiche toegevoegd toen bleek dat Les Panties het voor bekeken hielden, en wat voor een vervanger is dat uiteindelijk geworden! De Franse band heeft net zijn tweede cd (Noir Psyché) uit en vanaf de eerste klanken dachten we aan de hemelse geluiden van Cocteau Twins, zonder dat er sprake is van een kopie. Prachtige muziek om op weg te dromen, hemelse vocalen en een adembenemend klanktapijt van de gitaren. Perfect? Zoiets!
Mag het ook eens iets anders zijn op een festival? Wat dacht je van een vrouw met een cello en een heleboel loopstations? Jo Quail had nog maar net haar nagelnieuw album Five Incantations in Londen voorgesteld, en nu mocht ze dat in Antwerpen overdoen. Een dierbare vriend wees me erop hoe ik moest luisteren naar een muzikante die met een cello het geluid van de zee nabootst, en jawel, dat deed ze: het optreden was een auditief hoogtepunt van een grootse kunstenares die niet voor niets door muzikanten wereldwijd wordt geprezen. Het was kunst die weliswaar om een inspanning vroeg, maar wie zijn ogen sloot (ook al was er op het podium veel te zien) had volop de gelegenheid om weg te dromen op dit unieke klanktapijt. Een ontdekking? Meer dan dat...
Tijd voor een ander wonderkind: Evi Vine. Haar plaat ...And So The Morning Comes wordt door menig muzikant de lucht in geprezen (van Mark Burgess tot Wayne Hussey, met wie ze binnenkort op toer gaat). De Britse kunstenares koos voor een zeer intieme set die zich situeerde tussen folk en shoegaze. Evis muziek klinkt alsof je in een sprookje rondwandelt, je ontmoet er lieve personages, maar tevens angstaanjagende demonen. Wie aan het avontuur begon, had er nadien dan ook geen seconde spijt van!
Waarschijnlijk waren William en Larissa van Lebanon Hanover de publiekslieveling van het festival. Na drie cd's gaat de cold wave van dit Duitse-Berlijnse duo er nog steeds als zoete koek in. Lebanon Hanover is zeker niet de enige band die dit soort muziek maakt, maar doet dat wel als de beste en dat merkten we nog maar eens. Het contrast tussen de übercoole Larissa en de emotionele William kan niet groter: muziek die uit de kelders van de jaren 80 komt, maar vanwege de krankzinnige werkelijkheid van de wereld van vandaag, denk je niet van die tijd. Lebanon Hanover was subliem en dat begrepen ook de fans die de twee als ware helden begroetten.
Als er een prijs moet worden uitgereikt voor de durver van de avond, dan is het zonder twijfel aan Sonja Kraushofer. De liefhebbers kennen de Oostenrijkse als de helft van het EBM-duo L'Ame Imortelle of van haar ethereal solo project Persephone, maar deze show was wel eventjes andere koek. Sonja graaide in haar songverleden en hanteerde een stijl die net geen operette is. Een zeer gewaagd concept, wat uiteraard in een kamp van voor- en tegenstanders resulteerde. Het was aan de gezichten van de blijvers te zien dat dit (voor hen) het hoogtepunt van de avond was en een overdonderend bewijs van de diversiteit van het Black Easter Festival, dat bovendien lak heeft aan hypes.
Black Easter is, laat ons eerlijk zijn, geen gemakkelijk festival en duidelijk gericht op muzikale meerwaardezoekers (hoe gek dat ook mag klinken). Als afsluiter werd voor iets lichters gekozen: het uiterst dansbare (maar tegelijkertijd) sublieme postpunkgeluid van She Past Away. Het duo kon er maar niet genoeg van krijgen en sleurde het publiek mee in een ultiem dansfeestje. Gek toch?
Stonden we een uur eerder net niet naar de klassieke muziek van Sonja Kraushofer te luisteren, swingden we een uurtje later op de lekkere deuntjes van She Past Away.
Het is misschien niet ethisch van een recensent, maar wat heb je aan waarden? Black Easter is een festival dat is georganiseerd door BodyBeats met maar één doel voor ogen: de liefde voor (de vaak genegeerde) muziek en die op een Belgisch podium brengen. Verzin maar iets dat mooier is!
Didier BECU
09/12/2016
---