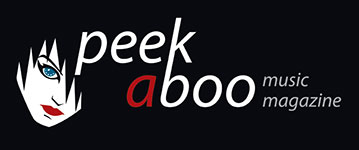 like this article review

---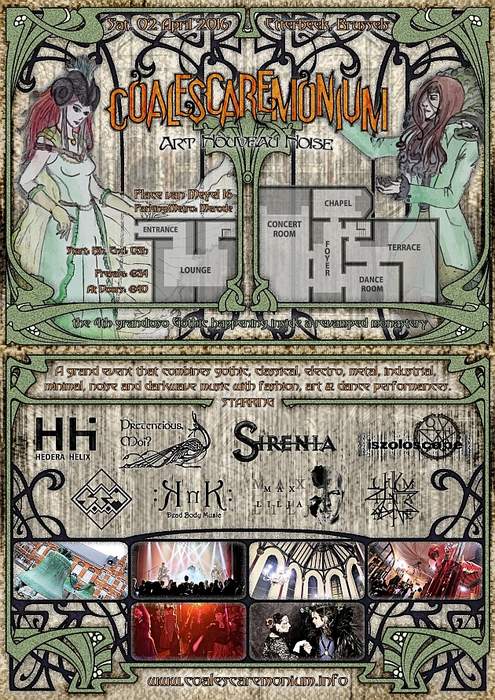 Coalescaremonium: a gathering of like-minded as we like it
Article
09/12/2016, Elke DAG
---
What do we love about the WGT in Leipzig? It's not just about the music, it's not just about donning your latest acquisition or fanciest outfit. Hell, it's not even just about the booze. It's an all-encompassing event. That is something the organization of Coalescaremonium understood completely. Coalescaremonium is a gathering of like-minded people, hence the name, which stands for coalescent (to come together in a single mass) ceremony. And did we come together? We did, even more numerous than during the previous edition, it seemed. And even more internationally. Good idea to check up on the language before starting a conversation with a handsome fellow or a comely damsel. Which shouldn't surprise, as the programme was even more varied and densely filled this time.
Early birds did not have to wait long before being able to loosen those hips and shake their feet on the dancefloor, where five diversely oriented DJ's enchained their sets.

Whereas the chapel served as an exposition room last time, now it was a perfect picturesque second concert scene. It served as a background for the opening ceremony, which featured each member of the organization giving the best of himself in an individual artistic performance, from playing the flute or bassoon to singing, dancing and reciting poetry. The chapel proved to be an excellent location for artists such as Max Lilja, who astounded the audience with his cello skills and handled unfortunate moves on a humourist note, and Luminance that treated the public on a nice mix of older and new work. The harder work of S.E.M. and KnK was scheduled there as well.
On the main stage, the whimsical and quite energetic Hedera Helix broke the ice, followed by Pretentious, Moi?'s convincingly gothic rock and the Norwegian Sirenia that stilled the hunger of the gothic metal fans. Making the transition to the closing party, the droning beats of Iszoloscope turned up the power. A closing party that was cut a bit short due to the slight delay in the schedule and the closing hour of the venue, but no complaints were heard.
What would there be to complain about, as in between concerts lots of other options were open to the attendees: having their pictures taken at the photo booth; admiring the stunning gowns presented in the absence-themed fashion show; admiring the photo-art of Andy Julia - yes, the singer!; doing some shopping in between; enjoying the relatively nice weather or grabbing a bite out on the terrace or sipping tea or coffee while munching on delicious cupcakes. And tor those who cherish booze as a priority, it was possible to indulge in style, with a fancy menu offering wine, bubbles and the indispensable classic for a self-respecting stylish event of the darker kind: absinthe.
And best of all? The occasion to chat, laugh and discuss in a pleasant, friendly ambiance, surrounded by familiar and less familiar faces in their very best attire. A true joy.
Elke DAG
09/12/2016
---
Coalescaremonium: een bijeenkomst van gelijkgezinden zoals we ze graag hebben.
Wat we zo bijzonder vinden aan het WGT in Leipzig? Het gaat niet alleen om de muziek of om het tonen van je laatste of meest oogverblindende mode-aanwinst. Het gaat zelfs niet om het zuipen. Het is een totaalevent. En dat heeft ook de organisatie van Coalescaremonium begrepen.
Coalescaremonium is een bijeenkomst van gelijkgezinden, vandaar ook de naam, die staat voor coalescent ceremonie (grofweg vertaalbaar als samenvoegingsceremonie). En kwamen we samen? Absoluut, nog talrijker dan tijdens de vorige editie, lijkt het. En meer internationaal. Even polsen naar de taal vooraleer een conversatie met een bevallige heer of bekoorlijke deerne aan te knopen, bleek een goed idee. Dat hoeft ook niet te verwonderen, met een programma dat ditmaal nog een heel stuk gevarieerder en gevulder was. Vroege vogels hoefden niet lang te wachten vooraleer ze de beentjes konden losgooien op de dansvloer, waar vijf uiteenlopende georiënteerde dj's hun sets aaneenregen.
Terwijl de kapel tijdens de vorige editie nog louter de rol van expositieruimte vervulde, vormde ze ditmaal een perfect pittoreske tweede podiumzaal. Het decor bij uitstek voor de openingsceremonie, waar elk lid van de organisatie een individuele artistieke prestatie neerzette, van fluit of fagot spelen tot zingen, dansen en voordragen. De kapel bewees zich als een ideale locatie voor artiesten als Max Lilja, die het publiek wist te verbazen met zijn cellotalent en die ongelukkige bewegingen met de nodige humor bijstuurde, en Luminance, die zijn toehoorders vergastte op een fijne mengeling van ouder en nieuw werk, maar ook het hardere werk van S.E.M en KnK vond er zijn plaats.
Op het hoofdpodium beet het ludiek opgevatte en best energieke Hedera Helix de spits af, gevolgd door de met overtuiging gebrachte gothic rock van Pretentious, Moi? en het Noorse Sirenia om de honger van de gothicmetalfans te stillen. Als overgang naar de sluitingsparty, gooiden de dreunende beats van Iszoloscope het over een forsere boeg. Een ietwat gekortwiekte afsluitingsparty doordat het programma wat uitliep en de locatie een sluitingsuur hanteerde, maar daarover hoorden we niemand klagen.
Wat zou er ook te klagen zijn met de vele opties die de aanwezigen nog hadden: een bezoekje aan de fotostand voor een portret; de adembenemende jurken bewonderen tijdens de modeshow met 'afwezigheid' als thema; de tentoongestelde fotografische kunstwerkjes van Andy Julia (jawel, de zanger!) - bekijken; wat shopping tussendoor; van het relatief mooie weer genieten of iets te eten halen op het buitenterras of thee en koffie slurpen terwijl je je tegoed doet aan de smakelijke cupcakes. En wie alcohol toch als een persoonlijke prioriteit zag, kon zich daar tenminste in stijl aan overgeven, met een klassevol menu dat wijn en bubbels aanbood, naast de onmisbare klassieker voor een zichzelf respecterend event met een donkere insteek: absint.

En het mooiste van alles: in een fijne en vriendschappelijke sfeer keuvelen, lachen, discussiëren, omringd door bekende en minder bekende gezichten die op hun paasbest voor de dag kwamen. Een waar plezier.
Elke DAG
09/12/2016
---