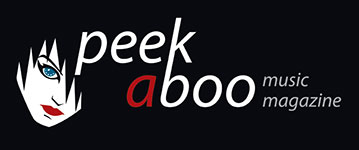 like this cinema review
---
PETER GREENAWAY
Eisenstein In Guanajuato
Movie
•
Cinema
Arthouse
•
Biography
•
Drama
[79/100]

Cinemien
12/07/2015, Didier BECU
---
It took Peter Greenaway eight years to make a new film, and judging by the four men who were in the cinema hall, it seems as if the world doesn't care. Of course, Peter Greenaway never has been the darling of the average movie fan, his idiosyncratic cinema is- to put it mildly - inaccessible to the general public. There are plenty of examples thatthe filmmaker likes to exaggerate with overwhelming images, but nobody can deny that there is a genius behind the camera. And what happens when a genius is making a film about a genius? Well, ironically ( just as in a mathematical theorem) you get mediocrity.
After his homage to Fellini (8½ Women), Greenaway makes another tribute to a great filmmaker: Sergei Eisenstein (Elmer Bäck, who you might know from The Spiral). It is however not a normal biography, but (to say it in Eisenstein's words) the ten days that turned Eisenstein's life completely upside down. After Strike, Battleship Potemkin and October, Eisenstein was seen as a cinematographic prodigy. Charlie Chaplin, who founded United Artists, was very interested in the protege of Stalin. The plans eventually was cancelled, but Eisenstein met the leftie Upton Sinclair in America, vho offered him the opportunity to direct Que Viva Mexico! in Mexico. It might seem a strange choice, but it is no coincidence. For a moment it seemed as if Mexico would also fall for the communist idea, and a propaganda filmmaker like Eisenstein (and that he was) could only help. It turned out to be a fiasco. Not only was the film a disaster, but that period also became the darkest in the cinematographer's life because he tasted of male love and fell hopelessly in love with his Mexican guide Palomino Cañedo (Maya Zapata), for whom Eisenstein was only an adventure.
A difficult topic, but it is probably the lightest film Greenaway ever made​​. That is because he makes an clownish figur of Eisenstein. The dandy with his strange hair discovers a culture that he embraces, but doesn't understand at all. For his friends he is the great director who everyone looks up to, but for the Mexicans he is no more than a weirdo.
The film, that premiered at the Berlinale 2015, is actually difficult to categorize. Greenaway can never decide whether he wants to make an artistic gay film in Derek Jarman-style or if he wants to direct a tribute to a cinematic hero. It is a schizophrenic situation that splits Eisenstein in Guanajuato in two. The film isa stunning cinematic tour de force, but that contrasts sharply with the bland story.. Moreover, it is also a film which is purely intended for film connoisseurs. Greenaway doesn't care that normal mortals do not know who Josef von Sternberg or Edouard Tisse are, and so it is normal that they stay away. But it seems that the cinephiles too have forgotten Peter Greenaway in 2015.
Didier BECU
12/07/2015
---
Het heeft acht jaar geduurd vooraleer er een nieuwe Peter Greenaway kwam, en te oordelen naar de vier mensen die in de bioscoopzaal zaten, ligt de wereld daar niet wakker van. Natuurlijk is Peter Greenaway nooit de lieveling van popcornvreters geweest, zijn eigenzinnige cinema is op zijn zachtst uitgedrukt ontoegankelijk voor het gewone publiek. Er zijn voorbeelden genoeg dat deze in Amsterdam verblijvende cineast graag met overdonderende beelden overdrijft, maar niemand kan er omheen dat er een genie achter de camera staat. En wat gebeurt er als een genie een film maakt over een genie? Wel, ironisch genoeg (alsof het een wiskundige stelling is) is het resultaat middelmatig.
Na zijn hommage aan Fellini (8 ½ Women) waagt Greenaway zich andermaal aan een ode aan een groot cineast: Sergei Eisenstein (Elmer Bäck, die je misschien wel uit The Spiral kent). Het is echter geen biografie geworden, maar gewoon (naar eigen zeggen) de tien dagen die het leven van Eisenstein compleet overhoop haalden. Na Staking, Pantserkruiser Potemkin en Oktober stond Eisenstein geboekstaafd als een cinematografisch wonderkind. Het door Charlie Chaplin opgerichte filmhuis United Artists was zeer geïnteresseerd in de protegé van Stalin. Het ging uiteindelijk allemaal niet door, maar hij ontmoette wel in Amerika de linkse rakker Upton Sinclair die hem de mogelijkheid bood om in Mexico Que Viva México! te draaien. Het lijkt misschien een vreemde keuze, maar toevallig is dat niet. Eventjes leek het erop alsof ook Mexico zou vallen voor de communistische koorts, en een propagandafilmer als Eisenstein (want, dat was hij uiteindelijk wel) kon daar alleen maar bij helpen. Het liep echter uit op een fiasco. Niet alleen bleek de film een ramp te zijn, het werden ook de zwartste dagen van zijn leven, want de cineast proefde er voor het eerst van de mannenliefde en werd hopeloos verliefd op zijn Mexicaanse gids Palomino Cañedo (Maya Zapata), die Eisenstein niet meer als een avontuurtje zag.
Een moeilijk onderwerp, maar toch is het waarschijnlijk de lichtste film die Greenaway ooit maakte. Dat komt deels doordat hij van Eisenstein een clownesk figuur maakt. Met zijn wilde haardos ontdekt de dandy een cultuur die hij omarmt, maar die hij tegelijkertijd helemaal niet begrijpt. Voor zijn gezelschap is hij wel de grote regisseur naar wie iedereen opkijkt, maar voor de Mexicanen is hij niet meer dan een rare vogel die in geen enkel hokje past.
Deze film, die in première ging tijdens de Berlinale van 2015, is eigenlijk noch vis noch vlees, zonder dat hij daarom slecht smaakt. Greenaway kan nooit kiezen of hij er een kunstzinnige homofilm in Derek Jarman-stijl of een ode aan een cinematografische held wil van maken. Het is dat schizofreen karakter dat Eisenstein in Guanajuato uiteindelijk ook nekt. De film zit vol met verbluffende cinematografische vondsten, maar dat staat in schril contrast met het flauwe verhaal. Bovendien is het ook een film die louter voor filmkenners is bedoeld. Greenaway trekt er zich geen jota van aan dat de normale sterveling niet weet wie Josef von Sternberg of Edouard Tisse zijn, en dan is het uiteraard normaal dat als je een film maakt voor cinefielen, de rest wegblijft. Maar te oordelen aan de opkomst, lijken ook die ciefielen Peter Greenaway te zijn vergeten.
Didier BECU
12/07/2015
---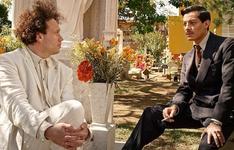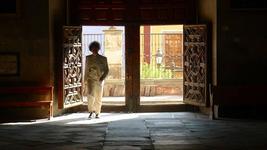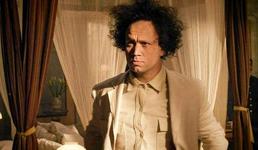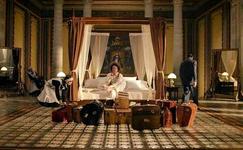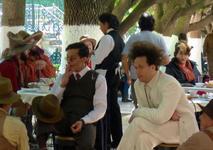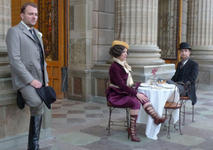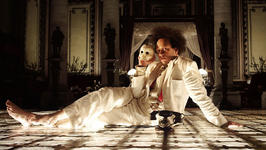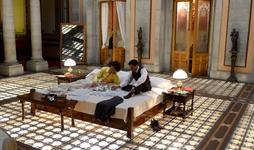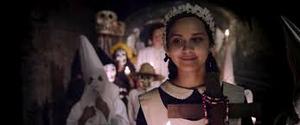 ---