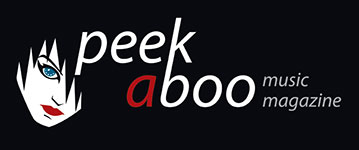 like this book review
---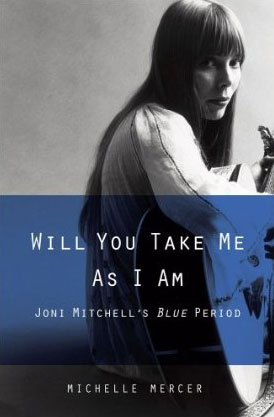 MICHELLE MERCER
Will You Take Me As I Am (Joni Mitchell's Blue Period)
Book
Biography
[85/100]

09/12/2015, William LIÉNARD
---
Joni Mitchell is one of the most intriguing artists of the past 50 years and her album Blue (1971) is not only recognized as a landmark, it is also one of the most appreciated and revered productions of recent musical history. Many generations of young men and women have matured to the tones of Blue and it helped them often in discovering and clarifying their deepest emotions, because Blue is a so-called confession album, in which the Canadian singer-songwriter shares her personal emotions in a very emphatic and unveiled way with the listener. She herself was probably a little shocked by the vigor and sincerity, that could be measured by the reactions of the fans. After the release of the album, she retired for over a year in her cottage on the Canadian east coast to catch her breath, but her so-called Blue Period would take years, and author Michelle Mercer has come to the conclusion that the albums For the Roses (1972), her second masterpiece Court and Spark (1974) and even Hejira (1976) are eligible, and that is very plausible, because on her next album, Don Juan's Reckless Daughter (1977), Joni Mitchell resolutely opted for jazz and destroyed the image of the blonde girl with the guitar and the angelic voice. The fans did not understand it, because they wanted more of the same – that's the way fans are - and consequently Mitchell's album sales plunged completely. It would take until 1982 before she gave in to the pressure and released accessible material again.
Michelle Mercer has interviewed Joni Mitchell elaborately in the course of many years, and she met her often on other occasions, where she could observe the artist with her friends and acquaintances. For Will You Take Me As I Am, she has consulted interviews and books from colleagues to make an accurate and complete portrait of Joni Mitchell (which it obviously can never be) and perhaps she herself is a fan (why else would you write such a book?), but she proves to be able to take enough distance to approach the topic of her interest with sufficient objectivity. As a result, Will You Take Me As I Am is not only a fascinating, but also an original book in which admiration and respect are linked to a strictly professional and journalistic approach, which is often lacking in this genre. And to avoid blunders, Mercer has discussed her findings with artists and actors from the entourage of the artist, sometimes with amazing results.
The author does not proceed chronologically, but she connects events and trends from different periods, so that a clear and hopefully regular behavior appears that can be linked to the musical output of Joni Mitchell, the culture and the zeitgeist in general. It is an exciting process. Those who are familiar with the life of Joni Mitchell from earlier books and articles, will not really find new facts in Will You Take Me As I Am. It is rather a refinement of certain known facts and circumstances, presented in an attractive style, allowing music lovers who are no fan of the Canadian artist to keep reading. For hardcore fans of her work, this is an indispensable book because it provides insight into the intense and uncertain period of her life and career between 1970 and 1976, which can be related to the aforementioned albums.
Will You Take Me As I Am, is certainly one of the key phrases from the work of Joni Mitchell, an artist who often felt misunderstood and was not willing to give in to the expectations of her fans, and regretted the fact that they begrudged her personal and artistic freedom. Someone like Bob Dylan has definitely taken similar decisions to similar effect, but apparently he felt less threatened by public rejection and criticism. Joni Mitchell belongs to a different and more sensitive species, but it has paid off, because during the darkest periods of her life, she wrote her best work.
Michelle Mercer's Will You Take Me As I Am is not published in Dutch, but the book can be ordered through the usual channels.
Backbeat Books, 2009
Paperback, English, 239 pag.
William LIÉNARD
09/12/2015
---
Joni Mitchell is één van de meest intrigerende artiesten uit de voorbije 50 jaar en haar album Blue (1971) wordt niet alleen erkend als een mijlpaal, het is tevens een van de meest geapprecieerde en vereerde producties uit de recente muziekgeschiedenis. Vele generaties jonge mannen en vrouwen zijn volwassen geworden op de tonen van Blue en het hielp ze vaak bij het ontdekken en verduidelijken van hun diepste emoties, want het is een zgn. bekentenisalbum, waarin de Canadese singer-songwriter haar eigen emoties op een zeer nadrukkelijke en niets versluierende manier met de luisteraar deelt. Zelf was ze wellicht een beetje geschrokken van de heftigheid en de openhartigheid, want die kon ze afmeten aan de reacties van de fans. Na de release trok ze zich een heel jaar terug in haar huisje aan de Canadese oostkust om op adem te komen, maar haar zgn. Blue Period zou nog jaren duren, en auteur Michelle Mercer is tot de conclusie gekomen dat ook de albums For the Roses (1972), haar andere meesterwerk Court and Spark (1974) en zelfs Hejira (1976) in aanmerking komen, en daar is wat voor te zeggen, want op haar volgende album, Don Juan's Reckless Daughter (1977) koos Joni Mitchell resoluut voor jazzmuziek en vernietigde ze het beeld van het blonde meisje met de gitaar en het engelenstemmetje. De fans begrepen het niet, want die wilden uiteraard meer van hetzelfde – zo zijn fans nu eenmaal – en bijgevolg stortte Mitchells albumverkoop compleet in. Het zou tot 1982 duren vooraleer ze aan de druk toegaf en opnieuw toegankelijker materiaal uitbracht.
Michelle Mercer heeft Joni Mitchell een paar keer uitgebreid kunnen interviewen, maar ze kwam haar ook vaak tegen bij andere gelegenheden waar ze de artieste kon bezig zien tussen haar vrienden en kennissen. Voor Will You Take Me As I am heeft ze interviews en boeken van collega's geconsulteerd opdat haar portret van Joni Mitchell accuraat en compleet zou zijn (wat het uiteraard nooit kan zijn) en wellicht is ze zelf een fan (waarom begin je anders aan zo'n boek?), maar het is haar verdienste dat ze toch genoeg afstand kan nemen om het onderwerp van haar interesse met voldoende objectiviteit te benaderen. Op die manier wordt Will You Take Me As I Am niet alleen een boeiend, maar ook een origineel boek, waarin adoratie en respect gekoppeld worden aan een strikt professionele en journalistieke aanpak, waaraan het in dit genre te vaak ontbreekt. En om flaters te vermijden, heeft Mercer haar bevindingen ook gecheckt bij artiesten en betrokkenen uit de entourage van de artieste, met soms verbazende resultaten als gevolg.
De auteur gaat niet echt chronologisch te werk, maar ze verbindt voorvallen en evoluties uit verschillende periodes vaak met elkaar, waardoor een overzichtelijk en al dan niet regelmatig gedragspatroon verschijnt dat kan worden gekoppeld aan de muzikale output van Joni Mitchell, de cultuur en de tijdgeest in het algemeen. Het is een boeiende werkwijze, al moet je er als lezer wel je hoofd bijhouden. Wie de levensloop van Joni Mitchell een beetje kent uit eerdere boeken en artikels, krijgt niet echt nieuwe feiten aangereikt. Er is eerder sprake van een zekere verfijning van bekende feiten en omstandigheden, verteld in een aantrekkelijke stijl waardoor ook muziekfans die geen fan zijn van de Canadese artieste geboeid zullen blijven lezen. Voor wie vertrouwt is met het werk van Joni Mitchell, is dit een onmisbaar boek omdat het inzicht biedt in de heftige en tegelijk onzekere periode uit haar leven en carrière tussen 1970 en 1976, die kan worden teruggekoppeld naar de eerder genoemde albums.
Will You Take Me As I Am, het is beslist één van de essentiële zinnetjes uit het oeuvre van Joni Mitchell, een artieste die zich vaak onbegrepen heeft gevoeld, die niet zinnens was om toe te geven aan de verwachtingen van haar fans, en die tegelijk het feit betreurde dat men haar schijnbaar geen persoonlijke en artistieke vrijheid gunde. Iemand als Bob Dylan heeft beslist soortgelijke beslissingen genomen met soms soortgelijke gevolgen, alleen voelde hij zich schijnbaar veel minder bedreigd door publieke afwijzing en kritiek. Joni Mitchell is van een andere en gevoeligere soort, maar dat heeft opgeleverd, want tijdens de donkerste periodes uit haar leven heeft ze haar beste werk geschreven.
Will You Take Me As I Am van Michelle Mercer kan u via de bekende kanalen bestellen, maar het boek is niet in het Nederlands uitgegeven. Het taalgebruik van Mercer is evenwel eenvoudig genoeg voor wie een normaal mondje Engels spreekt.
Backbeat Books, 2009
Paperback, Engels, 239 pag.

William LIÉNARD
09/12/2015
---