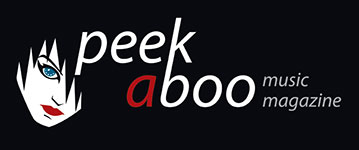 like this cd review
---
ZEITGEIST ZERO
Ghosts Of Victory
Music
•
CD
Glampop
•
Gothic Rock
[73/100]

Self-released
08/12/2015, Didier BECU
---
It is a strange phenomenon, but even if many British goth bands are around today, it always seems a tad more difficult for them to reach the public. Of course much has to do with the fact that the British music press hardly pays attention to the dark scene. Shame, because there is a lot of hidden talent in the British underground.

We suppose most of our readers have never heard of Zeitgeist Zero, although this quintet is around for more than ten years and it already made three records. This group from Leeds (yes, we know!) is especially popular for the strong live act that they themselves describe as a show, and got them on the stages of Whitby Gothic Weekend and Wave Gotik Treffen in Leipzig.

Ghosts Of Victory is the third album and is mixed by Steve Whitfield ,who was involved in most albums by The Mission (Neverland, Swoon), and mastered by John Dent, who worked with PJ Harvey. The ten tracks on Ghosts Of Victory reveal one thing: Zeitgeist Zero sounds incredibly varied!

Domestic Blitz begins with a war siren and immediately we get a strong dose of goth rock that sometimes has a goth metal touch, but the energetic synth beats give this song a special atmosphere. The Jekyll In Me is slightly lighter and shows that Zeitgeist Zero is a group that thinks in goth terms, but can't be put in one category only.

The best proof is Dust and Bone, because you can hear a jazz atmosphere of the 50s that is nicely dressed with a goth look. Yes, we know, on paper it sounds incredibly stupid, but Zeitgeist Zero delivers a good job.
There is also room for goth with a pop dose (Do not Pop My Bubble and Pushed To The Edge), and Loose Lips Sink Ships even tends to sound like glam rock. United In Black reminds us a bit of Republica (if you still know that band) and From Stun To Kill even has a touch of futurepop.

Ghosts Of Victory certainly is not a masterpiece (the band would not believe that if we wrote that), but it is a clever proof that a group does not have to be stuck on one style only. Daring!
Didier BECU
08/12/2015
---
Het blijft een vreemd fenomeen, maar ook al maakt men aan de overzijde van de Noordzee ook vandaag nog volop gothmuziek, blijft het voor Britse groepen altijd een tikkeltje moeilijker om het publiek te bereiken. Veel heeft natuurlijk te maken met het feit dat de Britse muziekpers nauwelijks (om niet te schrijven geen) aandacht heeft voor de zwarte scène. Bijzonder jammer, want er zit heel wat talent verscholen in de Britse underground.
Zo zullen de meeste lezers wellicht nog nooit van Zeitgeist Zero hebben gehoord, alhoewel dit vijftal al meer dan tien jaar bezig is en reeds drie platen heeft gemaakt. Deze groep uit Leeds (ja, we weten het!) is vooral geliefd voor hun sterke liveact, die ze zelf eerder als een show beschrijven en die ze reeds op de podia van Whitby Gothic Weekend en Wave Gotik Treffen in Leipzig bracht.
Ghosts Of Victory is de derde plaat en is gemixt door Steve Whitfield, die betrokken was bij de meeste platen van The Mission (Neverland, Swoon), en gemasterd door John Dent, die op zijn beurt samenwerkte met PJ Harvey.
Tien nummers vind je op Ghosts Of Victory en als je er één ding over kan zeggen, da is het dat ze ontzettend gevarieerd zijn! Domestic Blitz begint met een oorlogssirene en meteen worden we op onze wenken bediend met een stevige portie gothrock die soms naar gothmetal neigt, maar met energieke synthbeats het nummer een aparte sfeer geeft. The Jekyll In Me is iets lichters en toont aan dat Zeitgeist Zero een groep is die wel in gothtermen denkt, maar toch niet in één vakje onder te brengen is. Dat geldt zeker voor Dust and Bone hoort, want hier hoor je een jazzsfeertje uit de jaren 50 dat mooi in een gothkleedje is verpakt. Ja, we beseffen het ook wel, op papier klinkt zoiets ontzettend stom, maar Zeitgeist Zero komt er behoorlijk goed mee weg. Er is ook plaats voor goth met een popgehalte (Don't Pop My Bubble en Pushed To The Edge), en Loose Lips Sink Ships neigt zelfs naar ouderwetse glamrock. United In Black herinnert ons een beetje aan Republica (mocht je die nog kennen) en in From Stun To Kill zit er zo waar een vleugje futurepop.
Ghosts Of Victory is zeker geen meesterwerk (dat zou de band zelf niet geloven), maar levert een knap bewijs dat je als groep niet vastgeroest hoeft te zijn in één stijl. Gedurfd, maar met glans geslaagd!
Didier BECU
08/12/2015
---