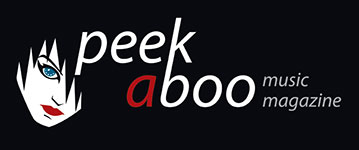 like this movie classics review
---
BERTRAND BONELLO
L'Apollonide (Souvenirs de la maison close)
Movie
•
Movie classics
Arthouse
•
Drama
[74/100]

02/09/2015, Didier BECU
---
Not everyone will be delighted with the style that uses director Bertrand Bonello, but those who like arthouse with an experimental touch, will be happy to spend two hours in the luxury brothel of madame Marie-France (Noémie Lvvosky). The story takes place between the late 19th and early 20th century. People are not aware that soon two world wars will completely change society, especially not the men who visit this ultra chic whorehouse. According to Marie-France the young girls should be glad that they are not on some filthy mattress in Marseille, but that they can offer their services to rich people instead. The disadvantage is that some of these decadent gentlemen have a very specific preferences. Sex in a bath filled with champagne, cmay be reconcilable with pleasure, but what if a customer wants to intersect the lips of a girl with a knife out of frustration (or is it love?)?
Bonello is a welcome guest at the film festival of Cannes and that obviously implies that his films are not always suitable for the average film viewer. Not everyone appreciated his biography of Yves Saint Laurent, and about L'Apollonide (Souvenirs de la Maison Close) opinions were divided, to put it mildly. Like Sofia Coppola in Marie Antoinette, Bonello uses a modern soundtrack. It's strange to see 19th century hookers weep at the sound of Nights In White Satin, when one of their companiondies, but it works. Bonello does not always respect the time of his story, and at the end of the two-hour visit to the brothel you are suddenly in modern Paris, where street hookers are picking up customers.Prostitution is timeless, just like good films!
Didier BECU
02/09/2015
---
Niet iedereen zal even opgetogen zijn over de stijl die regisseur Bertrand Bonello hanteert, maar wie tuk is op arthouse met een experimenteel kantje, zal met plezier twee uur in het luxebordeel van Madame Marie-France (Noémie Lvvosky) doorbrengen. Het verhaal speelt zich af tussen het einde van de 19e en het begin van de 20e eeuw. Men is er zich nog niet van bewust dat er weldra twee wereldbranden de maatschappij volledig zullen veranderen, zeker niet de heren die deze poepchique hoerentent bezoeken om hun lusten bot te vieren. Volgens Marie-France mogen de jonge meisjes blij zijn dat ze niet ergens op een goor matras in Marseille liggen, maar dat ze in haar pand hun diensten aan rijke lui mogen aanbieden. Het nadeel is wel dat sommige van deze decadente heren er een zeer specifieke voorkeur op nahouden. Seks in een bad vol champagne valt misschien nog te rijmen met genot, maar wat als een klant zich vergrijpt aan een meisje met een mes en uit frustratie (of is het liefde?) haar lippen doorsnijdt?
Bonello is een graag geziene gast in Cannes en zoiets impliceert natuurlijk dat zijn films niet meteen voer zijn voor de modale filmkijker. Zo vond bijv. niet iedereen zijn biografie over Yves Saint Laurent even geslaagd, en ook over L'Apollonide (Souvenirs de la Maison Close) zijn de meningen om het zacht uit te drukken erg verdeeld. Net zoals Sofia Coppola dat op meesterlijke wijze in Marie Antoinette deed, gebruikt ook Bonello een moderne soundtrack. Het is een vreemd beeld om hoertjes uit de negentiende eeuw te zien wenen op de tonen van Nights In White Satin als één van hun lotgenoten sterft, maar het werkt. Bonello respecteert niet altijd de tijd van zijn verhaal (zo heb je geregeld flashbacks die geen nut hebben voor het verhaal), en zit je op het einde van het twee uur durend bezoek aan dit bordeel plotseling in het Parijs van nu, waar we zien hoe straathoertjes klanten oppikken. Hoerenloperij is van alle tijden, net zoals goede films!
Didier BECU
02/09/2015
---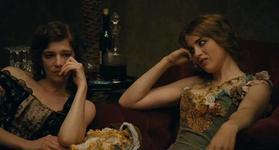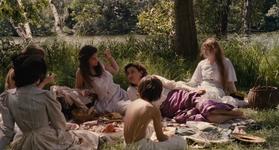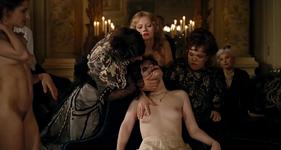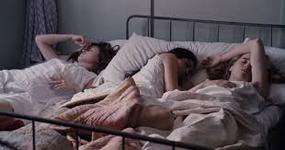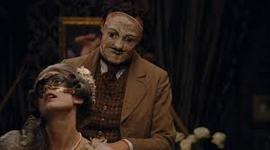 ---