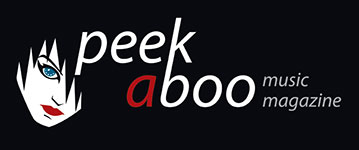 like this movie review
---
ROBERT SCHWENTKE
Insurgent
Movie
Young Adult
Belga Films
13/08/2015, Didier BECU
---
No matter how many reviews on arthouse productions we may publish, we must admit with that this is not the kind of movies that runs the cinema world. These are productions that young people like and they have pledged their hearts to the Young Adult-genre. A difficult word for an apocalyptic world that is ruled by adults, and in which teenagers are rebelling. The best known (and no doubt the best) example is The Hunger Games, and you may also add the Divirgent series by writer Veronica Roth. The films are made at a rapid pace, as you have to forge the iron while it is hot. Barely a year after the first Divirgent, there is now the second (Insurgent), and they are busy with a third one already. Whatever we write about Insurgent, it was the film that attracted most people in the spring of 2015, so...
Even if you have not seen the first one, you can easily follow the second film because everything is nicely summed up in the beginning. And because we want you to understand this review, we'll do the same! The story is set in future Chicago. The streets are desolate and the skyscrapers look like deserted ruins, but Jeanine (Kate Winslet) still rules her empire. In order to control the area, the city has been divided into so-called factions. There are five of those: Sincerity, Friendship, Erudition, Renunciation and Fearlessness. The selection is based on personality traits, but there are also people who don't belong to any of these five categories (the Divirgent). These people are considered to be dangerous, and so it is important for Jeanine that she can grab them. Tris (Shailene Woodley) is such a girl and together with Four (Theo James), her brother Caleb (Ansel Elgort) and Peter (Miles Teller), who first chooses Jeanine's side, she is always on the run, but obviously these rebels also want to destroy Jeanine's empire.
While the adventures of Katniss Everdeen look like an old-fashioned, wonderful adventure film, those of Beatrice "Trios" Prior are more like a (relatively ice cold) science fiction film with a CG-atmosphere. That might be the reason (and of course the fact that Shainley Woodley never matches Jennifer Lawrence) why this series does not reach the level of The Hunger Games. That does not mean that Divirgent is bad, because it is much better than The Maze Runner (the Young Adult-blockbuster of 20th Century Fox).
Just like in The Hunger Games, the Divirgent series also has many renowned big names (especially actresses), even if Robert Schwentke (the director of the vehicle RED and, even worse, R.I.P.D.) made the unforgivable mistake not to use the talent of these ladies. Kate Winslet has everything to be unforgettable as a shrew, but Schwentke seems to be satisfied with the display of her icy face. The talent of Naomi Watts is not used at all, and neither is that of veteran Ashley Judd. For these shortcomings the director should get at least a hundred lashes, but despite these harsh words, Insurgent is still a pleasant Hollywood topper.
Insurgent is now out on Belga Films, both on DVD and Blu-ray.
Didier BECU
13/08/2015
---
Hoeveel recensies over arthouseproducties we ook mogen publiceren, moeten we toch met rode kaken toegeven dat dit niet het soort films is dat de cinemawereld draaiende houdt. Het zijn wel de producties waar de jeugd op afstormt en sinds een paar jaar heeft die haar hart verpand aan het Young Adult-genre. Een moeilijk woord dat eigenlijk synoniem staat voor het scheppen van een apocalyptische wereld die wordt geleid door volwassenen en waarin de tieners rebelleren. Het bekendste (en zonder twijfel allerbeste) voorbeeld is The Hunger Games, maar ook al zit je meteen een flink niveau lager, mag je daar ook de Divirgent-reeks van schrijfster Veronica Roth aan toevoegen. De films worden in een razendsnel tempo gemaakt, kwestie van het ijzer te smeden als het nog heet is. Amper een jaar na de allereerste Divirgent is er nu de tweede (Insurgent) en is men nu al (hoe kan het ook anders) volop bezig aan de opnames van een derde. Wat we er ook mogen over schrijven, Insurgent was de film die het meeste volk naar de bioscoop lokte in de lente van 2015, dus…
Zelfs indien je de voorganger niet hebt gezien, kan je de tweede film zonder problemen volgen omdat alles in het begin mooi wordt samengevat. En omdat we willen dat je dit schrijfsel ook wat kan begrijpen, zullen we dat ook maar doen! Het verhaal speelt zich af in het toekomstige Chicago. De straten liggen er troosteloos bij, wolkenkrabbers lijken niet meer dan verlaten ruines, maar toch houdt leidster Jeanine (Kate Winslet) de touwtjes stevig in handen. Om het gebied te controleren heeft zij de stad in zogenaamde facties opgedeeld. Er zijn er vijf: Oprechtheid, Vriendschap, Eruditie, Zelfverloochening en Onverschrokkenheid. De selectie gebeurt op basis van karaktertrekken, maar er zijn ook mensen die tot geen enkele van deze vijf categorieën behoren (men noemt ze de Afwijkenden, of in het Engels: de Divirgenten). Deze mensen worden als staatsgevaarlijk beschouwd en dus is het belangrijk voor Jeanine dat zij gevat kunnen worden. Tris (Shailene Woodley) is zo'n meisje en samen met Four (Theo James), haar broer Caleb (Ansel Elgort) en Peter (Miles Teller), die eerst de zijde van Jeanine kiest, moet zij steeds op de vlucht slaan, maar natuurlijk willen deze rebellen ook Jeanines rijk laten kelderen.
Terwijl de lotgevallen van Katniss Everdeen de allure hebben van een ouderwetse, heerlijke avonturenfilm, lijkt het bij Beatrice "Trios" Prior op een (tamelijk afstandelijke) sciencefictionfilm die het vooral van zijn CG-sfeer moet hebben. Dat is wellicht de reden (en natuurlijk ook het feit dat Shainley Woodley zelfs niet in de schaduw van Jennifer Lawrence raakt) waarom deze reeks niet het niveau van The Hunger Games haalt. Dat betekent zeker niet dat Divirgent slecht is, want al bij al is het beter dan The Maze Runner (de Young Adult-blockbuster van 20th Century Fox).
Net zoals in The Hunger Games, kon men ook voor de Divirgent-reeks heel wat gerenommeerde grote namen (vooral actrices) strikken, ook al maakt Robert Schwentke (regisseur van het bejaardenvehikel RED en, nog erger, R.I.P.D.) de onvergeeflijke fout om niet meer uit het talent van deze dames te halen. Kate Winslet heeft alles in zich om een onvergetelijke feeks te vertolken, maar Schwentke neemt blijkbaar genoegen met het etaleren van haar ijskoude gelaatstrekken. Ook het talent van Naomi Watts wordt niet gebruikt, en ook dat van veterane Ashley Judd niet. Het zijn tekortkomingen waarvoor de regisseur op zijn minst honderd zweepslagen zou moeten krijgen, maar ondanks deze harde woorden blijft Insurgent toch nog altijd een aangename Hollywoodtopper. Er zat heel wat meer in deze film, nu hebben we middelmaat die ons alsnog tevreden stelt.
Insurgent is vanaf nu uit op Belga Films, zowel op dvd als Blu-ray.
Didier BECU
13/08/2015
---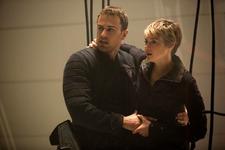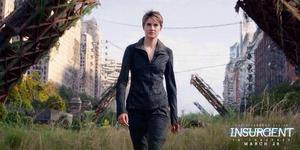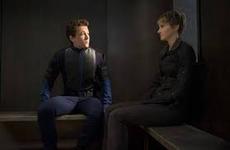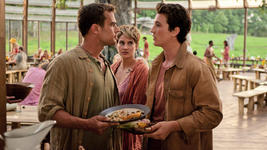 ---