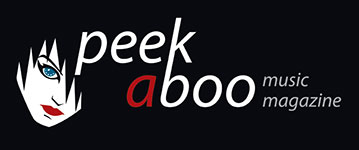 like this movie review
---
LOURENS BLOK
Boy 7
Movie
Young Adult
[64/100]

A-Film
14/07/2015, Didier BECU
---
In Belgium we have Labyrinthus by Douglas Boswell, and with Boy 7, the Netherlands now have their own Young Adult movie, or as some marketing guys like to call it: the first science fiction film from the Netherlands. In the wake of other popular Young Adult storie,s Mirjam Mous conquered the Dutch book market with her novels. There was a theatre version some time ago and of course a film had to follow! Lourens Blok is the director and he already has some experience with youth films. Boy 7 is, because of its small budget, certainly not a spectacle like Divirgent or The Hunger Games, but if you are willing to close your eyes for a few moments, then you can speak of a decent youth film.
The biggest flaw, at least if you want to compete with the big boys, is that Boy 7 has no majestic Hollywood decors or expensive special effects. The story takes place in a school, where the classrooms are grey and dull. These locations immediately remind you of the film version of 1984 by Michael Radford, but the question is of course whether youngsters who barely know George Orwell, will do so too!
in the book by Mirjam Mous mankind is once again the victim of its own inventions. Thanks to science we know everything, the government however thinks that it's better that it manages the information. In the world of Boy 7 there is no privacy and those who don't walk the line, are eliminated. Young people who break the law are put in youth institutions and trained to become "masters". That sounds nice, but it means that a chip is put in their brand that determines what they will do and makes them forget who they are. Sam (Matthijs van de Sande Bakhuyzen), who is called number 7, is such a boy. He quickly notices that something odd is going on. Along with Louis (Yannick Jozefzoon) and Lara (Ella-June Henrard), with whom Sam is in love, he tries to escape from the institutionalignment in order to reveal the truth.
It is a familiar and simple story, but strangely enough the weak link is the scenario! The characters are not adequately represented, and so we never become part of the Boy 7-world and that is exactly the strength of those popular Young Adult movies. Apart from that, Boy 7 is an entertaining youth film (even for adults) with a good cast, including Renee Soutendijk. The flaws are a pity, because Boy 7 is not bad at all! Now out on A-Film.
Didier BECU
14/07/2015
---
In België hadden we al Labyrinthus van Douglas Boswell, en met Boy 7 heeft nu ook Nederland zijn eigen Young Adult-film, of zoals bepaalde marketingjongens het graag zeggen: de allereerste sciencefictionfilm uit Nederland. In het kielzog van andere populaire Young Adult-verhalen veroverde Mirjam Mous de Nederlandse boekenmarkt. Er was eerder al een theaterversie en natuurlijk zou er ook een verfilming komen. De regie werd in de handen van Lourens Blok gelegd die eerder al met Midden In De Winternacht en Feuten: Het Feestje De Plank ervaring met jeugdfilms opdeed. Boy 7 is zeker, wegens zijn kleine budget, geen spektakel zoals Divirgent of The Hunger Games, maar als je bereid bent om op een paar ogenblikken de ogen te sluiten, is dit beslist een genietbare jeugdfilm.
Een minpunt, ten minste als je wil concurreren met de grote jongens, is dat Boy 7 noch majestueuze Hollywooddecors noch ,dure speciale effects bevat. Integendeel, het verhaal speelt zich af in een schoolgebouw waar alle lokalen grijs en vaal zijn. De kille locaties roepen meteen herinneringen op aan de filmversie van 1984 van Michael Radford, maar de vraag is of de jeugd die amper weet wie George Orwell is, dat ook zal doen.
In de boeken van Mirjam Mous is de mens het slachtoffer van zijn eigen uitvindingen. Dankzij de informatica weten en kunnen we alles, toch denkt de overheid dat het maar beter is dat zij alle informatie beheert. In de wereld van Boy 7 is er van privacy geen sprake en al wie naast de lijntjes loopt (zelfs politici), wordt netjes geëlimineerd. Jongeren die zich niet aan de wet houden, komen in een soort jeugdgevangenis terecht en worden er tot "masters" opgeleid. Dat klinkt mooi, maar eigenlijk komt het erop neer dat er in hun brein een chip wordt ingeplant die bepaalt wat zij zullen doen, en waardoor de jongeren volledig hun eigen ik vergeten. Sam (Matthijs van de Sande Bakhuyzen), die voortaan nummer 7 heet, is zo'n jongen. Hij merkt snel dat er iets eigenaardigs aan de hand is. Samen met Louis (Yannick Jozefzoon) en Lara (Ella-June Henrard), op wie Sam verliefd is, proberen ze uit de instelling te ontsnappen en vooral de waarheid aan het licht te brengen.
Het is een bekend en simpel verhaal, maar vreemd genoeg is net het scenario het struikelblok. De personages worden onvoldoende voorgesteld waardoor we zelden of nooit deel van het Boy 7-wereldje worden en dat is nou net de kracht van die populaire Young Adult-films. Voor de rest is Boy 7 een onderhoudende jeugdfilm (zelfs voor volwassenen) met een goed acterende cast waarin we zelfs Renée Soutendijk terugzien. Jammer van die foutjes, want Boy 7 die vanaf nu op A-Film is uitgebracht (zowel op dvd als Blu-ray), mag er best zijn!
Didier BECU
14/07/2015
---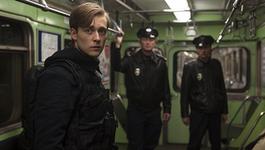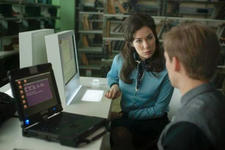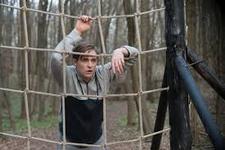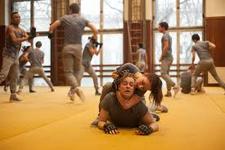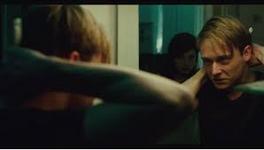 ---