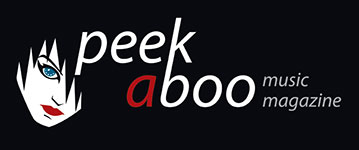 like this movie review
---
DOUGLAS BOSWELL
Labyrinthus
Movie
Adventure
[69/100]

Paradiso
26/11/2014, Didier BECU
---
Reviewers with gray hair like yours truly sometimes forget that cinema remains for most of us a day out with the family. You know, showing the children the wonder of the big screen that nowadays, due to the giant televisions, looks less and less impressive. It must be said that the Flemish youth film is nothing more than a mess, ruled by Studio 100. If you're not from Belgium, you don't know this crap and thank God for that, but it takes a lot of courage to do something different. Screen writer Pierre De Clercq (a well-known name in Belgium) and although Labyrinthus is not as good as say The Goonies or BMX Bandits, it's still worth seeing.
Frikke (Spencer Bogaert) is a teenager who, like most of his peers, likes to spend his spare time playing games. One day he gets a mysterious black box. It is a camera that can transform objects, but also people living in a video game (the labyrinth) in a game. Once inside, people are in a kind of coma. Frikke tries this disappearing trick with his cat, but when he notes that there is also a girl Nola (Emma Verlinden) inside the game, it is getting really serious! Gamemaster Peck demands Frikke to decipher a code, if he does not succeed the girl dies. Peck apparently has no pity for children, because after a while Frikke's best friend Marko (Felix Maesschalck) also dissapears in the game.
Labyrinthus does have its flaws, the CG effects for example are not convincing enough, but there is a nice story and there are great performances to compensate. Debutants Bogaert Spencer and Emma Verlinden are acting great, but this movie works in the first place because director Douglas Boswell has respect for his young audience. Labyrinthus is not a babysitter, thanks to the beautiful locations in Ghent, this youth film is even recommended.
Didier BECU
26/11/2014
---
Recensenten met grijze haren zoals ondergetekende vergeten het wel eens, maar een bioscoopbezoek blijft voor de meeste mensen in de eerste plaats een uitstap met de familie. Je weet wel, de kinderen de wonderen van dat grote scherm tonen dat door de gigantische televisies van tegenwoordig alsmaar minder imposant oogt. Het moet worden gezegd dat de Vlaamse jeugdfilm niet meer is dan een zooitje rommel dat met stevige teugels door Studio 100 wordt vastgehouden. Het vergt inderdaad heel wat moed om tegen de MegaMindys en andere Piet Piraten ten strijde te trekken. Scenarioschrijver Pierre De Clercq (van Hasta La Vista tot Flikken) probeerde dat wel en alhoewel Labyrinthus bijlange niet zo goed is als pakweg The Goonies of BMX Bandits, kan je toch stellen dat deze jeugdfilm een aardig lichtpunt in het afgrijselijk Vlaams jeugdfilmlandschap is.
Frikke (Spencer Bogaert) is een tiener die zoals de meeste van zijn leeftijdsgenoten graag zijn vrije tijd aan het spelen van games spendeert. Op een dag krijgt hij een mysterieuze zwarte doos in handen gestopt. In feite is het een fototoestel waarmee je objecten, maar ook levende personen, in een videospel (het labyrint) kan projecteren. Eens erin, geraken de personen in een soort coma. Frikke vindt het best leuk om deze verdwijntruc met de poes uit te proberen, maar als hij merkt dat er ook een meisje Nola (Emma Verlinden) in het spel zit, wordt het pas echt menens! Frikke wordt door spelleider Peck verplicht om een code te ontcijferen, doet hij dat niet dan sterft het meisje. Peck heeft blijkbaar geen medelijden met kinderen, want na een tijdje verdwijnt ook Frikkes beste vriend Marko (Felix Maesschalck) in het spel.
Labyrinthus heeft wel zijn gebreken, zo zijn de CG-effecten niet overtuigend genoeg, maar gelukkig staan daar een leuk verhaal en vooral prachtige vertolkingen tegenover. Debutanten Spencer Bogaert en Emma Verlinden doen het uitstekend, maar vooral merk je dat regisseur Douglas Boswell respect heeft voor zijn jonge publiek. Labyrinthus is niet zo maar gemaakt om als babysit snel wat centen te verdienen, dankzij de prachtige locaties uit Gent is deze jeugdfilm dan ook een meer dan geslaagd debuut.
Labyrinthus is uitgebracht op dvd via Paradiso.
Didier BECU
26/11/2014
---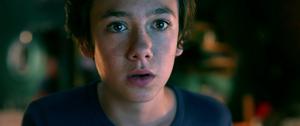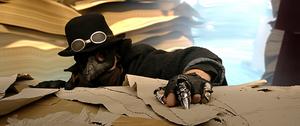 ---