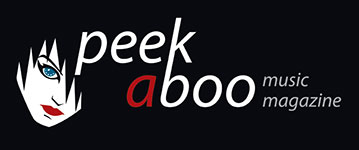 like this digital review
---
ADVANCE
Deus Ex Machina
Music
•
Digital
Electronics
•
Futurepop
[85/100]

AnalogueTrash Records
26/11/2014, Wim GUILLEMYN
---
Deus Ex Machina is the electro solo debut by Peter Perrett from Glasgow. With solo we simply mean that this musician does everything himself, with his project Advance he is building (especially live) his way to the top. Since February 2014, his debut is out on Analogue Trash Records (a label from Manchester). Unfortunately, I hear Advance for the first time, and with saying that, you know it'll be good!
Advance is making music like VNV Nation, Neuroticfish, Covenant or: Wumpscut:. Atmospheric synths supported by pumping and danceable beats. The vocals are clean and melodic, think Hurts or Depeche Mode. Everything was recorded and mixed in the Philip Morrison Studio in Glasgow.
The title Deus Ex Machina is the central theme: a post-apocalyptic future where technology is seen as a way to survive.
The songs are well constructed, it is music that is created for the alternative dance floor. And for the value seeker, you also have those lyrics that are more than just a stepping stone for the musical aspect.
The strongest songs are Weapon of Choice (lots of variety), Fractured Existence (that depicts a beautiful atmosphere with its synth bass), Enter The Wastelands (an intro that can be used as a soundtrack for some SF-movie) and Break the Silence. Also Divine Machines is a very nice song, while When We Return is a great track to end the album with.
Dead Technology starts a bit like Scooter but shows later more depth, although this number (just like New Objective) is one of the lesser ones.
Our conclusion: a strong debut. A small minor point maybe: let the song be supported by backing vocals as that will bring more variety and depth in the songs.
Wim GUILLEMYN
26/11/2014
---
Deus Ex Machina is het solo-electrodebuut van Peter Perrett uit Glasgow. Met solo bedoelen we gewoon dat deze muzikant alles zelf doet. Met zijn project Advance timmert hij (vooral live) reeds sinds 2010 aan zijn weg naar de top. Sedert februari 2014 is zijn debuut op Analogue Trash Records (een label uit Manchester) uitgebracht. Helaas hoor ik Advance voor het eerst, woorden dus waarvan je kan vermoeden dat het verre van slecht is.

Om het allemaal wat beter te situeren: Advance bevindt zich op de muzikale paden waar je ook VNV Nation, Neuroticfish, Convenant of :Wumpscut: vindt. Sfeervolle synths die door pompende en dansbare beats worden ondersteund. De zang is clean en melodieus, waarbij je aan Hurts of Depeche Mode denkt. Alles is opgenomen en gemixt in de Philip Morrison Studio in Glasgow.
De titel Deus Ex Machina is het centrale thema dat op het album aan bod komt: een postapocalyptische toekomst waarin technologie als een uitweg voor de mens wordt gezien om te kunnen overleven. Het klinkt allemaal zwaar, maar eens je de muziek hoort, merk je tevens een brok enthousiasme en energie die licht verteerbaar is.
De nummers zijn stuk voor stuk goed opgebouwd, muziek die gemaakt is voor de alternatieve dansvloer. En voor de meerwaardezoeker zijn er ook nog die teksten die meer zijn dan een loutere kapstok voor het muzikale aspect zoals je dat bij andere dansformaties wel eens tegenkomt.
De sterkste nummers zijn Weapon of Choice (veel afwisseling en mooie opbouw), Fractured Existence (dat met zijn synthbass een mooi sfeertje neerzet), Enter The Wastelands (de intro kan dienst doen als soundtrack voor een of andere sf-film) en Break the Silence. Ook Divine Machines is een heel lekker nummer, terwijl When We Return het album mooi afsluit.
Dead Technology begint een beetje als Scooter maar gaat gelukkig vlug over in een nummer met meer diepgang, alhoewel dit nummer (net als New Objective) toch van minder allooi is.
Onze conclusie: een sterk debuut waar weinig op af te dingen valt. Een klein minpuntje misschien: laat de zang nu en dan eens ondersteunen door backing vocals waardoor er meer nuancering, afwisseling en diepte in de zang komt.
Wim GUILLEMYN
26/11/2014
---