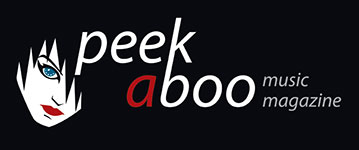 like this tv series review
---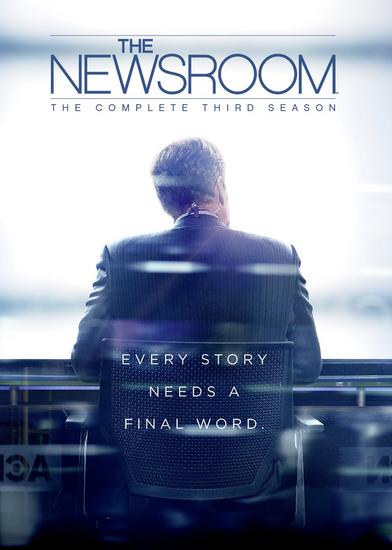 THE NEWSROOM SEASON 3
Movie
•
TV series
Drama
•
Political
•
TV Series
Warner Home Video
12/06/2015, Didier BECU
---
Not so long ago we reviewed on our pages the second season of the Warner-hit The Newsroom and here is already to next season. Or better said, the last season , because after just three years HBO decided to stop the series by Aaron Sorkin. Not really logically because the reviews were getting better and the ratings were okay as well. Maybe they just wanted to finish in beauty, because everyone knows what happens with series that go on and on.
We get a view of the world of journalism through the eyes of Will McAvoy (Jeff Daniels, who is probably playing the role of his life) and producer MacKenzie McHale (Emily Mortimer) with whom he has a relationship. McAvoy is, to put it mildly, a workaholic whose enthusiasm is unstoppable. But, and this is also his weakness, he is also a news anchor who wants to be in the spotlight. Last season we saw how the journalist was nailed by the American public because he announced that the US military used a deadly gas to rescue two soldiers. The story turned out to be completely false and that destroyed the credibility of McAvoy and his news team. The team also notes that the digital media become more and more a real competitor. Nowadays, people do not need journalists who dig deep, a tweet of ten words is enough. Moreover, there are rumors of a takeover of ANC. Therefore, the editors have no other choice than doing their best.
The strongest element of this series is not the script, which is indeed strange for someone who wrote The West Wing. It's simply the performances that make The Newsroom rise above the average. As previously mentioned, Jeff Daniels is at his best and Emily Mortimer also seems to be getting better as MacKenzie McHale. The best part of this season, however, is that of Dev Patel as Neal. Through an anonymous source he gets 27,000 pages of secret documents which do not show the US Government from its best side.
The Newsroom has supporters and opponents. The biggest downside is perhaps that it is all too chauvinistic. And it is a shame that they have pulled the cord, as not only the characters have grown and are more credible, the narrative structure was never as good as in this third part. Too bad.
For fans (or for those who missed it) there isthe regular edition, but also a box containing all 3 seasons, both on DVD and Blu-ray.
Didier BECU
12/06/2015
---
Niet zo lang geleden bespraken we op onze pagina's het tweede seizoen van de Warner-hit The Newsroom en nu al ligt hier het volgend seizoen te blinken. Of beter gezegd, het allerlaatste seizoen, want na amper drie jaar besloten de HBO-bonzen om de reeks, die door Aaron Sorkin is bedacht, op te doeken. Niet echt logisch zou je denken omdat de recensies alsmaar beter worden en ook had men over de kijkcijfers niet te klagen. Wie weet wilde men gewoon in schoonheid eindigen, want iedereen weet hoe het afloopt met series die men tot in het oneindige rekt.
In deze topserie, waarin we toch wel een zeer aparte (Amerikaanse) kijk op de wereld van de journalistiek krijgen, volgen we nieuwslezer Will McAvoy (Jeff Daniels, die hier wellicht de rol van zijn leven speelt) en producent MacKenzie McHale (Emily Mortimer), met wie hij een relatie heeft. McAvoy is op zijn zachtst uitgedrukt een workaholic wiens enthousiasme niet te stoppen is en die steeds het onderste uit de kan wil. Maar, en dat is meteen ook zijn zwakke punt, hij is ook een nieuwsanker die zich net iets te graag in de belangstelling werkt. In het vorige seizoen zagen we nog hoe de journalist door het Amerikaanse publiek genadeloos aan het kruis werd genageld omdat hij verkondigde dat het Amerikaanse leger een dodelijk gas gebruikte om twee soldaten te redden. Het verhaal bleek achteraf volledig uit de lucht gegrepen, waardoor McAvoy (en zijn nieuwsdienst) de kop van jut werd. Het team merkt ook met de dag dat de digitale media meer en meer in hun nek ademen. Tegenwoordig hebben mensen geen behoefte meer aan diepgravende journalisten, maar volstaat een tweet van tien woorden. Er duiken bovendien geruchten op die erop wijzen dat ANC weldra zal worden overgenomen. Daarom heeft de redactie geen andere keuze dan nog harder z'n best te doen.
Wellicht is het sterke element van deze reeks niet het script, wat inderdaad vreemd klinkt voor iemand die The West Wing schreef. Ook niet het leuke concept dat Sorkin fictieve nieuwsfeiten met echte mengt, want voor de niet-Amerikaanse kijker, die de actualiteit niet op de voet volgt, is dat sowieso niet gemakkelijk. Het zijn wel de vertolkingen die The Newsroom boven het gemiddelde doen uitstijgen. Zoals eerder gezegd is Jeff Daniels in zijn beste doen, en je vraagt je af hoe deze rasacteur zich moet voelen als blijkt dat zijn populairste rol het idiootje aan de zijde van Jim Carrey is (Dumb And Dumberer). Ook Emily Mortimer lijkt zich steeds beter in haar vel te voelen als MacKenzie McHale. De leukste rol van dit seizoen is evenwel die van Dev Patel als Neal, deze vreemde vogel krijgt via een anonieme bron 27.000 geheime documenten die niet meteen de mooiste kant van de Amerikaanse overheid laten zien.
The Newsroom geeft duidelijk zijn voor- en tegenstanders. Het grootste minpunt is wellicht dat het allemaal zeer chauvinistisch overkomt, iets wat jammer genoeg meer en meer de kop opsteekt in Amerikaanse series. Wel is het jammer dat men nu de stekker heeft uitgetrokken, niet alleen de karakters zijn gegroeid en meer geloofwaardig geworden, ook was de verhaalstructuur nog nooit van zo'n hoog niveau als in dit derde luik. Jammer dus.
Voor de fans (of voor diegenenj die het gewoon hebben gemist) is er naast de reguliere uitgave, ook nog een box beschiknaar met daarin alle seizoenen en die is zowel op dvd als op Blu-ray uit.
Didier BECU
12/06/2015
---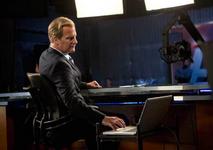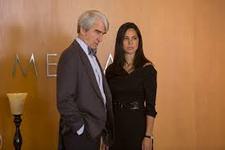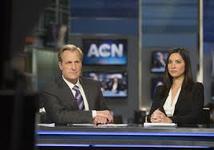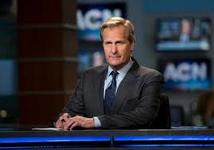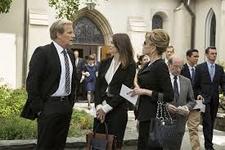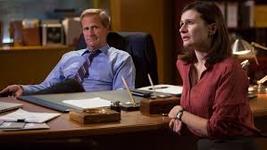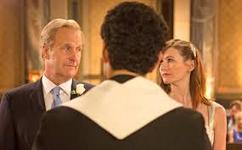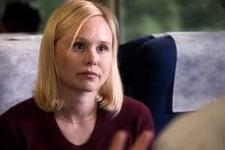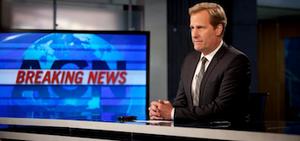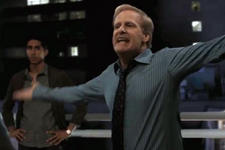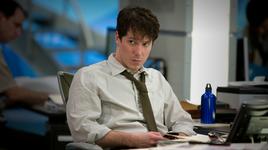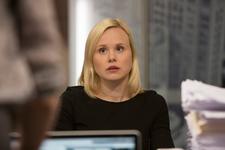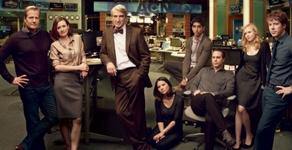 ---