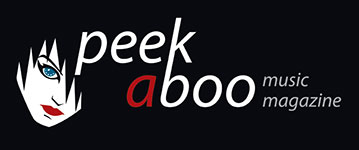 like this cult movies review
---
CLAIRE DENIS
Trouble Every Day
Movie
•
Cult movies
Arthouse
•
Cult
Paradiso
07/02/2015, Didier BECU
---
In France, you can find lots of filmmakers who refuse to walk the line. One of them is Claire Denis, who already turned the French cinema upside down since her ​​debut Chocolat in 1998. White Material with Isabelle Huppert is probably her biggest success, at least if you can use that term. People talked about her films, or at least bought the soundtrack, as for both Nénette Et Boni and Trouble Every Day, she could rely on Tindersticks. All in all a strange choice, because let us be honest: would you associate a movie about cannibalism (because that is the subject of Trouble Every Day) for one second with the desolate troubadoursound of Stuart A. Staples?
Expect no slasher or anything like that, because all the blood is beautifully packed in an arthouse suit that especially will please severe critics. The story is set in Paris. Without really knowing it, two cannibals are there. There is the American Shane (as always a tedious Vincent Gallo) andh his wife June (Tricia Vessey). They are on a honeymoon trip in the city of light. But it doesn't work in bed, and the reasonis that Shane wants wants to protect his wife against his own cannibalistic tendencies. Elsewhere in Paris, a woman (Béatrice Dalle) is locked up because her husband (Alex Descas) realizes that she is a danger to others. Once she makes love with someone, she devours him with skin and hair. Coincidentally Shane is looking in Paris for Alex, who used to be one of his colleagues.
Trouble Every Day is a very strange film. It is certainly no exaggeration to say that it is pretentious, but that apparently applies to every film in which Vincent Gallo takes part (no, we're not a fan of the guy!). Some reviewers search for a deeper meaning in the story, but the essence slightly differs from that of an ordinary slasher. Of course Béatrice Dalle is irresistible, but she always is when she plays a disturbed woman.For some the music of Tindersticks may be an extra reason to get the film from under the dust, but we never could saw the real link between the soundtrack and the atmosphere. I guess that we are the one to blame. Is Trouble Every Day that bad? No, certainly not, but it is not the big art movie some say it is. Try at your own risk.
Didier BECU
07/02/2015
---
In Frankrijk tref je wel meerdere cineasten aan die graag naast de lijntjes lopen. Een van hen is Claire Denis die meteen al met haar debuut Chocolat uit 1998 de Franse cinemawereld op stelten zette. Op White Material met Isabelle Huppert na, kun je niet zeggen dat haar films veel succes hadden. Er werd vooral veel over gesproken, of de soundtracks werden ervan verkocht omdat ze voor zowel Nénette Et Boni als Trouble Every Day op de Tindersticks kon rekenen. Een al bij al vreemde keuze, want zeg nu zelf: zou je een film over kannibalisme (want daarover gaat Trouble Every Day) ook maar één seconde associëren met de troebadoersmuziek van Stuart A. Staples?
Verwacht ook vooral geen slasher of iets dergelijks, want al het bloed dat vloeit is mooi in een arthousepakje verstopt zodat ernstige critici er ook iets aan zouden hebben. Het verhaal speelt zich af in Parijs. Zonder dat ze het zelf echt weten, lopen daar twee kannibalen rond. Er is de Amerikaan Shane (een zoals altijd vervelende Vincent Gallo) die samen met zijn vrouw June (Tricia Vessey) op huwelijksreis is in de lichtstad. Het wil maar niet lukken in bed, maar de reden blijkt al gauw te zijn dat Shane zijn vrouw wil beschermen tegen zijn eigen kannibalistische trekjes. Ergens anders in Parijs zit er een vrouw (Beatrice Dalle) achter slot en grendel omdat haar man (Alex Descas) beseft dat ze een gevaar is voor anderen. Eens ze de liefde met iemand bedrijft, verslindt ze hem met haar en huid. Het toeval wil dat Shane in Parijs op zoek is naar deze Alex, die vroeger een collega van hem was.
Trouble Every Day is een zeer vreemde prent. Het is zeker niet overdreven als we beweren dat de film pretentieus is, maar dat geldt blijkbaar voor iedere film waarbij Vincent Gallo is betrokken (neen, we zijn geen fan van de man!). Sommige recensenten zoeken wel een diepere betekenis in het verhaal, maar de essentie verschilt nauwelijks van die van een doordeweekse slasher. Natuurlijk is Béatrice Dalle onweerstaanbaar, maar dat is ze nu eenmaal altijd als je haar een gestoord wijf laat spelen. De muziek van Tindersticks is misschien een extra reden voor sommigen om de film van onder het stof te halen, maar naar het echte verband tussen de soundtrack en de sfeer hebben we het raden. Is Trouble Every Day slecht? Neen, zeker niet, maar ook niet het kunstwerk dat sommigen ervan maken. Proberen op eigen risico dus.
Didier BECU
07/02/2015
---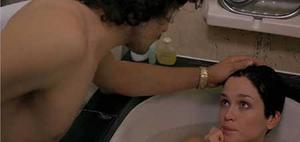 ---