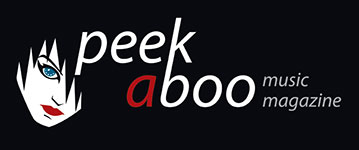 like this cult movies review
---
TERRENCE FISHER
Horror of Dracula
Movie
•
Cult movies
Horror
[80/100]

Hammer Films
28/07/2015, Didier BECU
---
These days Dracula regularly appears in some CG form, but nothing beats the original, and then we mean those versions with the recently deceased Christopher Lee. Although the Hammer studios were already founded in 1935, it would take another 20 years before they discovered the golden formula of horror. After the huge success of The Quatermass Experiment, the British film house discovered old Universal legends like Frankenstein, The Mummy and of course Dracula. Hammer made its first Dracula-film in 1958. It was simply called Dracula. Because they did not want this version to be confused with the Universal title from 1931 with Bela Lugosi, the US opted for the title Horror Of Dracula.
The role of the vampire was given to Christopher Lee. A year before this Shakespearean actor already played the monster in The Curse Of Frankenstein, and the studio was so impressed that it immediately gave him the role of Dracula. Actually, the man did not even have to act, his creepy appearance was enough to make the audience shiver.
This first Dracula film in a series of 8 people stays close to the story of the novel by Bram Stoker. Dr. Van Helsing (Peter Cushing) arrives in Transylvania after he found out that his fellow vampire hunter Jonathan Harker (John Van Eyssen) is bitten by Dracula. After having freed Harker of his vampire existence he is chasing Dracula with the familiar weapons: the crucifix, holy water, garlic and sunlight.
Horror Of Dracula is hardly surprising, because anyone knows the story by heart, and yet it is a movie that you constantly re-watch because of its beautiful photography that is so characteristic for the Hammer films from the 50s. Apart from a few bites, there are no bloody scenes, but is almost impossible not to wince when Christopher Lee appears on the screen. Lee was well aware that, just like his colleague Vincent Price, he was forever doomed to be linked to the horror cinema, but he became nonetheless one of the greatest film icons ever. Even though there have been a zillion versions of Stoker's novel, Horror Of Dracula remains after all those years one of the best. The special effects are of high quality and simply timeless, if you note the fact that this film was made in 1958.
Horror Of Dracula just like most Hammer Films is available in a lot (also cheap) versions, but we recommend the restored version by Lionsgate UK that has appeared on Blu-ray.
Didier BECU
28/07/2015
---
Regelmatig verschijnt Dracula in één of andere CG-gedaante, maar niets dat boven het origineel gaat en dan kijken we in de eerste plaats naar de versies met de onlangs overleden Christopher Lee. Alhoewel de Hammer-studio's al in 1935 waren opgericht, zou het toch nog 20 jaar duren vooraleer men de gouden formule van de horror ontdekte. Na het monstersucces van The Quatermass Experiment, begon het Britse filmhuis met het opvissen van oude Universal-legendes zoals Frankenstein, The Mummy en natuurlijk Dracula. Hammer maakte zijn eerste Dracula-film in 1958, sie simpelweg Dracula werd genoemd. Omdat men niet wilde dat deze versie met de originele Universal-titel uit 1931 met Bela Lugosi zou worden verward, opteerde men in de VS toch voor de titel Horror Of Dracula.
De rol van de vampier werd aan Christopher Lee gegeven. Een jaartje daarvoor had deze Shakespeare-acteur al eens het monster in The Curse Of Frankenstein gespeeld en men was zo onder de indruk dat hij onmiddellijk de rol van Dracula kreeg. Eigenlijk b ehoorde de man niet eens veel te acteren, alleen al zijn griezelige verschijning was een garantie om het publiek voor eeuwig te laten bibberen.
In deze eerste Dracula-film van een reeks van 8 gaat men zeer getrouw met de roman van Bram Stoker om. Dr. Van Helsing (Peter Cushing) arriveert in Transsylvanië nadat hij erachter is gekomen dat zijn collega-vampierjager Jonathan Harker (John Van Eyssen) door Dracula is gebeten. Na Harker te hebben bevrijd van zijn vampierbestaan, gaat hij Dracula achterna met als bekende wapens: de crucifix, wijwater, knoflook en het zonlicht.
Horror Of Dracula is geenszins verrassend, omdat iedereen dat verhaal sowieso uit zijn hoofd kent, toch is het een film die je alsmaar blijft bekijken wegens zijn prachtige fotografie die zo eigen was aan de Hammerfilms uit de jaren 50. Op enkele beten na, is er eigenlijk geen spatje bloed te zien, toch is het bijna onmogelijk om niet te huiveren als je Christopher Lee op het scherm ziet. Lee was er zich van bewust dat hij net als zijn collega Vincent Price door deze rol gedoemd was om voor eeuwig met de horrorcinema te worden gelinkt, dat belette niet dat hij tot één van de allergrootste filmiconen uitgroeide. Ook al zijn er een ontelbaar aantal versies van Stokers roman gemaakt, toch blijft na al die jaren Horror Of Dracula één van de allerbeste. De special effects zijn, als je rekening houdt met het feit dat de film in 1958 is gemaakt, van een bijzonder hoge kwaliteit en gewoonweg tijdloos.
Horror Of Dracula is net als de meeste Hammerfilms in een heleboel (ook goedkope) versies te vinden, maar wij raden je de gerestaureerde versie op Lionsgate UK aan,die op Blu-ray is verschenen.
Didier BECU
28/07/2015
---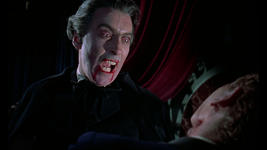 ---