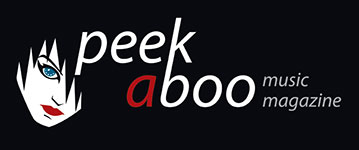 like this tv series review
---
LONGMIRE-SEASON 2
Movie
•
TV series
Crime
•
TV Series
Warner Home Video
20/05/2015, Didier BECU
---
Detectives are not always coming from Norway or Sweden, you can also find them in Wyoming, even if not many people are familiar with the name of Sheriff Walt Longmire (Robert Taylor. This character comes from the novel series The Walt Longmire Mysteries, written by Craig Johnson. He's the kind of cop who is investigating his cases in the old way. You won't see him hanging around in labs, but with logic thinking he solves the murder mysteries like a Sherlock Holmes from the Wild West. He surely isn't open for other opinions or methods, for example his vision on vegetarism is so conservative that it simply becomes laughable. To make it complete, he gets the help of a female officer Victoria "Vic" Moretti (Katee Sackhoff), who used to be a cop in Philadelphia and does everything what her boss commands. The other members of the team are Branch Connally (Bailey Chase) and Ferguson (Adam Bartley). Longmire is a strange character, the kind of guy George W. Bush probably was thinking of when he talked about loyal cops.
Absaroka County might be a small city, but it seems like every week a murder is committed there. Indeed, the ideal playground for a guy like Longmire. When his wife dies, everyone thinks that he will be quitting his job. Especially his daughter Cady (Cassidy Freeman), who has a secret love affair with Branch Connally, is convinced that her dad will choose something else in life. Her relationship has to be kept secret as Branchy hopes to get the job of Longmire, something that doesn't make him popular among the rest of the team. Longmire's best friend is the Indian Henry Standing Bear (Lou Diamond Phillips) with whom he shares a terrible secret. Longmire told his daughter that her mum died because of cancer, but in reality she was murdered. Cady doesn't accept the lie and goes to Denver where she meets with Detective Fales (Charles S. Dutton) who is in charge of the investigation.
This thin story is the red line that appears in every episode for a couple of minutes. The essence are of course the many murder mysteries Longmire has to solve, equally spread over 13 episodes. Because a murder is solved in every episode, you don't have to start bingewatching and in a way you're not even forced to watch it in a chronological way either. That's a very good thing as Longmire is a good, but also a bit of an old fashioned series. You can even say that this is a modern wester. That is of course due to Longmire who behaves as a sort of John Wayne and wants to do everything himself. For some the scripts might be too American, as after all they are about American farmers who want a thick steak on their plate and who think that outside America nothing is going on. You surely have seen it before, but that doesn't mean it isn't worth your time!
The second season of Longmire is out on DVD on Warner.
Didier BECU
20/05/2015
---
De speurneuzen moeten niet altijd uit Noorwegen of Zweden komen, ook in Wyoming hebben ze er een heleboel rondlopen, ofschoon we hier nog maar weinig van Sheriff Walt Longmire (Robert Taylor) hebben gehoord. Longmire die uit de boekenserie The Walt Longmire Mysteries van Craig Johnson komt, is een wetsdienaar van de oude stempel. Blijkbaar heeft hij geen nood aan een forensisch onderzoeksteam, maar ontdekt als een soort Sherlock Holmes van het Wilde Westen door pure logica en gezond boerenverstand wie een misdaad heeft gepleegd. Hij staat helemaal niet open voor andere ideeën. Zo is zijn visie op vegetarisme zo conservatief dat het ronduit lachwekkend wordt. Om het allemaal nog wat clichématiger te maken, kan hij ook rekenen op een vrouwelijke hulp Victoria "Vic" Moretti (Katee Sackhoff) die vroeger in Philadelphia de wet diende. De andere leden van zijn team zijn Branch Connally (Bailey Chase) en Ferguson (Adam Bartley). Longmire is een vreemde bullebak zonder emoties en waarschijnlijk het soort kerel dat George W. Bush in gedachten heeft als hij het over een degelijke politiekracht heeft.
Hoe klein het fictieve stadje Absaroka County ook is, toch gebeuren er om de haverklap moorden. Een ideale plek voor een kerel als Longmire, die met een ijzeren vuist de orde handhaft. Als zijn vrouw overlijdt, denkt iedereen dat hij zijn badge zal inleveren. Vooral zijn dochter Cady (Cassidy Freeman), die een geheime verhouding heeft met Branch Connally, is daar zeker van. Deze relatie moet in het geniep, want eigenlijk aast Branchy op de plaats van Longmire, iets wat hem uiteraard niet de populairste van het korps maakt. De beste vriend van de sheriff is Henry Standing Bear (Lou Diamond Phillips) met wie hij een verschrikkelijk geheim deelt. Hij vertelde zijn dochter dat zijn vrouw aan de gevolgen van kanker stierf, in werkelijkheid werd ze echter vermoord. Cady aanvaardt de leugen niet en trekt naar Denver waar ze inspecteur Fales (Charles S. Dutton) opzoekt om zo de details te kennen.
Dit verhaaltje is de flinterdunne rode draad die in iedere aflevering gedurende een paar minuten ter sprake komt. De echte essentie vormen natuurlijk de misdaden die Longmire moet oplossen en die zijn mooi over de dertien afleveringen verdeeld. Omdat er in iedere episode een andere misdaad wordt opgelost, hoef je eigenlijk de chronologie niet te respecteren en moet je zeker niet aan bingewatching doen. Wie de serie een paar weken op het schap laat liggen zal zeker weer kunnen volgen, en dat is een zeer goede zaak. Longmire is immers een degelijke, maar vrij ouderwetse serie. Mits wat goede wil zou je zelfs kunnen zeggen dat het een western in een modern jasje is. Dat komt vooral door de rol van Longmire die zich bijna als een John Wayne gedraagt. Misschien zijn de scenario's net iets te Amerikaans (het zijn en blijven Amerikaanse boeren die een moddervette steak op hun bord willen en die denken dat er buiten Amerika niks waardevols op de aardbol is), maar de scenario's zijn wel goed uitgewerkt. Een serie als deze heb je zeker al gezien, maar dat betekent niet dat ze je televisietijd niet waard is.
Het tweede seizoen voor Longmire is nu uit op dvd via Warner. Voer voor detectivefans die graag een cowboyhoed opzetten!
Didier BECU
20/05/2015
---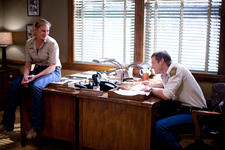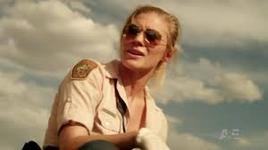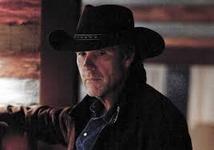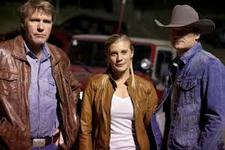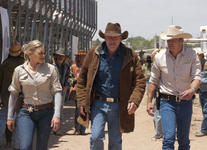 ---