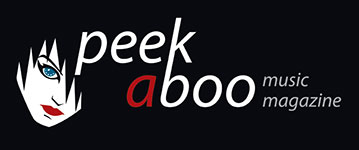 like this tv series review
---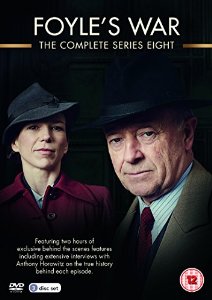 FOYLE'S WAR-SEASON 8
Movie
•
TV series
Crime
•
TV Series
RLJ Entertainment
12/01/2015, Didier BECU
---
The British remain champions in creating strong series. A good example is Foyle's War, written by Anthony Horowitz and more than ten years in the programming of numerous television stations.
Over the North Sea, they have reached the eighth season, which means three episodes with each the length of a feature film. If you have never seen an episode, you might indeed wonder who Christopher Foyle (Michael Kitchen) is. The detective himself is a mysterious person, unlike the characters that are part of his team and are ianalysed in detail and in pure Agatha Christie style.
Typical for the first six seasons is that the action took place during World War II. The attention of the English was focused on what happened on the front, but that did not mean that there are no murderers or other bandits around. The town of Hastings (near Sussex) has to deal with criminals who take advantage of the fact that the masses have other concerns. An ideal job for widower Foley.
For the the seventh season ITV (the television station which owns the rights ) decided to situate the action during the Cold War and the enemy in that period is of course the Russian regime. Foyle should actually be retired, but he is now employed by MI5. Writer Horowitz also has created a role for Foyle's former partner and driver Samantha "Sam" Stewart (Honeysuckle Weeks). She is now married to a member of parliament, but she is still a loyal assistant of Foley (although the scriptwriters had to use a lot of tricks to link her with the spy activities of the Cold War era).
Some fans swear by the original concept of Foyle's War and it is perhaps true thatthe series looks more more like a complicated Robert Ludlum storythan an old-fashioned detective, but it remains British quality.
This DVD box contains three episodes, released on RLJ Entertainment.
Didier BECU
12/01/2015
---
De Britten zijn kampioenen in het creëren van series die niet kapot te krijgen zijn. Een mooi voorbeeld daarvan is Foyle's War dat door Anthony Horowitz is geschreven en ondertussen al meer dan tien jaar in de programmering van talrijke televisiestations opduikt.
Aan de ander kant van de Noordzee is men ondertussen aan het achtste seizoen toe, wat zoveel betekent als drie afleveringen met ieder de duur van een langspeelfilm. Mocht je nog nooit een aflevering hebben gezien, dan kan je je inderdaad afvragen wie die Christopher Foyle (Michael Kitchen) wel is. Over de rechercheur zelf blijft men graag geheimzinnig doen, dit in tegenstelling tot de personages die deel uitmaken van zijn onderzoek en in pure Agatha Christie-stijl tot in de puntjes worden geanalyseerd.
Tpisch voor de eerste zes seizoenen is dat ze zich tijdens de Tweede Wereldoorlog afspelen. De aandacht van de Engelsen richt zich op wat er zich op het front afspeelt, maar dat betekent niet dat er geen moordenaars of andere bandieten rondlopen. Het stadje Hastings (nabij Sussex) heeft af te rekenen met misdadigers die profiteren van het feit dat de massa niet geïnteresseerd lijkt in de één of andere pineut die wordt gewurgd. Een ideale klus voor weduwnaar Foley.
Vanaf het zevende seizoen vond ITV (de televisiezender die de rechten bezit) dat het tijd was om het over een andere boeg te gooien en de gebeurtenissen na de tweede wereldbrand te situeren. Er was namelijk een nieuw spanningsveld nl. de Koude Oorlog en de vijand is natuurlijk het Russisch regime. Foyle zou eigenlijk al lang met pensioen moeten zijn, maar hij is nu in dienst bij MI5. Schrijver Horowitz heeft ook aan zijn vroegere partner en chauffeuse Samantha "Sam" Stewart (Honeysuckle Weeks) gedacht. Zij is nu getrouwd met een parlementslid, maar nog altijd een trouwe hulp van Foley (ofschoon de scenarioschrijvers heel wat toeren hebben moeten uithalen om haar met de spionactiviteiten van de Koude Oorlog te linken).
Sommige fans zweren bij het originele concept van Foyle's War en het is misschien waar dat het meer lijkt alsof je naar de verfilming van één of ander ingewikkeld Robert Ludlum-verhaal zit te kijken dan naar een ouderwetse detective, maar het blijft wel Britse kwaliteit.
In deze dvd-box zitten drie afleveringen, uitgebracht op RLJ Entertainment.
Didier BECU
12/01/2015
---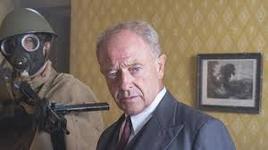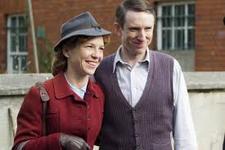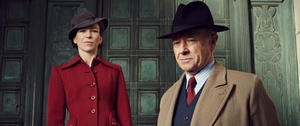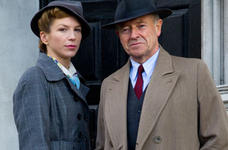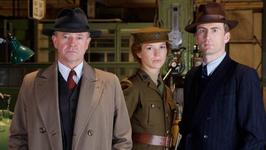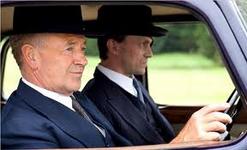 ---