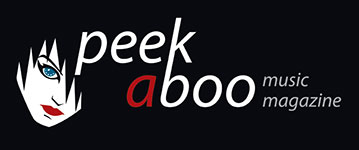 like this interview
---
DEINE LAKAIEN
After hundreds and hundreds of concerts in our career we must tell that no venue is better than the audience!
13/04/2012, Filip VAN MUYLEM
---
In order to promote the Shadowplay Festival I was asked to interview one of the greatest bands of the last decade, Deine Lakaien. It's an honor and a great pleasure … So here we go
You started in 1986 and since then you have made really huge steps forward, a lot of your actual fans weren't even born … How do you look back at it?
DL: In 1986, we couldn't imagine Deine Lakaien still existing in – say 1990. Maybe, we're still around because we don't look back on our past (e.g. we still haven't released any sort of "Best of" album up until now), because we are always busy with new challenges. "We only think of next Saturday", as German soccer players say.
For a lot of people you are still very experimental and strange. How do you manage to get along with each other and with the criticism?
DL: We trust each other, that's the first essential of an enduring collaboration like ours, and we still carry on. Well, ahem, and the critics: some people blame or praise us for changes or for remaining unchanged. Some critics love "Gothics", some hate them. In the course of time (in our case "looooong time") you get along with it, and in the morning, you continue, with what you started the day before.
In 2007 you performed together with the Philharmonic Orchestra from Frankfurt (20 Years of Electronic Avantgarde) and I must say: I'm still blown away by that performance. How did you work this out?
DL: That was a real "long-distance run." Of course, the songs were already there, but had to be orchestrated and, regarding the electronics, they had to be re-programmed on our ancient Commodore 64. We benefited greatly from the fact, that all preparations were done by ourselves, so we did not have to experience all the confusions, that usually happen with the collaboration between a band and an orchestra. A lot of work, a great effort – and here is our "secret of success": NO internet in the studio!
What is your own impression about it? Ready to try it with the London Philarmonic Orchestra?
DL: "Yes Sir, all troops on standby!" Give us the phone number of the London Philarmonic Orchestra and we'll knock off next week – all over the world! No – seriously, that was a marvelous experience. Everything worked perfectly and the reactions of the audience were more than enthusiastic. It's not necessary to buy a "big name", it's perfect to find partners who believe in the project. We really found a marvelous orchestra: the new Frankfurt Philharmonic!
Do you mind if people see Deine Lakaien as the modern version of Wagner with the looks of Mozart? And is it a good match & why?
DL: No, no, no, neither Mozart, nor Wagner! Just Deine Lakaien, Pop Music with maybe some higher demands and hopefully a bit more autonomous, compared to the mainstream. Forget about the looks, the surface, what matters is the inside, the "quintessenz" as we say in German.
Which is your favorite language to sing in: English or German? And why?
DL: Alexander loves to sing in many different languages, within the Deine Lakaien frontiers or even outside … English, German, French, Macedonian … and hopefully a lot of others still to come. But in the Deine Lakaien history the English language was always dominant. But some songs are really made for other languages, for example "Vivre". "Lass mich" or "Bei Nacht" which is the German version of "One Night" from our latest album.
One of the most beautiful songs you brought back then was 'love me to the end', I still get tears in my eyes thinking about it, what are the reactions of your fans and close friends?
DL: This song is one of our oldest to date and until today it means a lot to many people. We like the fact that we made so many different versions of it during all these years so that it never died, but grew with us like a partner … it seems that it's love will never find an end.
But the same force shines on singing with only a piano on the background, I still remember a great live set in Ghent (with God's Bow as warm up band). It was in an old abbey and sounded really great. Do you remember, plz share some thoughts about it?
DL: We always love to play our typical "acoustic" concerts with grand piano and voice only. When we did that for the first time back in 1992 we realized that this is maybe the only way for us to understand if our songs work or not. We were the first so called "electronic" act to dare this … even before the MTV – Unplugged success.
Do you have any preferences, singing live (huge or just intimate, in an normal venue or in an old abbey …)?
DL: Performing in an abbey is always something very special. It's definitely more suitable to play "acoustic", not only because of the atmosphere in an ancient building, but also as a result of the frequently delicate acoustics (sic!) in these places. All in all, after hundreds and hundreds of concerts in our career we must tell that no venue is better than the audience, with a good audience you can even play in the worst fucked up rock'n' punk club, and on the opposite you can't enjoy the most impressive opera house with a boring audience. So were are happy to say Thanks to our audience! We are lucky. Almost never disappointed by them.
How was the set in China (Peking 2008), must be very strange for you to perform there?
DL: Not strange at all! We have been to China 3 times now, with band and acoustic shows, had festivals, club shows and exhibitions and panel discussions. Nice and very well behaved people, wonderful food, and an extremely unexpected interest in German art from all centuries, from the romantic period, the 20's up to modern times.
How did the Chinese audience react?
We only played in gig cities, the audience seemed to be quite familiar with our music. Due to the fact, that we don't have a Chinese distributor for our records, this seems to be related to the (by musicians) loved and hated internet – and of course some obscure "black market" products.
With whom do you plan or want to work with in the future (love the collaboration with Qntal)?
DL: To be honest, we've never been crazy in the subject "collaboration". A bit cranky that we are, maybe one of our true shortcomings. But your question could be a hint. We should think about it. Maybe with Madonna, before she falls to dust (big laugh).
What do you think about the VNV Nation remix from 'Where you are'? Do you mind if, for example, Len from Implant (did some good work with Anne Clark, Primus, Crash 32 …) would do a remix for you especially for your gig in Belgium, as Len is one of our most promising artists?
DL: Well Ronan did a real good job, the song is very successful on the dance-floor. In general, the subject Remix touches the same problems with Deine Lakaien, as your question about collaboration.
With the 'Indicator' album you created a new masterpiece, was it hard to work out new material, after all these years and when will be there a new album?
DL: Actually we don't have concrete plans for a new studio album. This might come overnight – suddenly – or as a gently approaching wave in a desert … We'll keep you informed, as we always say … The indicator album was not harder to carry out than the releases before. The period between April Skies and Indicator was longer, because we had the 20 Years-project in between, which was a real sacrifice of time. In fact it was a pleasure to invent new lyrics-sounds-composing – and tons of it! In 1986, when we started, a Longplay Record had a physical limit: ca 45 minutes. For the Indicator project, we recorded one regular album, a "Special Edition" with additional new songs, two single releases including exclusive songs and a mini album for the German magazine Sonic Seducer, with very individual remixes of some Album tracks and one more unreleased song. And – Yes! – we are proud of it all!
Blue Heart is, for sure, my favourite one, it really touches me and when you sing "for heaven's sake, take my hand, run with me. Fly away with me and we'll never say goodbye". It also opens a fantasy of you singing it live … What inspired you to write and sing this song?
DL: In the beginning there was this strange rhythm for the verses … it just came over me like a spell. And then suddenly there was the song, the melody, the lyrics, … they came in like a dream. Maybe that is why it sounds like a fantasy song.
Can I say, you sing about your own situation from years ago in 'Immigrant'? Or is it about the new immigrants? Please tell us more …
DL: Now, I've never been an immigrant, more like a "half breed" with parents from two different countries and cultures. This song is about people who really try to survive, coming from regions where it is not possible to survive because every day people are dying from hunger, disease and war.
'One night' is another one I love, tell us about the dream you had in this song? It has a very hypnotic sound and I think a lot of fans love it too, an feedback on it?
DL: Our fans love this song indeed! The meaning? Sympathy, compassion for the silent people, their feeble attempts, their high-flying dreams, that will be – hopefully fulfilled one day, one night.
What will you bring us during the Shadowplay Festival, any sneak preview?
DL: A journey through the soul of Deine Lakaien, 25 years of melancholy and rage, of longing and resignation and … ahem … as we all trust in: a well performed and entertaining show!
And last one: let's say you can move around and visit anything in our country and taste the things you want to taste: what will you visit, taste … and why?
DL: We've never been in Antwerpen, which is said to be very beautifull. But one of our first goals should be the Musical Instruments Museum in Brussels … and the famous seafood restaurants of course … Best regards to all our fans in Belgium, we are waiting for you!
Ernst & Alexander
Enjoy it!
Filip VAN MUYLEM
13/04/2012
---