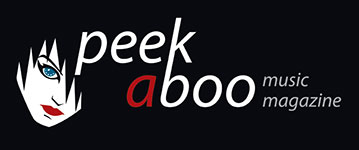 like this interview
---
GUILT TRIP
Our expectations are World Domination. Why not? If Barry Manilow can do it so can we.
13/04/2012, Chris KONINGS
---
After reviewing the debut album of Guilt Trip, I wanted to know the story behind the band. After all, they've been making music for more then twenty years so they are far from rookies. They go back a long way and we talked about the past and the future.
Hi guys, can you introduce the band for our readers?
The band was incarnated from Chirurgie Esthetique in the year 2000. The members K. Lindberg and M. Nilsson thought that the shift in theme and style warranted a change of name. We've been collaborating since the late 80's and members have come and gone but the core has always been us, Magnus and Karl. So then, what is Guilt Trip, you might wonder? Well, we are a band with our roots in electronic music and punk, as well as metal, goth and Jamaica. Our first influences I guess were à;Grumh, Front 242, Nitzer Ebb and Skinny Puppy but also Sex Pistols, Sham 69, The Exploited and Bob Marley. Now we take our influences where we find them and it ranges from David Bowie to Prokofjev to Donna Summer, Whitehouse or even Agoraphobic Nosebleed and ska.

Themes have changed over time and lyrically we can be either introspective and angst ridden or extroverted urging our listeners to commit to something, anything. Of course we would want you to agree with us but the important thing is to make you think about what you think. To question not only other peoples opinions but also your own. As Leary put it: "The message is very simple. Think for yourself and question authority."

Is this your first album?
No, it's actually our fourth. But it's the first where we are working with a label, Complete Control Productions (CCP). The other three are self-released and the first two "Reborn" and "Stigmartyr" can be downloaded for free at BRAP.ORG

Was it a DIY process or did you get a lot of help?
Musically it was all DIY, from composing and recording to mixing and mastering. It's all Guilt Trip. Cover art was with help from CCP. And of course they will help with distribution, marketing and things like that, but still a lot will be us.

It sound like most material was written during the same period, the songs have a similar feeling of desperation/angst.
Some of the songs actually contain elements of older songs but the production was quite simultaneous, and just as with the music, some of the older lyrics were changed to fit the mood and feel of us now.

"Reset" is about the exploitation of nature I guess, but what do you mean with the last lines?
'Covet time our minds close in
ponder the crime accessory you see'
Well, it's actually supposed to be "closed in", a typo. But it's pretty clear that we all are a part of the destruction of the world, not just ecologically but also culturally and socially. We are all guilty, an accessory to murder. We covet time, we want to think we have all the time in the world when in "reality" our time and our world is finite and not infinite. We close our minds to this and pretend everything is fine or will be, given time. So "ponder the crime". Think about it and try to do something at least. Sure we're all hypocrites here and we (Guilt Trip) are just as guilty as the rest, but still awareness can help if only a little.

Skinny Puppy seems to be a big influence on you guys.
So it seems. And it would be silly of us to deny it. They are and always have been. But they're not our only influence of course. When it comes to electronic music I guess we are mostly influenced by what is and has been made in Belgium, the UK and North America (Mexico excluded though there are a bunch of new quite interesting alternative rock and punk bands emerging from Mexico at the moment).
Belgium of course with PIAS and Antler, the UK with Mute, Portion Control and the Sheffield machine funk thing. The whole Chicago thing with Wax Trax and Nettwerk in Vancouver as well as other bands like Numb and early Psyche has always been there. But also NIN and of course the whole industrial metal thing with Ministry and lately even "industrial" rock like Marilyn Manson, Korn and so on.

Is there a big EBM hype in Scandinavia? A lot of bands play old school EBM these days, but you do things differently.
We've never really been into this whole, so called, 'Old-School' EBM thing. Sure we definitely liked and still like bands like DAF, Nitzer Ebb and so on, but think that some of the newer bands in that genre miss something that these early bands had. It's not just about stomping. But is there a big hype? Well, many bands in the scene in Sweden are quite into old school EBM, though some of them are now turning more pop, but a hype? Maybe, if so then maybe it's reached it's peak and is now turning more pop. And anyway from the beginning we've been more interested in the other part of EBM, the more complex heavier sounding part like Front 242 and especially their album Official Version, and again the North American and British sound. We will always find more inspiration in Revolting Cocks "TV-mind", Numb's "Dirt" or Portion Control's "Go-Talk" than in Nitzer Ebb's "Join In The Chant". Not that there's anything wrong with Join In The Chant, it's just not "us".

Which song do you think has the highest 'hit' potential and why?
These things are always hard to predict. We have a different, more personal connection to our songs so we might like them for other reasons than other people do. But it seems that there's really no consensus amongst the reviewers, though Reset seems to maybe become a favourite there. We'll just have to wait and see.
Me (Magnus) thought the funk of Headplate would appeal to some people so I'd say Headplate.
Me (Karl) agrees with Magnus although Unite is one of the personal favourites as well.

How is the response to your album and your music? And what expectations do you have?
Overall the reviews have been very positive and so far the least positive has been the one you wrote (you bastard!). Our expectations are World Domination. Why not? If Barry Manilow can do it so can we. We also believe that this album needs some time to set in due to the not too simplistic music and messages it contains.

Any gigs or a tour planned?
We have a few gigs planned. The first this year will be held in Poland Warsaw the 20th of April. A sort of release party where we are joined by our label mates The Pain Machinery and Severe Illusion as well as a great Polish band called Synchropath. Check them out and be there. Later in April the 28th we'll be resurrecting our old band Chirurgie Esthetique for a nostalgia gig in Malmö. Our home town, where we will also be playing some Guilt Trip songs.
Thank you for the interview!
Y'ar welcome. And of course the bastard remark was a joke. We don't think you're a bastard. Really we don't.
Chris KONINGS
13/04/2012
---