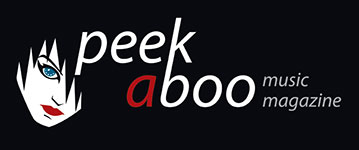 like this interview
---
NORTHERN SADNESS
We wanted to create our own world, in the little world the gothwave-scene is. I think we've succeeded. People often tell us they can't really compare our music to something else.
02/05/2012, Jurgen VANVLASSELAER
photos: © Shanna Delfosse
---
Hailing from the Venice of the North (Bruges), the Belgians of Northern Sadness are conquering the world with their dark moody electrowave. Their excellent debut album Riddles Of Lunacy was released a few months ago on the German label Echozone, and got great reviews everywhere. We had a talk with vocalist Koen De Brabander about the past, present and future of the band.
Hi Koen, would you tell us who Northern Sadness are?
Northern Sadness is a project Philippe Lefief and myself started in the summer of 2010. We're making music we like to describe as 'melodic dark electro with heavy wave influences'. But what's in a name?
How did it all start? Were there other projects before Northern Sadness?
Yes, a lot. My main band before Northern Sadness was Dead Poets. I fronted that band for about 16 years. At one stage Philippe became Dead Poets' bassplayer as Sam Claeys had joined Red Zebra. The moment Hazy, the man I founded Dead Poets with, joined Red Zebra as well, our band was as good as dead. Philippe and I always got along very well, so one day he told me he would like to extend our musical partnership and do something new together.
Is Nothern Sadness your only project? Or are there any side projects in the make?
At this stage we're very happy as it is. Of course Philippe has his own recording studio so he's involved in some other projects, but mainly as engineer and/or producer.
Next to The Arch and Der Klinke, Northern Sadness are the third Belgian band on the German label Echozone. How did they get in touch with you?
Through Der Klinke really. We've a good bond with them, as two former Dead Poets members play in Der Klinke. After we had finished our first demo's, Der Klinke vocalist Chesko introduced us to Echozone. I guess we're lucky to have friends like them.
Your debut album Riddles Of Lunacy is really great I have to say. A nice dark moody electrowave sound with excellent vocals. Did the album turn out as you wanted?
Pretty much yes. Thanks for the compliments, it's always great to hear feedback. We wanted to create our own world, in the little world the goth/wave-scene is. I think we've succeeded. People often tell us they can't really compare our music to something else.
Opening track Eternal Solitude is immediately spot on, a nice gentle warm introduction to the album and it describes the band name perfectly. Followed by my favourite track, All This Noise, which will do well on dancefloors. What are your favourite tracks and why?
I pretty much like Out Of Mind, 2nd Hand Girl and Alveston Meadows. I guess because they're the more personal ones. All This Noise came out as an EP as well, with some exclusive mixes and 3 b-tracks. We really believe in what we've made. Our music is not written and recorded overnight, and consists of layers. Riddles of Lunacy is an album that really grows on you. Not a ready to hear record of the moment. If you put in the effort, you're really going to like the album deeply.
What have the reactions and reviews been like, so far?
I must say very good. When you're in the studio writing and recording your songs; you can think the world of yourself. But once it's out there… Anarchy! It's like standing your child on it's own feet. But we can't complain… So far! (laughs)
One of the tracks, 2nd Hand Girl, even got airplay on Studio Brussel, one of our national radio stations, thanks to Luc Janssens (the Belgian John Peel). You were selected by him on the vi.be website if I am correct.
True. We were stunned the moment he got in touch with us. It seems he plays our music every now and then on Studio Brussel. He told us he loved our music very much. Well, to hear such things from a music lover such as Lux is a compliment every band dreams of, I guess.
One of the tracks on the album is a cover version of Red Zebra's classic I Can't Live In A Livingroom. I like your version, but it doesn't really fit with the rest of the album somehow.
That song started out as a joke, really. I think it's very strong. We weren't going to put it on the album, but the Echozone insisted, so… But I'm proud of it.
Did you get a reaction from Peter Slabbynck already or one of the other ex-Zebras ?
Yeah, they like it.
Were there other covers in the running for the album, or is this the only one you ever made?
No, we're not into covers that much.
You recently played live for the very first time at the Seawave Festival in Bredene. How did it go? How did it feel to play your music live on stage for an audience?
It was a great experience, in the first place because it gave us the opportunitiy to get in touch with our audience. Some people even sang along with some of our songs, incredible. We had some nice chats after the show with people who travelled a serious distance to see us play. Respect.
Was it just be the two of you on stage? Are there more gigs in the pipeline?
We've extended the band to three people; for the live part of the band. I must say it's going smoothly, as they are really fine people and good musicians. Our next gig is at Gothic Night on May 11th at JH Comma in Bruges.
Are you already working on new material? And what can we expect?
Yep.Our test team called one of the songs very Type-O-Negative; and we've even recorded a song with guitars, very Sisters Of Mercy. But it's early days. It won't be until 2013 before the new album will be released. We like to take our time.
What are the future plans for Northern Sadness?
Writing, recording, and hopefully playing our music live a lot! Getting in touch with the people who listen to our music, that's the most important thing for us.
Thanks a lot for the answers Koen and good luck with Northern Sadness!
Jurgen VANVLASSELAER
02/05/2012
---