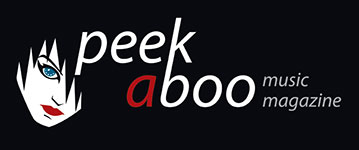 like this interview
---
AMBASSADOR21
Our deep idea is EVERYONE has a RIGHT FOR RIOT - it's doesn't fucking matter 'why?', is it 'logical' or not. If you just want to - it's enough. Go on!
28/05/2012, Chris KONINGS
---
They are loud and nasty and they are coming to Belgium to start a riot! Just the thing, a sleepy boring Belgium needs, I think. And together with KMFDM, AMBASSADOR21 will gladly shove their insights up our ass or in your ears! They can be seen in Kavka, Antwerp on the 18th of August! More info here.


You've been around for ten years now. What triggered the start of the band A21?

Ten years is not a such big age for the band ;) Well, we started all that because it's just a continuation of us. That was, many things need to be done, need to be said and need to be sounded.
We've been working in music many years, and one day we just decided to make AMBASSADOR21 to play the music we love to hear.


Are you popular in Russia? Or is it all very underground there? Because I'm hearing some alarming news from Russia these days...

In Russia? Yes, we guess we are known there, but of course, we are underground, as all kinds of alternative music. Well, perhaps RED HOT CHILI PEPPERS are more famous there. But maybe we are wrong.


The Russian feminist punk band Pussy Riot have been jailed for doing a protest song against Putin. From what I've read, two members are now on a hunger strike, it seems the KGB is still not far away.

There are so many shamefull happenings, indeed. And you know the KGB is never far away, it's a big mistake to believe that some people or forces just changed in one second and became nice and democratic. The Russia of today shows it to us. It's a shame to put nice young people into the jail just because they don't believe in "majority values" or they do simply not agree. It's a shame, when millions of "normal" people take it easy and just don't give a fuck. Already for decades, it all looks like a real hidden war, where such governments - or all governments - are just killing young people. That's a business they are really successfull at. They are complete dilettantes trying to create something, but to kill youth - physically or mentally - at that, they are the best. It's a big authority's misery that youth is not for them, but against them. Because youth, just itself, is as a right, a power. That's the thing government won't forgive.


I also saw a documentary about Viktor Orekhov's life, the KGB agent who secretly helped dissidents in the 60's and 70's. After 30 years, he agreed to come out of his anomity, he had been living undercover in the USA for a decade. What struck me was that in the end credits, it said that after the documentary got aired in 2010, he had to change his identity and go into hiding again. So I take it the KGB is still very much alive.

That's only confirms everything we're talking about.


Do you have protest songs? Or as a result, are you forced to stay away from protests like that? Or are things calmer in Belarus?

Yes, we have protest songs. Each of them. We are AMBASSADOR21, we always keep ourself on the edge. We only do the things we believe, we don't fist up on camera. We never can be forced to stay away. It's our life, nobody can tell us what to do, how to do, or force us not to do it. The main idea of AMBASSADOR21 existence always was and is the personal freedom, personal riot. Our deep idea is EVERYONE has a RIGHT FOR RIOT - it's doesn't fucking matter "why?", is it "logical" or not. If you just want to - it's enough. Go on! It's one of the main democratic values, even if we don't like democracy as one of the most comfortable regimes for authority, such great camouflage for them. Strange that people who are "democratic as fuck" never remember about such rights for other people.
Things in Belarus are not calmer. Let's say, it's more terrifying than in Russia. In Russia they try to keep the mask of justice, of law, of constitution, speak about democracy and blah blah blah, but in Belarus they don't even try to look good. They put political opponents into the jail not for 10-15 days, but for 5-8 years.


About your other band Suicide Inside, you've got a new record out called Homicide. And it's on Alfa Matrix now. Can you tell us something about the record and the change of label?

OK, let's go. SUICIDE INSIDE just released the new album "Homicide" and it's fucking good! We love this work so much, we have put a lot of us into it to get a result we love 100%! If compare with previous SUICIDE INSIDE albums, "Homicide" has lots of innovations, sounding more powerful and diverse. We tried lots of new things and, for our opinion, quite successfully.
About the change of label, it's just normal evolution, because every band needs to heard by a new audience at some point.


What's the difference between Suicide Inside and A21?

There are two different bands with very similar ways of thinking and creating. AMBASSADOR21 is about connection of you and society. SUICIDE INSIDE is about connection of you and yourself.


I liked "Homicide" a lot and you are at your best when it's loud and dirty! The soft song "Till The End Of Time" sounded off balance with the vocal insanity. Which song do you like best off "Homicide"? For me it's the titletrack, combining great rhythms, melodies and vocals with a vengeance.

It's quiet hard to say, because some songs on "Homicide" are very different and each of them brings some special mood and feelings. But indeed, the title track "Homicide" is what we love a lot, too. As much as "Till The End Of Time" - very unusual sounding song, almost synthpop style, but with quite sick sounds; "Razor", killer dancefloor hammered track; and of course "Snake H" which is just fucking great!


What can we expect from your upcoming gig in August?

You can expect a new AMBASSADOR21 live line-up. As has been announced, now two guitarist join us on stage - Saxy_D and Al'Grave. So, look forward for more hell and fire on stage. Of course, we will play a bunch of new songs. We started to work on our new album and are ready to show some stuff.
But, first of all, EXPECT US!
Chris KONINGS
28/05/2012
---