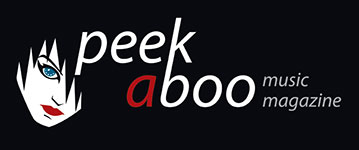 like this interview
---
DARKMEN
To me it seems like Belgium is still stuck in the 80's...We hope to play live in Belgium soon, and show them what good EBM sounds like!
05/06/2012, Jurgen VANVLASSELAER
---
If you're into hard hitting EBM, Darkmen will definitely be your thing! Their new and excellent album 'Living In Borrowed Time' has just been released on the Italian EK Product label, so it was more than time for Peek-A-Boo to have a chat with the Belgian EBM heads of Darkmen.
Hi Franky, can you give us a little introduction, who are Darkmen and how did it all begin?
Darkmen are Franky Deblomme (music and vocals) and Thomas Vrambout (live drums and backing vocals). We've been making music for almost 20 years now, but Darkmen was our first 'professional' attempt. Darkmen started in 2005. We set ourselves a goal of having a release within the first 3 years, if not we would stop this project …and yes …it turned out to be the right way to go!
Were you in other bands before Darkmen?
We had a lot of bands or projects before: electro, trance, ebm… We are interested in electronic music in general, so it's natural to reflect these influences into the music you make.
Your new album Living On Borrowed Time has just been released on the Italian EK Product label and not, as your former releases, on the Machineries Of Joy label from the Ionic Vision boys. How come?
Sadly Cop International decided to stop with Machineries Of Joy, so it wasn't like we decided to leave MOJ. As that decision was made, we started looking for another label. We already played a gig for the EK people in Napels, Italy 2 years ago so we knew they worked very professionally: very good website, promotion… We believe it was a good choice for Darkmen.
You're pretty close with the guys from Ionic Vision. How important are they for Darkmen and vice versa?
Very important! They gave us the chance to release our first record, they believed in us. Next to the professional link, they also are good friends: we often go to concerts or have some beers in the studio at Sven's place. I also did a remix and an extended version for their latest project Metroland.
Your last album Guilty By Association was released in 2009. How come we had to wait 3 years for a new one?
A lot has been going on in our lives: I seperated from my girlfriend and moved to another place, Thomas on the other hand got married and now his 2nd child is on the way. Next to that we also needed a break after Guilty by Association, as it took a very long time to release that album.
In 2010 you released a split 7" with Ionic Vision as part of the Exhibition Series (Bronze edition). As far as I know it was the intention to release 3 split singles. Are there still plans for the Silver and Gold edition?
Yeah… Sven and myself conceived this project one night when we had a lot of wine! The plan was indeed to release 3 vinyl singles and even a special collection box for it. Sadly the sales were not so good, we still have a 'large' stock left of those. With the sales of the first release, we intended to pay for the second, sadly it didn't work out as we wanted. So to all the readers: the 7" red vinyls are still for sale ;-)
The new album is your best so far, I have to say. Most hard hitting EBM albums starts to get boring after a while, but you manage to avoid that trap. It's maybe strange to ask, but are you satisfied with the result or would you change anything here or there if you could?
I think you can hear a lot of different influences on this album. Some songs are very Ionic Vision influenced (Legs Like Gold or We Are Hard ), some are more Spetsnaz (Run And Hide , Open Your Eyes). Scheissmusik has a classic DAF baseline, ACAB has that Oi/Punk feeling. So maybe that's the reason it's a very diverse album.
My favourite track is I Feel It In Me, the least hard track on the album and a dancefloor filler for sure. I would love to hear a Terence Fixmer remix of it!
Thanks! That was one of the songs that wasn't supposed to be on the album because it's so different. It was made more than a year ago. Indeed, Terence Fixmer or Millimetric should remix this, it could be a killer track!
Also the remixes from bands such as K-Bereit, Grandchaos, Dupont, etc are a plus to the album. Were there remixes that didn't made the album?
K-Bereit and Grandchaos are label mates, and good friends also. Nordarr (former Proceed and ex label mates on Machineries Of Joy) have always been a favorite of mine. Every remix made it on to the album, first of all because we liked them, and second if a band believes they made a good remix who are we to then decide it's not good enough.
You've remixed several tracks for other bands yourself. If you got the chance to remix any track, which track would you love to give the Darkmen treatment?
I would love to remix some of the Depeche Mode songs from the Speak and Spell album! But often the most interesting thing is to remix bands in a totally different style, something rock would be very cool. Maybe Linkin Park or Metallica, hehe!
And the other way around, who would you like to remix a Darkmen track and why?
Everyone! Honest, sometimes the bands with a big name deliver very bad remixes. On our Guilty EP the band A.D.A.C. 8286 made the best remix, but no one knows them. Sometimes you expect too much from those 'big name' bands, but of course if DAF or Nitzer Ebb offered to do a remix, we wouldn't refuse!
I know New Beat is a big influence for Darkmen. New Beat gave us real crappy tracks, but also some fantastic pearls. What, for you, are the greatest New Beat tracks?
New Beat was the reason for me to start making electronic music, and thanks to new beat, I discovered EBM (Front 242 & Nitzer Ebb were often mixed with new beat songs). I'm a big fan of the 'pre' new beat songs, songs that weren't made 'as new beat', but had that same feeling. Some of my favorites: Colonial Discharge (A Split Second), The Saint Became A Lush (Psyche), Breaking In (Carlos Peron), The End (John Carpenter).
Oh yeah!
Is there a reason that Darkmen barely plays live ?
When we play live it's almost every time in Germany. It's very frustrating, they always say Belgium is the country of EBM? Really? To me it seems like Belgium is still stuck in the 80's, organisers always put Front 242, The Neon Judgement or The Klinik on the roster, afraid to take any risks. Maybe they're also a bit afraid of the 'violent' aspect of our music (mind you, we are very friendly).I don't know what's wrong with them, playing live is the reason Darkmen exists, so It's very sad we don't get any chances.
What's next on the Darkmen agenda? Are you already working on new material?
The Familientrefffen 8 (7th of july Sandersleben,Germany) gig of course! It will be the 3rd time we play there: it's just the place to be for every EBM head. After Familientreffen I'm starting to work on some new material, maybe it will be a collaboration between Darkmen and another band, you'll have to wait and see :-) Time will tell!
A final word to the EBM heads out there?
We'd like to thank everyone who supports us: The Belgium Electro facebook page, the people from Sampler&Sans Reproche in Lille/France and our label of course! We hope to play live in Belgium soon, and show them what good EBM sounds like! Yeah!
Thanks guys and good luck!
Jurgen VANVLASSELAER
05/06/2012
---