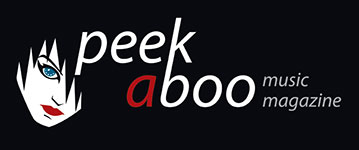 like this interview
---
ECHO US
My music confuses a number of people, probably because they are used to more conventional or genre-based music.
15/06/2012, Xavier KRUTH
---
"Tomorrow Will Tell The Story", the third album of Echo Us, is an exceptional listening experience. Ethan Matthews' stretched, progressive and atmospheric compositions are based on trance experiences and mystical sources. They form the second part of a trilogy that started with "The Tide Decides" in 2009. Matthews gives us extensive clarifications about his inspiration and his working methods. (This interview first appeared in Dutch on the Dark Entries-website.)
Ethan, first of all congratulations on your new album. It is a truly bizarre piece of music, full of incoherent sounds and rhythms, but still of one piece. How would you describe your music in your own words?
I've always been after things that create pictures in my own mind, but beyond that the main point of music is that it's a fabulous way to express the intangible things beyond the here and now world that most people are entrenched in from day to day. I have little interest anymore in expressing what I always saw as the dark side of the 'dualistic' mindset of human beings- the either it is, or it isn't- kind of attitude or disposition is expressed fully by other artists using darkness as a cliché. I am very much into consonance rather than dissonance; I let the arrangements and lyrics tell the story.
Incoherent is a strong phrase. I'd say enigmatic but smooth flowing, with sounds coming out of nowhere contributing to the whole. I am a micro-arranger. My music confuses a number of people, probably because they are used to more conventional music, or genre-based music. Echo Us is not about that at all, and I certainly won't apologize! I love what I do~ exactly as I am doing it these days.

Echo Us started as a band, but it is now clear that you are the main driving force. Can you tell us more about the history of Echo Us?
I started the band with a colleague back in college in 2000. It was a tumultuous time for me, but everything happened for the right reasons. I spent two weeks in a mental hospital in late 2001, and that experience brought my music and life on the path where I've ended up today, and all the hellish experiences back then have made me very much appreciate where I am today. It gave me the experience I needed to really follow all my dreams. In the end I had to completely reject the mental health establishment that partially raised me since I was 12 or 13 years old, and all the psychiatric drugs I've been on from that age through 23 or so. I was around people that at the time were just bad for me particularly in 2000-2001, so the only way to get out of these situations was to bury one self in music. It might all sound a bit shocking to normal people, but I think it's perfectly normal for a number of artists out there that have similar dispositions as I do. I really feel I had to do music in the beginning to express all the negative emotions, but as I've gotten a bit older I find that music is just a great thing to do for any level of expression.
Echo Us was given to me by my bandmates at the time in 2001, because there was no way we could have continued collaborating. I wanted something entirely different musically speaking. Once I moved to Portland, Oregon in 2003 things smoothed out.... But it still has taken years of constant work on myself and doing music continually to get into the kind of more positive space I am now. Once in Portland I decided Echo Us should never be a band in the conventional sense. I asked some friends and session players to help me out where I needed it most, and focused on developing a body of work.

Echo Us has had many changes in musicians over the years. On the last album, you chose to work with vocalist Henta and harpist Raelyn Olson. How do you decide which musicians you want to cooperate with and about their contribution?
I really just trust my gut. For me, everything happens for a reason. Raelyn and I met years ago while I was working at a small music shop. The other musicians on "The Tide Decides" I seemed to meet randomly, or through ads and other friends. I've never done any work with anyone that had to be shelved, and through the years this bunch of people in the Portland area have been a lot of fun to work with so I guess my gut about people is good. I believe that people meet because they have things to work on together, and these things are decided by the inner self- it's not about seeking out the best session player in town for me- I don't want to work with hired guns... I want to work with people I get with above all else.

"Tomorrow Will Tell The Story" is your third album, and the second part of a trilogy that started with "The Tide Decides" in 2009. Can you tell us more about the concept of the trilogy?
It was unintentional at the beginning, and I would just really write random things down: phrases, whether lyrical or not. The story evolved this way somehow, without me really knowing what it was for some time. About half way through working on "The Tide Decides", I realized that I seemed to be describing evolution on a personal scale, but also evolution as it compares to earth, like human scale lifespan versus earth's lifespan (or what one might imagine it to be after studying astronomy). "Tomorrow Will Tell The Story" was like entering the afterlife, or a 'purgatory' of sorts. Religious themes and all cultures bounce off of each other in this space where time does not exist anymore. As for what comes next, we will see soon enough...
You say that the album is based on out-of-the-body-experiences. I don't know about such experiences, but I can imagine that they sound a bit like your album. How do you proceed to make such compositions?
Haha! Well, as far as out of body experiences, they often don't sound, except for whooshing, banging and clanking noises in one's head at certain points! (That is the wonderful work of the pineal gland I believe). "Tomorrow Will Tell The Story" was fully written in trance states, light enough so I can work physically speaking, but with much more depth of trance than I had experienced before. It's really what's called "channeling" or "automatic writing" which is literally connecting with what some people call 'spirit guides"- a horrible term in my opinion. I am writing down what they are expressing. In this way, I don't feel as responsible for "Tomorrow Will Tell" as I have other albums, because I don't feel like it came from even my inner self but another source.
You seem to have a keen interest in mystic and metaphysical subjects, in the cabbalist tradition and the story of Seth in particular. Where does this interest stem from?
After I had the crazy experiences writing much of "Tomorrow Will Tell", a friend of mine told me about the Seth Books, that they are really the only books on philosophical channeling that are really cool and not just full of wishy-washy new age junk. After having a bit of my 'channeling' experiences myself I dove into those books and read them for much of the past few years. I think I connected with Jane (the author / medium) and Rob (the transcriber of the volumes) more than any musician I've ever been into... just that they are an influence now I suppose.
That said, my whole life I've had psychic experiences: as a kid I had quite a number of out-of-body experiences, some clairvoyance and also lucid dreaming which seemed to come later. I've always felt that reality on earth is only a small part of what I've seen; it's just an inner knowing.
The album contains a meditation cantic by Rawn Clark. Can you explain why you have chosen to integrate this piece?
Because the channeled lyrics I transcribed involved specific and fairly arcane, at least to me, Judaic phrases, I started to research more about Kabbalism and Jewish traditions. Rawn does cross-field meditation work and teaching and originally made the YHVH-ADNI canticle for his students. It is the very low voice you hear across a number of the tracks. It was one of the most amazing sounds I've ever come across, so I started to experiment with it. Once I figured out how well it worked in parts of the music I asked him if I could use it on the album. I was very relieved and happy that he was willing.
As a final question: can you give us an idea of records that are especially important to you or that influenced your music?
Oh gosh. I studied music, so I got exposed to tons of stuff from jazz to classical and all kinds of modern productions. As far as modern artists I always had a thing for Bjork's music and I got started playing guitar because of metal. Metallica and Megadeth, believe it or not. Since then, I broadened into fusion and the oft-mentioned progressive rock, gothic/electronic music, etc. I can really enjoy a group like Qntal, and I grew up on Tangerine Dream in high school as well. Kraftwerk too, but Tangerine Dream was the special one for some reason. I also love classical as mentioned, Debussy and Stravinsky to name two most important to me.
Thank you for your time and for this interview.
You're welcome ~ happy to chat - I thank you and your readers ~ Ethan
Xavier KRUTH
15/06/2012
---
U kan dit interview ook in het Nederlands lezen op de Dark Entries-website.
Xavier KRUTH
15/06/2012
---