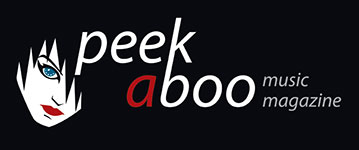 like this interview
---
FOR GREATER GOOD
...I feel our albums reflect us well as people. Eclectic, melancholic, not afraid of breaking the rules.
14/07/2012, Jurgen VANVLASSELAER
photos: © P. Dircken
---
One of the most interesting Belgian projects these days is, without a doubt, For Greater Good. Going from dark ambient pieces to neo-classical, to fully orchestrated tracks, they have it all. Their latest album, Remixed And Reworked, seen them handing over their musical babies to the capable hands of other bands.
Time for a chat with the core of the band, Izzy and Sam.
Hi guys, how did it all begin?
Izzy: For Greater Good started out somewhere in 2003-2004 as a solo project; the stuff I did not find suitable for my old goth-rock-band The Avatar I kept for myself to make soundscapes and ambient pieces. After the split of The Avatar it became my only project and I dedicated more time to it. In 2004 I released the first demo Lethargy and soon after that I was asked if it was possible to do a live show, as opener for Death In June. Being uncertain about how to translate this music to a stage and still keep it interesting enough for the spectators, I asked Sam (whom I known for a while, he had also been The Avatar's bass player) if he had some ideas, and he came up with a whole battle-plan,so we did the gig.
Sam: …and ever since that day Izzy and me have been the core members of For Greater Good and it's been a coming and going of guest-musicians. At the moment we are joined on stage by Peter Geysels (God, Man and the Devil) on bass-clarinet, clarinet and flutes; sometimes by Raya (Dark Poem) on vocals and Peter De Koning (TraumaSutra) on found-percussion. Live sound is provided by Mark Burghgraeve (Somnambulist).
Where does the band name come from? What's the philosophy behind it?
Izzy: It was a choice of three, in fact, and I asked some people what they thought would work as an ambient project name. I personally liked For Greater Good best from the beginning so the choice was easily made in the end. I always found the term "for the greater good" a very cruel and misleading sentence to use. Always when you hear someone use this phrase, you know that something bad will happen to people that didn't ask for the 'good' in the first place. I omitted the 'The' for the bandname because I thought "For Greater Good" sounded better, but still kept the essence of the term.
Sam: We believe in a world where everyone has freedom to live their lives as they wish through real cooperation, not competition. Dominion not domination. We will never claim to have the answers to world problems but we will always try to point them out.
Were you in bands before For Greater Good?
Izzy: Mainly I played in the atmospheric black-metal band Avatar, which later became the gothrock band The Avatar, with almost the same personnel. I also did some sessions with death-thrashers Grinning Ghoul and with the revamped version of Gurthang. I also played the flugelhorn in a marching band for more than 20 years, an experience that taught me a lot about music theory-in-practice, chords and ensemble-playing.
Sam: I was in The Avatar together with Izzy but I was in loads of bands before. I've been making music ever since I was 15 in one way or another, I played in punk-bands, jazz big-bands, pop-rock, experimental projects... sometimes I was the drummer, then the bass player, keyboardist etc. but mostly the singer.
Your music is quite diverse. The first full album (For Greater Good 2008) goes from dark industrial ambient, to neo-classic, to fully orchestrated tracks where you guys go all the way.
Izzy: The first demo CD was more of a coherent dark ambient CD, but after the first gig, when the solo project turned into a 3-man collective, all the different influences came together and it really took the music in interesting directions, which I liked immediately. After all, just like Sam and all our guest musicians, I have a very diverse taste in music; it was only natural to broaden the quite monotonous dark ambient style of the first demo towards a mix of neo-classical, ambient, electro and even pop.

Sam: We both have a wide interest and background, so I feel our albums reflect us well as people. Eclectic, melancholic, not afraid of breaking the rules.
The track Spring Mechanist could have been written by Wim Mertens. Was this some kind of tribute to the Belgian composer?
Izzy: Not really, the track started out as a soundtrack for the school my wife teaches at. They needed a soundtrack for their bodypaint event and I made this piece. I have to admit I was listening heavily to Wim Mertens and Philip Glass during that time, it is not a tribute but certainly their music had some influence on the track.
Sam, you have a fantastic voice and it's a bit of a shame that you barely use it. Why is that?
Sam: Thanks, nice to hear. I didn't sing much on previous For Greater Good albums, as I'd had enough of being the frontman for bands at that time and was feeling very insecure, but there will be some more songs with my voice in the future.
You also appeared on the La Femme Verte album, a project of Jean-Marc Lederman. How did you end up in that project?
Sam: We met at a festival and started talking backstage. Later on that night he agreed to do a remix for For Greater Good and some time after I got a call asking to join in the La Femme Verte project, which I accepted gladly. It's a great project to be a part of. I'm currently writing lyrics for a couple of songs for a brand new project with Jean-Marc.
In 2010 you released an album with Japanese artist Kenji Siratori. Can you tell us a little bit about him and how it came about?

Sam: Once upon a time I needed some Japanese voices for a song I was working on, and I asked him to translate and say some lines. And so he did, from there on it was a natural evolution to do something together.
He provided Japanese lyrics to tracks composed by you. What came first, the lyrics or the music? Did he ever tell you what the lyrics are about?

Izzy: The lyrics came first. We started to weave our music around and through it. For the most part we kept his texts as a whole, since we felt that was what he intended. He was quite surprised about that I remember, most artists cooperating with him tend to chop his texts into little pieces.
How does that work? Composing music to lyrics you don't understand?
Sam: A "translation" of the lyrics was send to us to give us a slight idea what the tracks were about, but mostly it's about feeling the atmosphere and filling it in with music and sounds.
In the beginning of this year you released a live album (The All4s Sessions). Can you tell us something about that?

Izzy: The All4s Sessions was a series of jam sessions we did with Edwin (violinist for the first album) and Jonas G. (a good mate of ours on additional sampling), Sam and me, to see if we could feel each other in a live situation. These improv sessions were pure magic.That's also the reason we brought it out; it was too good to leave it on the shelf.
On your latest release Remixed And Reworked bands such as No More, Liquid G, Dark Poem, P.A.L, etc. remixed your tracks. How did you select the bands and which project surprised you the most?

Sam: We have always seen our project as a seed to be planted in people's mind, to grow into a big tree and into a forest over time. So I started asking people if they were willing to do a remix for us, most said yes and so it grew to the collection. Remixes are made by 25Men, 6SISS, Ater X Decem, Bart Vervoort, Dark Poem, Dead Man's Hill, Distant Fires Burning, Ethan Fawkes, Generic, Ghost (aka Jean-Marc Lederman), IoNiZeR, Le Moderniste, Liquid G., Maxx Impact, Mi5, Morph Control, No More, P•A•L, Phazon One, Red Audio Faction, Roel Butzen, Toshe Station, TraumaSutra, Tzii, VV303, ZiBiT,... and many more.
Results are amazing, stylistic and very diverse so it's impossible for us to pick a favourite. We released some teaser tracks and the full Remixed and Reworked release will be out in September 2012.
Is this also a digital only release? Are there any plans to release this on CD as well?
Izzy: For now we are releasing this as digital-only, time will tell if we ever put these remixes on CD or on vinyl.
It's been a while since we saw For Greater Good on stage; I think your last gig was in the Netherlands last year. Are there any gigs in the near future?
Izzy: As it is, we've never been a band that performs on a weekly basis, and I never saw that as a problem. I like being on stage, performing our music, but for me the creative process is still paramount, and creating is what we are doing for the moment.
Sam: We decided to take a break from concerts to work on the various releases and the new album. But there is talk about some concerts in the future.
Sam, you're in several other projects as well. Vomito Negro, Dreamwash, Swandream, to name but a few. Can you give us a little update on these projects?

Sam: Yes, I am a busy bee and that gets people confused from time to time. So here goes:

My solo-project Dreamwash's first EP recently got signed to Deaf Owl Communication and will be released this fall on Beatport, iTunes etc and I'm also writing the soundtrack to a documentary.
I have a lot of fun playing live-synths and doing the backing vocals with Vomito Negro. New album will be out soon, with concerts in Sweden, Norway, Germany,... and more coming in every day.
Swandream is a fairly new electronic jam-project between jazz-saxophonist/experimental musician Andrew Chi Claes and me on vocals/beats/synths. We've done some concerts and had a great time but we don't plan ahead, we just take it as it comes.

And as usual I'm also involved in several other projects, starting up a new blog, getting exhibitions for my graphic art, helping people get their music out there, trying out new stuff and just enjoying the creative process that is possible in collaborations where 1 + 1 = 3.
So watch out for future collabs with Raya (Dark Poem), Jean-Marc Lederman, Antonio Palermo (SigloXX), VV303, and many more...


Izzy, what about you? Are there other projects you're working on, or is For Greater Good your only project?

Izzy: For the moment FGG is my only project indeed. I am always planning on going back to my roots and play in a metal band again, but one has to consider the time at hand. I have a busy daytime job in the diamond sector, a wife and a daughter and then For Greater Good. The time I have left to make music I want to dedicate as good as possible, so maybe its not so bad after all that For Greater Good is my only focus for the moment.
What's next on the For Greater Good agenda?

Izzy: New songs, some new performances, following up on the remixes, spend some time learning about the new toys I bought recently… more than enough already!
Sam: The new album, more remixes by us and then onto the next album of course. And a good band-BBQ once in a while.

Thank you very much for your answers and all the best with For Greater Good

http://forgreatergood.bandcamp.com/
http://www.youtube.com/playlist?list=FLqIRaFpLqpi_wiwqzxvUuEQ
Jurgen VANVLASSELAER
14/07/2012
---