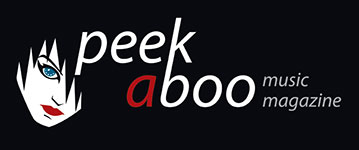 like this cd review
---
AGENT SIDE GRINDER
Hardware
Music
•
CD
EBM
•
Industrial
•
Minimal
[90/100]

12/02/2012, Philippe BLACKMARQUIS
---
Sweden's Agent Side Grinder burst onto the scene in 2008 with their never-heard blend of industrial, post-punk, old school EBM and minimal wave topped with the apocalyptic crooning of singer Kristoffer Grip. The band call this genre: "Industrial Beauty". The new album offers once more the typical elements of the band: drilling industrial sounds, hypnotic synth sequences, feverish vocals and post-punk bass lines. Again, the ghost of Ian Curtis is hovering over the music, but references also include Cabaret Voltaire, Einstuerzende Neubauten, Front 242, Suicide and Kraftwerk. The wonderful cover (featuring a vintage ABC80 home computer) is a clear sign that we are in for nostalgia!
The first song, "Look Within", is a perfect example of eighties minimal EBM with its pounding drums and bass lines. Grip's vocals sound a bit like Dirk Ivens in Absolute Body Control or Dave Gahan in DM's early work. The ending of the song is hypnotic with swirls of vintage synth sounds. "Sleeping Fury" and "Rip Me" add in a dark pop sensibility with a clear, well-delivered song structure.
On the first single of the album, "Wolf Hour", Grip's dark voice is counterpointed by the angelic voice of Swedish indie icon Henric de la Cour. The song is therefore more popish and I'm not sure the combination works well. The Red Idiot remix of the song on the digital single is less popish and corresponds more to the band's signature.
"Mag 7" is like a long trance with a regular beat and beautiful ethereal Moog sounds echoing Grip's screams. "Pyre" brings back the feeling of early ASG's albums with Neubauten-ish noises and an organic bass. SKRIET, two Swedish friends of the band, are playing guitars and percussions on this track. "Bring It Back" is a hypnotic EBM club killer with repetitive music and vocals, much in the style of The Klinik. Finally, "Stranger Stranger" closes the album softly with a typical Peter Hook-ish bass line and Kratfwerkian synth melodies.
In a nutshell, this new album marks a further evolution for the band away from pure industrial towards more song-based music. You get less raw violence but much more maturity and mastered tension. A must for all lovers of minimal, trance-oriented EBM with a 80ies touch! By the way, if you get the chance to see them in concert, don't miss them: it's an amazing experience!
Label: Klangarkivet/Headstomp Productions
Format: CD/Digital/Vinyl/Cassette
Produced by Henrik Sunbring, ASG and Pontus Svensson
Cover artwork: Mattias Leidebjer
Release dates for "Hardware":
Benelux: March 12
Scandinavia: February 22
Germany Austria Switzerland: March 16
France: March 30
Philippe BLACKMARQUIS
12/02/2012
---