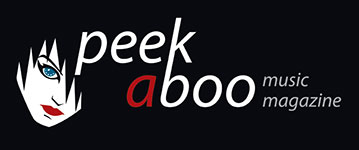 like this interview
---
METROLAND
Making music never felt as good, over the past 20 years, as it does now.
25/07/2012, Jurgen VANVLASSELAER
photos: © Axel Suetens
---
A few months ago I received 3 tracks in my mailbox. It was tracks from a new project Metroland. Kraftwerkian electronics, vocoder vocals, I loved it immediately. Now, a few months later, their debut album is in the pipeline (release date 07th of September on Alfa Matrix), so it was the perfect time to have a talk with the people behind the project: Passenger A and Passenger S:
Hi guys, can you introduce us to Metroland?
Metroland is a conceptual electronic Belgian band, consisting of 2 members, called Passenger S and Passenger A. It is 200% conceptual, because Metroland is not just a name. All the tracks on our album, Mind the Gap, are about metro systems, transport and commuting in general. This concept of course is also to be found in the CD-art, the website etc. We take all kinds of transportation in consideration. The metro was just a logical way to start off.
You're both in another known electronic band as well, but you asked me not to mention it. Why?
Because this interview is about Metroland.
When did the idea grow to start something else?
We were not really planning to start anything, as such, certainly not back then. In our former project we were continuously experimenting with sounds, samples, ideas and concepts. During these try-outs or happy accidents we found ourselves throwing away tons of ideas and arrangements, even demos were erased from the computer. The main reason was the fact that we set boundaries for ourselves and we were reacting with thoughts like, for instance, "nice melody, but too mellow" or "great baseline, but too techno" and so on. This was causing frustrations, frictions and after two decades we were losing our drive to continue making music all together.
A few years ago we were determined to make something out of an arrangement which we liked a lot (it turned out to be the track m-e-t-r-o). It was not entirely fit for our former project, but it just was too nice to disregard. Like many other arrangements, we put it at rest. But it kept coming back, over and over again, and it could even turn out not be useful and at that points we didn't even know what direction to head for. As we create all tracks in Reason (from "Propellerhead") for quite some time now, we both had the opportunity to mess around, separately. We regularly brought our files together and one day it turned out that we had several arrangements in the same vein. Without having a name or an idea which direction to go, a new 'project' was born. But the name and concept of Metroland came months and months later, after many triggers from the outside.
Your debut album is due to be released on Alfa Matrix, I've listened several times already, a concept album about the Metro. Why did you choose that band name and that concept?
Metroland was a choice as it firstly sounds really nice, secondly it is the name of a remix by Komputer (which happens to be one of our main inspirations and this remix happens to be the number one tune for Passenger S since forever) and thirdly (and this was the crazy part) we could make songs in one theme, 'metro's & commuting'.
But when you listen closer, it's not just about metro in particular. There is a song about travelling, about sitting on a train and simply enjoying the view, about transport for London (t.f.l), but indeed, mainly about metro systems.
I think that Alfa Matrix is the perfect label for you, a big label, run by people who adore electronic music and who know their stuff. How did you come into contact with them?
We have known the people behind Alfa Matrix for more than 20 years now, we are friends for life. We were both starting our own musical careers alongside each other, but also we were crossing paths now and then, so we never lost contact as such. Since we were not new to each other, we were all aware on both sides about the quality delivered and the commitment to the business and the band or the limitations a label and group have these days.
Despite the friendship that we had, we made it very clear that Metroland was a serious commitment, not just a loose idea that would fade out fast. We have an attitude, know what we want, what we stand for and which goal to achieve, and we did not want to bring that friendship into jeopardy. This was clear for both parties.
It's quite clear that Metroland is heavily influenced by Kraftwerk, Komputer, Logic System, YMO etc. May we see it as some kind of a tribute to those bands?
"Tribute" is a very strong word; we prefer to see Kraftwerk and Komputer as sources of inspiration, a truckload on ingredients that inspired us over the years. For sure, the humour of Telex was also an inspiring point. On the other hand, it's not just bands from the past, even modern artists like Anthony Rother or Orbital fill our creative minds.
Let's be honest here, we also took some valuable lessons and know-hows from EBM. Let's just say that we took the best of all those worlds and we blend them into one cocktail called Metroland.
You also use vocoder vocals, a soft spot for me in electronic music. My favourite vocoder track is Robot With A Rose from Belgian outfit Biss. What's your all time favourite vocoder track?
For Passenger S that would be definitely The Robots by Kraftwerk. The first time Passenger S saw Kraftwerk performing that track using nothing but robots on stage, it felt like a heavy thunder struck in a clear blue sky. That was absolutely pushing any possible limit further than one can imagine. Daring to do that is huge, so huge. And not only was the live version of that track wonderful, the vocoders there are of top notch quality, sounding so robotic and human at the same time. Every time Passenger S plays any version of The Robots the memory of that sole moment lasting over 8 minutes comes back, impressive!
Passenger A is still undecided, so he goes for either Kraftwerk's Autobahn (version of The Mix) or Ural 13 Diktators' Direktion Ural (Ural 2000 mix)".
Something else I like about the album is the atmosphere it exudes. The whole album is drenched in a kind of melancholic tristesse, something Kraftwerk was very good at as well (see Electric Café, Radioland, Trans-Europe Express, etc.).
This was not really our intention, but somehow it is not in our fingers to make jolly or happy songs. We did not have a goal in making the album sound sad, aggressive or romantic. The sole goal we had was to make it as pure electronic sounding, as possible.
We did however put a lot of time and effort into making all the songs fit together as one strong concept. Passenger S spent so many nocturnal hours tweaking and mixing all, the result of which you can hear on the album. Every left or right balance or special filter effect took him hours to program, even when such an effect lasts merely 1 second or even less. For those who can appreciate this devotion, make sure to listen on headphones and discover it all.
Passenger A on the other end had been tediously creating every small circle on the self made metro map that you can find on all the 6 sleeves (this included download EP's, the normal CD and the limited edition 2-CD set). Same amount of time and energy was put into the artwork. All of this, because we deliberately set a high standard for the entire concept.
My favourite track on the album is without a doubt The Passenger. It's a track that could have been written by Kraftwerk in the year 2025 imho. Also the video clip, made by HC Carbo, is fantastic. How did you come in contact with him?
A nice compliment reading this track could have been written by Kraftwerk. Although we believe the melody is complex, it quite easily gets into the listeners ear. We reckon that if Kraftwerk would have written this, it would sound totally different. The basic ingredients may be the same, we believe that Kraftwerk's attitude of 'less is more' is something that Metroland does not have.
The creation of the video clip was totally by accident. Right after we appeared on the Songs From The Matrix 012 compilation from Alfa Matrix, we found out about a video clip on Youtube. Someone put The Passenger on a looped video of an old playing record. Of course, we were surprised and honoured, I guess. So we put that on our Facebook-page, while also saying that it would be cool to have more video's like this. HC Carbo reacted instantly. We provided some pictures and jpeg's and he turned them into a clip of The Passenger. The result was so astonishing, we kindly asked if we could use this as an official video for our first single, The Passenger, and HC did agree.
Will he make more clips for Metroland?
HC already did! In a very secret vault on Youtube, hidden away, there is a 2nd video clip waiting to be unleashed, for the single version of Enjoying the View. And if you think that The Passenger is fantastic, you will be blown away by this one. Admittedly, whenever we get a chance to look at it again, we are happy to be sitting down, because of the beauty, the graphics and the complete mind set of this video.
HC Carbo is an amazing, creative, underrated guy and we hope that via this, we can help him get deserved exposure. We are very fortunate to have come across him and hope that within years when he is famous we can say 'he made us fantastic clips'.
HC or Passenger H is another traveller on this fantastic trip we call Metroland.
You also sent out some promo copies to 6 big metro stations (Brussels, Berlin, Moscow, New York, London and Paris), including a special remix for that particular metro station. Did you get a reaction from any of them?
Sadly, no. We did get reactions from the first people that they would forward the mail etc, but except for that there was no other reaction at all. Too bad, really, because each of those metro stations would have gotten a unique exclusive version of Theme For Metroland. The material is ready to be sent, if only one of those people would react.
I know you are both vinyl collectors. Any plans for Metroland vinyl releases?
Yes, we love vinyl, and indeed both do own a huge collection. So regarding us, we dig the idea of releasing a vinyl for Metroland, preferably a 10"-picture disc with 4 exclusive tracks (excuse us while we dream for a bit now ) but nothing solid to date.The market these days is something difficult, and although or music is suitable for vinyl, Alfa Matrix has to be sure items like these do sell.
The knife cuts on both sides we guess, the younger public we try to reach, don't care much about vinyl, and we do hope to reach a lot of those, as we are hopefully not only an extension to what Kraftwerk does. While the little more older generation who used to know vinyl are not large enough in numbers to print exclusive vinyl. But we never say never, and do hope one day to have a Metroland vinyl.
The album will be also available as a double CD. It will contain remixes by Komputer, Sternrekorder and Celluloide to name but a few. Which artist surprised you the most?
Yes, indeed, we were given the chance by our label to make a limited 2 CD edition with bonus remixes in a specially designed box (with extra goodies too).
Personally for Passenger A the most impressive mix would be m-e-t-r-o , remixed by Keen K. This guy's version even made him doubt about the original version, but that was mainly because we were struggling with finding the perfect vocoder effect. Keen K helped us out a bit with some pointers.
Passenger S adores both the mixes made by Laurent Boudic under Növö (yes, the 2nd remix is due for release later on). They are simply adorable because they do have that feeling of an 80's remix on a limited edition. Just remember the mid-eighties limited edition vinyls that Mute Records released. They were 'mixed' but not messed up as most of the DJ remixes in the nineties were. These mixes had enough of the original with a nice twist of a remix. Precisely that feeling can be found in the Növö mixes,our own music taken back to our own youth, unfortunately these mixes won't be available on a limited edition 12 inch.
Were there any artists that you asked but for some reason couldn't do a remix for you?
Yes, we also asked Anthony Rother and Cosmic Baby. They both reacted, but neither had the time or no longer were active in music, as such. Still, we are certainly going to make more CD's after this one, so maybe one day we can persuade them.
Let's say you have an unlimited budget, who could have a go on a Metroland track?
Passenger A would happily donate to have a remix by the brothers Hartnoll from Orbital. In fact, for Mind The Gap he already attempted to get in touch with them, but no luck so far....just yet. Also, an album produced by Flood might turn out astonishing.
Passenger S agrees on the Orbital part , we saw them live on The Wonky Tour and what a blast that was. Perfect if they could unleash their creativity on our work.
On the other side, Passenger S has an enormous amount of respect for Alan Wilder and his capabilities as producer. It is so darn obvious that when he left Depeche Mode the quality simply vanished into thin air. Alan is a talented producer with not one other reaching his quality, and if Metroland would ever get a visit from him, it would lift the quality of our music to the highest level.
Will Metroland be just a studio project or will you be performing live as well?
We both like going to gigs ourselves and experience live performances by so many bands. It is definitely our goal to take Metroland to the stage. We are currently working out some kind of format to make it interesting to the potential audience, as Metroland is not a band where you can jump up and down or start stage diving. We would be more like a static act, so we are looking into some possibilities. When we get a first request, I guess we would get another push to find something faster, so no stress yet.
Are you already working on new tracks? And will this be another concept album about the metro?
We already have several demos in an almost complete format and several arrangements and ideas ready to be targeted and toyed with. It will definitely be an extension of the concept, although this time it will be more than just about the metro. There are so many means of transport that could tickle our creative mind, you have no idea. In fact, we are doing a major propaganda track for a certain transport, in agreement with the company itself. All we can reveal for now is that the demo, so far, is longer than 12 minutes and that it is a 21st century extension (so no cover) of the concept behind a track created in the 70's.
What's on the Metroland agenda for the following months?
We are looking forward to the actual release of the album and we are curious about the reactions. We have some more download EP's lined up, including exclusive tracks, versions and a kick-ass video clip. We have some cool interviews coming our way in the bigger magazines known in the scene. We are making new tracks and brainstorming about new concepts (both music and art wise).
We have a meet and greet with a very inspirational band, a band with a name sounding like a clock to so many. That got set up thanks to the fact that we are simply called Metroland (but we will reveal more when we've met them and can tell more on the actions to come).
Final word?
We are very fortunate to have chosen the underground tracks with Metroland. So far it's been a rollercoaster full of joy and pleasure, with nothing but positive reactions. We are eagerly looking forward to the next turns, the next stations we will be passing by. Making music never felt as good over the past 20 years as it does now, and Passenger A and Passenger S are still conducting their journey.
Thank you ver much for the answers and all the best with Metroland.
https://www.facebook.com/metrolandmusic
http://www.metrolandmusic.com/
http://www.alfa-matrix.com/bio-metroland.php
Jurgen VANVLASSELAER
25/07/2012
---