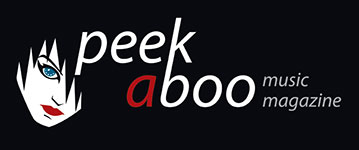 like this interview
---
METROLAND
Someone was selling our tracks on E-bay as demo versions from the next Kraftwerk album!
16/09/2014, Peter HESELMANS
---
Passenger A and Passenger S, last year there was already a long and detailed interview for peek a boo magazine. But now you released a new 12" single, can you tell something more about the concept and ideas behind this 'Thalys' project?

When we had our 'Mind The Gap' CD out into the open, we received a lot of reactions like 'nice concept, but how long will Metroland continue before they run out of 'underground' inspiration?' In a way it is true, but do we actually have to continue with underground and transportation themes?
No we don't…but still, there were some things that we felt that were not completed, and it some time ago we fancied the idea to make a conceptual album about trains. Maybe just one song could already be fun….ok, mmh…..crazy Metroland lads…
So we created an arrangement about a steam train, called 'The Elephant' (mainly as it is linked to Belgium), but it stayed unfinished business for quite a while. Sometime later we added a new 6-seconds melody to that arrangement….and so the story started. Whilst we had the idea growing slowly in between all the remixes we did last year and the OMD-support gigs, we picked it up several times and continued working on the song at a very, very, very, slow, slow pace…. Months later we ended up having a song lasting over 11 minutes long about "Thalys". We instantly felt fascinated by the Thalys-trains, which are in essence, normal high speed trains, but the typical colour makes them so unique. At a certain moment we decided to involve the Thalys company as we saw this 'concept' was growing bigger and bigger. So at this point in time, we hope we are writing history. We believe no band ever before wrote a song about Thalys, and so we hope that our name will be linked to these burgundy red trains for as long as they exist. :-)

Did you work together on these tracks, or has each of you his own task?

We never define tasks as is, meaning we work together on material as much as we can, from concept to music and art. Still, all in the end when the songs are ready, the natural flow is that the focus of Passenger A goes more to the artwork and Passenger S is the person who takes care of the mixing/production of the songs. But even in that phase the development of the art and the finalisation of the music is presented to each other so we both can give input to improve both processes.
Will HC Carbo make new clips for the songs on the 12 inch, and new visuals for the live gigs?
As far as Thalys is concerned, Passenger H did not doubt a second to release his visual ideas on the song (the edit that is, the original 11 minute version has no video). The result is a nice breathtaking high speed trip with Thalys from Amsterdam to Brussels. Although we know the concept of the new album already, we are not in the art/video modus yet, so we cannot say much about the direction in which it will lead us.

Is this new release an indication of a possible new full album?

Yes and no, Thalys was planned for December 2013, but due to all sorts of issues it got delayed until September 2014. That is why there is such a gap between our first album and this Thalys release. During that period we had the advantage to have plenty of time to work on a new album. We have about 17 tracks ready to be revised and moulded. Thalys on the other hand is a stand-alone prestige project, a one-time release on 12inch vinyl. The new album won't have Thalys on board, and the concept of that release won't have anything to do with trains or commuting for that matter.

I already saw some some nice live gigs of Metroland, especially the support for OMD, and the concert last year at the Summer Darkness festival were a big success with lots of positive reviews. I think that gave the band a real boost?

It lifted us onto a higher level for sure. We received a lot of positive responses on the remixes we made for OMD and still do up to this day. Supporting them live was indeed another highlight, and even if not all people openly give their support for Metroland (on Facebook), all those who bought the Night Cafe MCD played our remix and at least know we exist…..and there are more likes out there than we can even think about…

What do you expect for the new 12" ? Maybe an entrance in the DAC charts? And maybe some more concentration and publicity for the German market ? I think with Alfa Matrix behind you it would be possible?

At the moment of answering your questions, we are happy we made it already into the DAC. Germany and Sweden still are huge markets regarding electronic music, and since we are a rather new band (with only one album, we consider the band as being 'young'), we can only be happy about it. We do hope more and more interest will grow once the release is truly out into the open. We do consider being signed on Alfa Matrix as a huge advantage. The label respects the artists in his music and attitude (it has to be the right one that is), and that type of freedom is in today's music business where every little cent counts, a massive privilege. Next to that, the label is very well known and respected in the alternative regions across the world, so, even if we are one of the rare bands on the rooster (making this type of techno pop music), we benefit from the respect Alfa Matrix gained.

Your music is heavily based on Kraftwerk, ever had contact or feedback from the grandfathers of electronic music or other bands?

We never had contact with Kraftwerk. Never say never, but we doubt this very rare occasion will ever occur. Maybe they have heard about us already when someone was selling our tracks on E-bay as 'demo versions from the next Kraftwerk album'. The guy who sold them got away with a selling price of 500euro. The person who bought it will have a terrible financial hang-over, but can still enjoy our music. If this did draw the attention of Kraftwerk, they may remember us some day….

How does the band see the future? Any more gigs or a small tour in the pipeline?

We already have some requests for a few gigs abroad, but talks are still ongoing. Our next and sole goal is working on the new CD in order to have it finished by early-2015. After that we will have to consider if we go on stage or not. If we decide to do, we need to focus on what we will do on stage, as we don't see ourselves as a live band. We more consider Metroland as an audio-visual experience: enjoy the music and the video screens. In fact, we both should not even be on stage, but we are present and we do our thing.

See METROLAND + PARADE GROUND live @ Kavka - Antwerp on September 19th!
Check out the Facebook event here!
Peter HESELMANS
16/09/2014
---