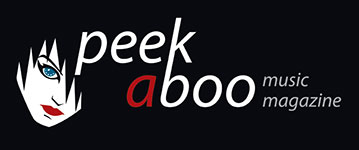 like this interview
---
DIARY OF DREAMS
I hate happy songs. They bore me to death.
11/08/2014, Xavier KRUTH
photos: © Marquis(pi)X (From the archive)
---
Diary of Dreams is a big name in our scene. Their last CD - 'Elegies in Darkness' - was a great success and was released exactly twenty years after 'Cholymelan', the first ever CD of the band. Reasons enough to have a talk with frontman Adrian Hates. Hates turns out to be a friendly and even humored guy. He tells us about the latest CD, about the history of the band and even gives us a glimpse into their future plans.
Let's start with the new album 'Elegies in Darkness'. It's the first Diary of Dreams album in two years and the critics have been almost unanimously positive. Is it a landmark album for Diary of Dreams?
I don't know. Every album that we produce, write and release is an album that we are very confident with and very happy and enthusiastic about. To us, every album has its legacy, and every album has its importance. So, I think the difference lies in the way you receive an album. It really depends on the audience and on the critics. And I must agree with you, they were extraordinarily positive this time. More positive probably than on the last one...
Which is strange, because I liked 'Ego-X' a lot.
I agree. That's pretty much what I meant when I said that it's a matter of how people receive the album, not so much about how we feel about it. We feel positive about every single album. Otherwise they would not have been released. I don't know, maybe it is the fact that 'Elegies in Darkness' is a little more focussed on dark electronics, has a little more aggression, a little more darkness and a little more evilness in it. Maybe that's the recipe that works better. But you never know. If on the next album you would try to focus on that recipe, you will fail for sure. Never try to repeat something that worked, because that never works. (laughs) But, in a way, we're happy. We're happy that people love it. We get a lot of recognition and people talk about it. So I couldn't be happier.
Talking about the title: 'Elegies in Darkness'. There's darkness in there, like you just said. It suggests that there is some kind of concept or red line behind the album. Is there?
Of course there is a story behind the album. But it's different than in the past. In the past, very often, I had conceptual albums that were very tight and very focussed on one subject. This time it was not the case. This time I wanted to focus on little stories around one subject, which I wouldn't really consider as a concept album. That would be too big of a word for a too small concept. But I think the title of the album really outlines the conceptual approach. 'Elegies in Darkness' really says a lot if you ask me. It is, to a certain extend, also dealing with my personality, with my past, with my childhood. For instance 'A Dark Embrace' is a very strong indicator for what the album is about. I believe that I grew up having this dark side in me, this dark embrace, this dark mood. And the album reveals very much the story of how I learned to deal with it, how I learned to interpret it. When you grow up and you think there's something different about you, you're completely confident that everybody has that, that everybody is the same. But then you figure out that everybody is different, that these are your unique characteristics, your own past, your own way. I have learned to accept it. I have learned how to deal with it. These days, a lot of people seem to think that I am very dark and very melancholic, almost depressed, which fortunately I'm not. But I learned to use my dark side, my dark emotions in the music, to free myself from that if you want to say so, and to be a normal guy in normal day life.
But your music is very focussed on that dark side. There are no happy songs in Diary of Dreams…
I hate happy songs. I could never listen to happy songs. They bore me to death. It just gives me the creeps. I can't listen to happy music. It's awful.
Let's go back to the conceptual albums. In the past - the recent past - you have done very conceptual albums like 'Ego-X', that we just talked about, and 'Nekrolog 43'…
And especially 'Nigredo', which was the biggest conceptual album we ever did.
And can you explain the concept of the three albums we've just named?
Haha… That's a job for a couple of hours. Every concept has its very own approach. I could say that 'Nigredo' - together with 'Giftraum' and 'Menschfeind' - was a story that was mixed between fiction, truth, mythology and religion. We made a story based on that. We spent days and days in old bookstores and read a lot on the internet, trying to find out historic religions, very old stories about how the world was created et cetera. This was the beginning for all stories, all personalities, all characters in the stories. I told the story of a person travelling the world to find the origin of the voice he is hearing in his head. Then this story brings in aspects of todays life, to basically confuse the main character. It's a very complex story. I never say more, because it's boring if I tell anybody the concept of the story. But this is the basic outline. 'Nekrolog 43' was basically the continuation of that concept, dealing with death and the things that haunt us. And 'Ego-X' was a character study based on this one person and the life that he wants to live and thinks to live. So, this is the basic outline. It would be far too complex to go into detail. That would be an interview of its own, just that question.
I understand that. Let's go back to 'Elegies in Darkness' and to the sound, which is more guitar driven. There are two guitar players in the band. Was it a conscious decision to have two guitar players, or just a play of circumstances?
Well, actually 'Elegies in Darkness' is much less guitar driven. It's very interesting, actually. You're not the only one to think that, so don't feel bad about it. A lot of people say it's much more guitar driven than the previous albums, which is completely wrong. The last album had far more guitar than this one, but it's the matter of how you mix stuff. For instance if you check the first song 'Malum', we have one major guitar in the chorus. That's it. On 'Ego-X', in a similar situation, we had four or five guitars at the same time. Much more songs are guitar dominated. But this time, people seem to feel a difference, because sometimes we put the guitars a bit more in front of the music, depending on the focus and the function that the guitar is supposed to have. Having two or three guitarists in the band doesn't make a difference. We write music depending on the song. We write the compositions as unique processes, basically as an experiment every single time. And we never approach the song with an expectation, we never approach a song having in mind how many guitars we want in it. It's a process that just comes in itself. Having more guitar players doesn't influence that. Having five keyboarders or ten vocalists wouldn't change the production of an album. On the album, we just focus on the song, on the composition. And in the end the song receives what the song needs or wants, and not what we think we need, because that is forcing the song into a strong corset.
But afterwards when you make the live-versions, you need to think out how you're going to handle it.
For the live-versions, of course, we need to sit together and we change the compositions again. We work out guitar lines, new ones, additional ones, or we change the keyboard lines and we change the arrangement often. Sometimes you figure out that this is the song where cello or upward bass is better. So, we have a lot of possibilities and we try to use them.
'Elegies in Darkness' also marks twenty years of Diary of Dreams. How do you feel looking back on these twenty years, and first of all, did you expect Diary of Dreams to last so long when you started it?
Well, the first thing you feel is being old. (laughs) If you remember that the first Diary of Dreams concert ever was 1992, that's a little scary. Of course it was my goal, there was hope of lasting a bit and to be one of the bands that had a longer life than others. But then again, I am someone who really doesn't let go that easily. I really can hang on to a dream. I really did my best to overcome all obstacles and all difficulties in all these years. Once you've managed one problem, you come to the next one. There are a lot of problems. It makes it very difficult to survive from music, but still I have been able to survive doing what I do. And obviously, I am thankful for that. I'm happy. Having a dream and having hopes about surviving for 20, 30 or 40 years is something different. You have an expectation, but that is too vague, it's too far away. When you're in your late teens, early twenties, that's not something you dare to consider. Being able to survive from music during 20-30 years, that's a big dream…
During this time, Diary of Dreams evolved from a one-man band to a full-fledged band. Was this a natural evolution to you?
A good question… (sighs) The one-man band, the mastermind infernal thing that the press used to write about Diary of Dreams, was something that I was never really happy with, or agreed with. We have pretty many albums where a lot of people worked on. But for some reason that was something that was never covered in those interviews. And I think that it is awful neglect. I tell everybody that I work with Gaun:A, Flex and Dejan and the whole production team. Daniel Myer from Haujobb worked with us on the album, as he has done for the past 20 years. But somehow this is something that the press never really writes. Maybe it is not that interesting. I think that the impression that you have from the outside is a different one than the one that we feel. I know who spends time with me. Gaun:A spends weeks with me in the studio for every album. It's not really a one-man project. And back then, in the early start, of course it was a little more me, maybe sometimes a lot more me. But that's just because I didn't have that team yet. It takes time to build up a functioning team, a team that you can rely on, trust, that you're comfortable with. That's a natural process. You can't start a project and have a complete team around you right away. Where are you supposed to get all these people from? So yes, it took me a lot of time to find someone like Gaun:A, that's true. Fortunately we did that in 2001, so it's been 13 years that he is my closest partner in crime. Finding a super guitar player like Flex, a super drummer like Dejan, et cetera et cetera, you know that whole team. And of course having Daniel Myer in the back for co-production on the album is a great privilege too. I'm happy if you write that too… (laughs)
Ok, I will. You also recently did a CD with acoustic versions of your songs: 'The Anatomy of silence'. What was the motivation to do an album of acoustic versions?
Most of the team have classic roots, are classically trained or at least have a strong affinity with classical stuff. We have the privilege of having Flex on guitar, who is also able to play cello. Gaun:A besides guitar is also playing upward bass. We have a strong acoustic basis here already. In the past years, there were several moments where we put these talents together on stage and played acoustic versions of old classics. 'She And Her Darkness' is a classic that we did in an acoustic set very often, or 'O' Brother Sleep', 'Giftraum'… Here and there we just did little acoustic encores, or little surprises and final songs in acoustic versions. And every single time these versions received super huge praise and response. So many people told us: please put a classical album on tape, put these classical versions on CD. The encores are a good opportunity to do an acoustic set, and that works really great. I really enjoyed rewriting all the songs in an acoustic version. I'm totally happy with the album today. This is one of the albums I listen to the most.
I noticed that 'Freak Perfume' is a little overrepresented on 'The Anatomy Of Silence'. How do you feel about the amazing success of that album?
(Laughs) Interesting, he? I can very much recall that time. I remember that my computer back then, before the release, had a virus. All songs were lost. The complete album was gone. So I looked for a special recovery company that could put data back together. Because the hardware was completely broke, it was ruined. Nothing worked anymore. I have a lot of friends that are really good with computers, much better than I am. They were just saying: no way, there's nothing I can do. I can't get these songs back. Not even access to the hardware was possible. So I found this company in Berlin, Data Recovering Service if I can recall correctly. They are specialised on black boxes and making hard drives to work again after fire or after floods, after super catastrophes. And they cost a fortune as you can imagine. And I paid a fortune, and they actually made it happen. The data was back. So, I got tons of audio files and all I had to do was to put every song together like a puzzle, every audio track, every songline, one by one. Which cost me like three weeks. It was an amazing piece of work, but it's interesting that an album that was such a hard process, that had such a difficult birth, was so successful. I love the album very much. It means a lot to me. There's a lot of personal memories in the album. So of course I'm very happy that people love it. I think from a songwriting perspective, there's a lot of classical songwriting in there, very typical songwriting in the compositions, and the songs are very nice to write in acoustic. A lot of good tunes, catchy stuff that just stays in the ears, good club stuff. It's a good album. I really like it.
I think that 'Freak Perfume' was also the first CD on which you used the German language…
Oh, even the first album had German lyrics.
'Cholymelan'?
Indeed.
Well anyway, what I wanted to ask was: within time you grew more in acceptance of using German lyrics too. I thought, in the beginning you didn't really want to use German…
Yeah, you're right.
So how come you've changed your mind?
Actually, it was not really changing my mind, but it was using an opportunity to change things the way they were performed. I can explain that very simply. When we started with Diary of Dreams of course the English language was very close to me. But there were a lot of German bands going on that used the German language. Neue Deutsche Todeskunst I think they were called. Things like Goethes Erben, Das Ich and many many more. And I liked it, I thought some of the bands were really good. But I didn't want to automatically become a part of that minimal scene of music. I didn't want to automatically be a part of that subgenre. And I know, I'm very confident today that if I had used German language on that album, they would have put me in the same box. And I didn't want to make a first album and be in a box immediately. To me it was a very conscious decision not to use German in a general, normal presentation set. I wanted to focus on… first of all the international sounds and not be limited to a German audience. And later on, I thought that we had grown a fan base, we had our own style, we had our recognition. People had an idea of what Diary of Dreams sounds like. Then, using German didn't influence that anymore. So I felt confident using German. These days it's still the same. I think it all works very well.
Maybe you can tell us what's next for Diary of Dreams?
Yeah, we are working on a new album already. (laughs) So I hope next year at some point we'll release a new album. We're working on a .com/kill album too, which is our side-project. And we have concerts, this coming weekend already in Romania. We keep playing and we keep coming back to Belgium, which is something we are very happy about. The past years we get more concerts in Belgium again. There was a time where there were not that many opportunities. Which is fantastic, we love to play in Belgium. This is very much the plan. It's sounds little, but it's a lot of work. We're busy.
It sounds like a lot of work actually. Do you have any last words?
This is very much my last word: thank you to the Belgian audience to be so truthful and to keep getting us back and support us. This is the thing we are the most thankful about. It's what keeps us going on, as we couldn't survive without that. Thank you for that.
Thank you too, for the interview and for these nice words also.
Listen to 'Elegies in Darkness' online
Click here for the Dutch version.

Xavier KRUTH
11/08/2014
---