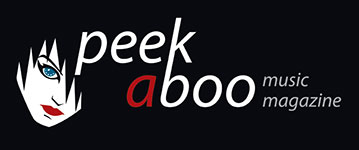 like this interview
---
ARIA FLAME
It would be awesome to do a tour with Epica or Nightwish! But First: The Metal Female Voices fest!
08/08/2014, Filip VAN MUYLEM
photos: © Erik Sales and Terry Cruzan
---
Aria Flame is one of the bands that will play at the Metal Female Voices Festival and a good reason to ask Azziza Poggi more about the band and their ideals…
My logic start of an interview: why this name, what does it mean, is there a philosophy behind it?
Aziza: I often find names that represent what our music is about or what it entails. Aria, means solo voice for classical music. The word flame, represents the phoenix: always evolving and progressing. That is how I want our music to be. My former band Dendura, (Egyptian themed progressive metal) was taken from the temple of Dendera in Luxor, Egypt which is the temple of music, poetry and dance. When I put Aria Flame together, I wanted to have a name that entailed rebirth. The phoenix represents that.
How did it all start for you?
Aziza: My mother said I started singing at birth. But I didn't get out of the basement with music, until after high school. I actually was an actress until 2005, and then I stopped acting to focus solely on being a good singer. Some people can do both, but I really needed to choose which one to put my time into and focus that way. I chose singing and never looked back! Aria Flame was formed in 2011. During the time it was formed, I was out of work and recovering from a foot surgery. I had a lot of down time and the lyrics starting coming to me. Some literally came to me in my dreams, and later I started seeking musicians to make the music a reality.
You are from the US, Michigan, can you tell us something about the scene over there?
Aziza: Michigan is not known for female fronted metal by any means. The scene in West Michigan (Grand Rapids) is more screammo, blues oriented, hardcore, and only has a few bands that have a melodic metal sound. There are a few of them in town that treat us with the utmost respect and we try to help the other. FledFive and Ars Nova are Grand Rapids based bands we play with often. Great musicians and very supportive. I think our scene doesn't quite grasp our sound because we stick out like a sore thumb with our music, but we network and have more friends in bands that are in other states and countries. But, we do well in Detroit, Michigan which is about two and a half hours East of us. Detroit is a better city for us because most national female fronted metal bands perform in that area.
I saw on your Facebook that you invited the fans to interview you, what is the most popular question and what did you reply to it?

Aziza: The biggest questions I get are when are we touring and when is our album going to be done. We are looking into tours for 2015 and also finalizing a date for our EP release. Right now, we are planning on a release for early October. Our EP is titled after one of our songs called "A World of Silence". It is mixed and mastered by award winning Grammy producer Neil Kernon who has worked with Judas Priest, Nevermore and many others. Our bass player, Greg Cloon recorded and produced the EP in his studio.

What was the strangest question or most appealing?

Aziza: hahaha, honestly, it is so crazy, I should not repeat it. But the most appealing is being told I am a great singer and or hearing that we inspired someone. I like hearing that.

You will be performing at the Metal Female Voices Festival this October, in Belgium. I know you are looking forward to it. Is it right that you will perform twice?

Aziza: We are performing on Sunday, October 19th!! We are not performing twice. We are actually opening that Sunday and kicking off the last day of the festival! We are extremely excited to meet all the people we have been talking to in Europe. Everyone at the festival, all the bands, fans, supporters, and friends we have made. It will be an amazing time!

This festival has a very good reputation, how much of these kind of good festivals did you play in the US? Do you have some nice stories to tell?

Aziza : We have nothing like Metal Female Voices Festival events in the USA but we do have similar female fronted festivals called "Siren's of Metal" in Detroit, MI and "Flight of the Valkryies" in St Paul, MN. We are also performing at Sirens of Metal on October 4th. These are great festivals and are ran by extremely supportive people. So I am happy they exist.

It's the first time you will play there, right?

Aziza: It is the first time we will play at Metal Female Voices. My former band Dendura, was invited in 2008 but some of my members were unable to attend, so we couldn't perform. I have desperately been desiring to get in again, and Aria Flame gets that chance. We are also having three guest vocalists joining us on stage at the festival from Eve's Apple of which I also became a member in 2013. Eve's Apple was a professional community of female metal singers from all around the world. The three singers are Sabrina Cruz from Seven Kingdoms, Kassandra Novell and Grace Meridan! Kassy and Grace are in between bands right now.

I can imagine that it would be great to ask a few other people from that weekend to join you or ask them to do something special together in a more near future?

Aziza: Most definitely! We wanted to do something different at this festival and support the women of metal by having the three chosen singers join us on stage! I am looking forward to the entire event. We love meeting other supportive female fronted metal bands that we can perform with and having these ladies on stage with us is going to make the experience that much more rewarding!

Imagine that you would only have to ask for it? Who and what would it be?

Aziza: I would love a lot of things and one has already happened for us. That is to perform at Metal Female Voices Festival, but if it is just one chosen thing in future, it would be to have strong support on our upcoming EP release and sales. Then after MFVF, it would be awesome to do a tour with Epica or Nightwish. That would be amazing! There are many other bands I would love to tour with. And many things I desire, but that is what I would choose for the now.

Will you play some other gigs in the rest of Europe around that date or is it just a one shot weekend trip?

Aziza: It is only that weekend. We are planning on coming back to Europe in 2015 and doing a more extensive tour then.
You make your own Eco-friendly perfumes, colognes, Organic whipped Shea butter, Rose Water Hydrosol and all natural soy candles... Is that something you do as main profession? How did you end up doing this?

Aziza: I always had a love for perfumes and body products. I made candles and perfumes when I was young but I did not get serious about it until four years ago. I also have always battled with allergies. I suffer from eczema and I am very allergic to the alcohol in most perfumes. Therefore, I don't use alcohol. Instead I use unrefined (not bleached like store brands) Raw Certified Organic, Shea butter to make my products. I realized I had a good "nose" and I was at home recovering from a foot surgery, allowing me the time to get my product line and recipes together. I started taking it seriously and studied how to make Eco-friendly perfumes and products. My Shea butter is a big seller too. It helps people who have eczema, skin rashes, helps shine tattoos back up, and you can customize your products with any scent I have in stock! It started as a hobby, that became a small business and I love it! I have another part time job, so it isn't fully running by itself yet, but that is a goal of mine. I'd love to be in control of my own schedule and work for myself! I work 30 hours at my other job.

I noticed that you want to add that they have not been tested on animals (a good thing), can you say something more about it?

Aziza: I am an animal lover and have three pets, so it is important to me to buy non animal tested products and to run my business the same way. I also don't use any animal by-products either. I use synthetic musk and nothing is derived from any animal.

Another nice thing is that you are very proud that your fellow former Eve's Apple sister Karolina Pacan from Skeptical Minds; is the model for the Metal Female Voices Festival's own fragrance you designed, called "Siren's Song". That is a big achievement, how did it all happen?

Aziza: I am very proud of Karolina! I can tell you the full story! I became an Eve's Apple member in 2013 and started talking to Karolina whom was also an Eve's Apple. Plus, I have known Val for a while from Metal Female Voices Festival. It was actually Val's brilliant idea to have Karolina be the first featured model. When she brought it up, I was all for it. She is not only beautiful, a professional model, great singer and woman, but her personality shines through too. I haven't even met her face to face yet, but I can't wait to meet her! She is also supportive for other female singers. That is an important thing to me. All the models for my perfume line, are also female singers and big supporters. So far, All of them are Eve's Apple sisters too. I'm trying to give back to this genre by featuring these ladies because so many people in it have given to us, and were happy to have that. When I look for more models for my perfume line, I specifically see if they are supportive of other female metal bands.

I received 3 tracks from you. First one is 'Divine World', it gave me a cabaret vibe (whilst you describe it more like a circus). How do we have to see this track visually?

Aziza: Visually, that song is a wild ride. It starts out soft then builds and builds and builds... The song is about realizing the new strengths one may have when letting go of the past, forgetting former memories and feelings, and looking only into the now and future. It is also about realizing what you can and cannot do mentally in life. Hence; the phoenix. It looks like a circus show because it is reflecting the ups and downs in life. Looking at what once was, to what is now. We have a music video that reflects the story line of this on Youtube. You can watch it right here at this link: https://www.youtube.com/watch?v=_r8D9PkMkFQ

Second one is 'My Muse', so what or who is your muse?

Aziza: Well, many people can be my muse. It depends on if they spark creativity within me. But that specific song is a love song about dealing with reflections of the past and moving on. It was written three years ago during some hard times I had with an old flame, and then most recently, worlds collided and we reunited. My other muse would be Alicia. My former keyboardist in this band. She and I just click when we write music together. She opened up a retail store recently called Flashlight Alley (she sells my products there too) and so she had to go on hiatus. Music life can be hard on your schedule. And it wasn't possible for her anymore with her shop. We are tossing around other ideas for recording music, so we'll always do music together when we can.

'My own little Hell' tells me that you have lived some of it, how close is it to reality? What is your worst nightmare?

Aziza: Oh yes I have lived in hell. We all can put ourselves in our own "hell". I wrote the lyrics to that song after I felt the world "stabbing at my wounds", which I sing in the chorus line of the song. I felt that way after so many people either died or were gone from me all at once. So it definitely is a personal song to me. My worst fear is having something bad happen to anyone in my family. That is most people's fear I believe.

Do you have more tracks recorded, how will they sound like?

Aziza: We do. We have three more songs coming out that will be on our EP titled "A World of Silence". Those songs are, (you only can hear them on Youtube at this moment) the title track; "A World of Silence", "Realm of Hate" and "The Lonely Phoenix". "A World of Silence" is very fast paced, a crowd favorite. It has two bridges, a very powerful chorus and a crazy circus section. I spent a long time arranging that beast. I call it, the beast because it is insane and it is about the mental break down in a person. It is my personal favorite right now. The next song "Realm of Hate" is a fan favorite too. It is not formatted in the circus fashion though. It has a more consistent flow to the rhythm. I love singing it. It has a lot of ghostly vocal effects and it is very eerie. It is inspired from the horrific survival story of the three girls who were held captive in Cleveland, Oh who escaped in 2013. The last song, "The Lonely Phoenix" is about being the phoenix - rising out of the ashes of your life as an evolved person. Knowing your own strengths and weaknesses is a blessing in life. There are negative things that make positive out-comes and vice versa, so I like to draw upon that in my lyrics. Therefore, this album is a concept album.

Have you found a record company, yet?

Aziza: We are looking and talking to a few companies for distribution but nothing is confirmed yet.

I noticed you also tour with Delain and Xandria (Napalm Records), maybe that could be sign?

Aziza: We are opening their show in Detroit, Michigan on September 15th! So, were not on the whole tour package, but that would be awesome! Grace Meridan, one of the fellow Eve's Apple singers, is joining us on that show too. She will be hosting the show and singing with Aria Flame too.

Further future plans? Or future dreams that you want to realize?

Aziza: I have a lot of dreams but I would love my life to have a nice balance. Right now, it does. I have a personal life, my music, and home based body shop! For the band, my future plans would be to keep growing as musicians, become stronger than we were last year and put out the best music we can together. I'd love to collaborate with other bands and do more guest vocals. I would also love to get a cd out on my other music project called "Scarab's Empire". I just love making music. I want to give back to our fans by giving them awesome package deals on our merchandise whenever we can and being able to thank them at our shows. I'd also love for us to tour Europe once a year or more, put out more albums, do some film recording, music videos and make great albums. My perfume goals are to run it fully without worrying about another job and make great products at great prices. I want to make unique gifts, not carbon copy manufactured items. I also want to see the world, love animals and cherish all my good days.

As this is the first time we get in touch: is there something I forgot to ask about, otherwise: feel free to shout it out and talk about it.

Aziza: We are excited for this interview. If you're going to Metal Female Voices Festival, we open the last day of the festival: Sunday, October 19th!! Thank you for your support! Keep spreading the word and be sure to like us on facebook and twitter. If you are strongly supportive of us, our music, my product line, or anything else, then please share our posts, status, and help spread the word. Word of mouth is still strong and always will be!
Visit us at www.ariaflame.com

They will play in Belgium, click here for more info.
This is what I gathered so far for the Metal Female Voices Fest.:
http://www.peek-a-boo-magazine.be/en/interviews/aria-flame/
http://www.peek-a-boo-magazine.be/en/interviews/xandria/
http://www.peek-a-boo-magazine.be/en/reviews/xandria-sacrificum/
http://www.peek-a-boo-magazine.be/en/interviews/diabulus-in-musica/
http://www.peek-a-boo-magazine.be/en/reviews/diabulus-in-musica-argia/
http://www.peek-a-boo-magazine.be/en/interviews/ancient-bards/
http://www.peek-a-boo-magazine.be/en/reviews/ancient-bards-a-new-dawn-ending/
http://www.peek-a-boo-magazine.be/en/reviews/arkona-yav/
Filip VAN MUYLEM
08/08/2014
---