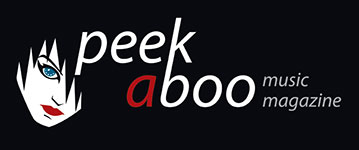 like this interview
---
MONOVIBES
We really love playing live, nothing beats the interaction between the audience and performing the songs.
09/07/2014, Didier BECU
---
They never played outside Sweden, but once you hear the vibes from Monovibes (ha!) you know they should be! Described by us as classic synthpop with Kraftwerkian beats. Anyway, any band that cites Laurie Anderson as an influence deserves to be heard!
Well hello as Monovibes are a brand new name over here, I'd say: introduce yourself.
We're a duo from Gothenburg, Sweden consisting of Fredrik Nero and Niklas Hugosson. Fredrik writes the songs, and then we play around with them in the studio before we record them and prepare them for stage performance.
Your music is synthpop-related. Of course I hear Depeche Mode but there's more than that, not? Who else were your influences?
We both have a lot of experiences from different genres, everything from composing and arranging for jazz orchestra to playing roots soul music in night clubs, and we have immersed ourselves in the music of bands like Radiohead, the Cure and the Smiths. We also listened a lot to Björk and recently Warpaint, who did a marvellous gig at Way Out West a couple of years ago. We also return to Laurie Anderson's Big Science from time to time, amazing voice.
You already have an album out. How were the reactions and how much does it differ from your recent EP?
We're pleased to say that response has been very positive, but the problem is to reach out to a wider audience. But one mustn't let that interfere with making music, so we produced the EP ourselves based on how we wanted it to sound and then we hope that it will find its way to more ears. We wanted to focus on melody, and bring the experiences from playing the previous album live into the production thereby giving it an edgier sound and we're quite happy with the result.
You are from Northern Europe. Synthpop always was there kind of big, how come? And do you thin that's an advantage? I mean there are a lot of competitors around.
Sometimes it is said that the folk music from Sweden has a melancholy tone to it, and we think you can find melancholy in a lot of synth music as well. There is also a quote from the Grant Gee documentary on Joy Division, where someone says that Joy Division translated the "fuck you" message of punk to "we're fucked" or something like that, which sums up some of the darker sides of synth and synthpop music. When we work with our songs, they often end up with a melancholy vein.
As far as competitors are concerned, we don't consider other bands competition, they're more like colleagues and inspiration to us.
In fact, do you think that there's a current synthpopscene or is it everyone on his own?
Well, papers in Sweden write articles about synth pop, we have a great international electronic music festival (Electronic Summer) in Gothenburg in August, there was a book called Den Svenska Synthen about synth and synthpop music in Sweden written last year, so yes, you could say that. It's still a sub culture, but a very dedicated sub culture, and we've had tremendous response on our gigs.
We must face it. Over here organisators have it hard to set up gigs. Lots of efforts for not many people showing up. I guess for a small band like yours, it's hard, not?
We're basically in this because we want to make music and play it live, but as you say it is hard to find gigs. We really love playing live, nothing beats the interaction between the audience and performing the songs. The energy we get from gigs keeps us looking for the next one, but we haven't played outside Sweden yet...
Back to the music. You have an EP out and you did almost everything on your own. Was there any specific reason for it?
Monovibes started out as a solo project and Fredrik worked with producer and mastering engineer Daniel Muhr on the Reflections-album where Niklas contributed a few overdubs. But as the record was released and Niklas became part of the band we focused on making the live performance of the songs punchy and "live"- there is a danger in this genre that you feel that the people on stage have pressed play and nothing feels alive. So we work at having parts that are improvised and since we use vintage synths that have no presets, the sounds are never quite the same.
After playing several gigs with the Reflections-repertoire, we felt like bringing the live sounds and experiences into production and it was thus quite logical to arrange and produce completely on our own. But we left the mastering to Hans Olsson Brookes at Svenska grammofonstudion, which really gave the music that final luster.
After an EP there's normally a new album coming up, not?
Fredrik has quite a lot of songs and demos ready, but we quite like the EP format and will probably focus on that for a while.
Well, I guess our readers have an idea who Monovibes are. What else would you like to add?
If you're interested in our music check out our Facebook page. If you want to order the previous album Reflections from the back row or if you want to book us, just contact us on Facebook or monovibes@pitchfork.se. Join us at the next gig!
Let's finish with two questions I always ask. What's your favourite record of all time and please state why.
The reason we're into electronic music is our fascination for electronic soundscapes and the possibility to create your own sounds. The latter is even more true concerning analog gear, and that's why we have focused on using old synths like the MS20 and the ARP Axxe, the immediacy of it and the sound is just marvellous. But we constantly remind ourselves about the song, the tune, and that it must never be buried behind sound engineering for its own sake. It must work with a guitar (which is how the songs usually find their shape to begin with). But a record you say… Gillian Welch has recorded an album called Time - the revelator, which ends with a song called I dream a highway. She keeps us interested with the same chords going for fifteen minutes… Monotony, subtle variation and storytelling at its best.
With whom wouldn't you mind to be alone with in an elevator for 8 hours and what would you do then?
Professor Balthazar. What couldn't you possibly do with him on your team?
Didier BECU
09/07/2014
---