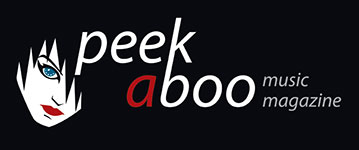 like this interview
---
SCARLET SOHO
We hope to be remembered as a live band over everything else!
22/08/2014, Filip VAN MUYLEM
photos: © Lou Maclachlan
---
After their last album, many people were hungry for more. This, and their recently announced exclusive Belgian gig on January 31st next year, were reasons enough to ask James (vocals/guitar) some questions and get to know them a bit better...

From where this name, what's the philosophy behind the name?
When we started the band we really wanted to find a name that worked closely with the sound of the music being created. I think Scarlet Soho creates a certain image in the minds of most people!
Can you tell us something about the early years (a funny story and a sad story of course would be great!)?
I can remember the time when we toured with Zoot Woman in Germany. We had very little money, and we travelled around for two weeks in an old London taxi cab which was borrowed from our synth player Stuart. One time it broke down at the side of the road with a flat tire. We realized we had no tools to change it. I stood at the side of the road very worried and started waving a sign at the German motorists which said "spanner" (A sort of wrench tool). Everyone ignored me for some reason! The following day I was informed by a German guy that the word spanner in German means "voyeur". So then I'd realized my huge mistake, and this was quite funny!
To be honest I can't remember anything too sad. It's been a real privilege to be in this band.
How did you manage to get a remix from Kosheen?
It's hard to know where to start! Some years ago we worked with a live drummer for some UK festival shows. This was Mitch Glover who also plays drums in the band Kosheen. He's a great musician, but we soon realized that live drums were not right for us. We once talked about playing some live shows supporting Kosheen with Mitch playing in both bands, but it took a long time for anything to develop there and when we did finally play together we played the support shows without him. Through Mitch I was introduced to Darren from Kosheen, and he made us a really good dance floor mix. One of my favorite Scarlet Soho remixes I think.

How do you describe your sound nowadays? What do you think about the namedropping in Hit The Floor CD review?
I think our sound is developing all the time, but songs are always the most important thing. To have good melodies that are clear. It's a cliché, but it really does help if the song is still great when you strip it back, and only have vocal and piano, or vocal and guitar. I'm not so into the harder electronic acts, because I think some of them mix and master the music too loud and it sounds very cheap.
The thing we appreciate about the 80's-bands is probably the care and attention to the mixing and the songwriting. It's not about how loud you can make it!
One thing I noticed is that you play a lot, how do you manage that? Are they all small venues?

We hope to be remembered as a live band over everything else. We will always take the music to the people who want it and I think we've proved we will play anywhere we're asked to play, big or small! So many bands on the circuit need to feel they have the correct niche audience to perform to, but our music is for everyone!
Mirror Man is your promoter, how did you run into them? I notice the do a lot of promotion, so I guess they are really helping you out!
Yeah, they are great. An enthusiastic company with a passion for music. It's nice to have their support.
You have a new clip, how did it work out, and with whom did you work?
Yes. We have released the third video from our trilogy called "Two Steps From Heartache". Actor Dan Stotesbury plays a clown who is trying to get our attention for the whole video, but not doing so well! Steve Hogg who also directed our last two videos made this one. It's up on YouTube!
Soon there will be a new album out, what can you tell us about it?
The new album will be released in February 2015. We're still deciding exactly how many tracks it will have, but it will include all three a-sides from our three recent EPs, plus at least 6-8 fresh tracks too. A tour is being booked right now, and we will announce the dates in October when we come back from the Czech Republic.
Sound-wise your sound is very retro I think, a bit poppy New Wave with a touch of Depeche Mode, not?
I think when we first started the band; working with electronic instruments was so new to us and still is in a way. We would take notes wherever we could, so we could learn more. Depeche Mode was one of the influences, but not beyond the "Some Great Reward" record. We also like some Italo Disco, early Madonna, The Smiths, Fleetwood Mac and newer acts like Daniel Avery and Bright Light Bright Light.
Who's responsible for the remix on the EP?
Ah yes, James Yuill. He's a UK musician who has his own studio in East London. We've liked his music style for a few years, I guess it's a little bit folky but still electronic of course. Some mutual friends thought it would be a great idea to introduce us to each other and get a remix done.
In January you will come and play in Antwerp, will it be the first time you're in Belgium? What can we expect?
It will be our first time in Antwerp yes. I'm very excited about this and have already had some really nice Facebook messages from people who live nearby. It's nice to hear that people are excited about the show already!
Filip VAN MUYLEM
22/08/2014
---