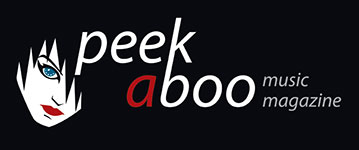 like this interview
---
EISENFUNK
On Their Way To Conquer Electroland
29/08/2012, Peter DOLPHEN
---
With the forthcoming concert in Bruges in mind, Peek-a-Boo has the honour of interviewing one of the fastest growing electronic acts in the European dark scene: Eisenfunk.
In 2007 Eisenfunk started off with the CD "Eisenfunk". Can you tell us a bit more about how you went from home studio-band to the larger audience?
Michael Mayer (Musical brain and singer of Eisenfunk: It was a slow growing process. We did live shows since we started in 2007. In the beginning we joined other bands as supporting act and in 2009 we started to play as headliner. It was a great and exciting way to go.
A first modest hit was born: "Duck and cover" was often on DJ playlists. How did you feel about this small success from the first chapter in the Eisenfunk story?
It was great. When I finished the track I gave it to a local DJ. He said this song is awesome and he played it every Saturday. I was walking along with my friends and told them "THATS ME... THATS MY SONG" I was proud and I still am
Fans were then spoiled with the limited album "300", (only 300 copies) with some special remixes of "Duck and Cover" and "Paranoid", followed by the next full album "Schmerzfrequenz" in 2009. The next year, in 2010, Eisenfunk came up again with their major floorfiller "Pong" from the album "8-Bit", inspired by the popular game. How did you come up with a track about "Pong"?
We went home from a venue in Cologne. While sitting in the car... with headaches from the big party Toni said: "Let's make songs about computer games"... I was wondering and said "How ? Do YOU think someone will listen to a song about... about... pong ?!?!?"... that was the idea.
Pentafunk was the last album till now, released in 2011. Reviews were again very positive. How do you feel about all the positive reactions about your work?
It's a great feeling but indeed it's also a great pressure. Our fans wait for out sixth album and we're working on it at the moment. I try to make music like I always did, but there is an unspoken thought in my mind. Is it good enough, do the fans like the new songs ? It's black and white in the same situation. Feelings are good and bad together.
Meanwhile, you have been on the road quite a lot: from small concert venues to large scene-related festivals, each with their own atmosphere and setting. Any particular venue that sticks in your mind after 5 years of playing?
The last venue on the Amphi festival in Cologne. We already had big audiences but when we entered stage and had a full crowd of thousands cheering "EISENFUNK".... well that was the greatest feeling in 6 years of EISENFUNK :)
Do you still have venues on your wishlist for playing in the future?
We're trying to play outside of Germany while we're sitting on the new CD. Upcoming shows in Swizerland, UK and Belgium are planned. For the next year the release is planned and of course there will be a tour.
Do you prefer smaller club-concerts or the larger festival settings?
Both are pretty. Big venues are... well big and full of emotions, but indeed they're anonymous. Small venues give us a direct contact to our fans. We like that too.
During these concerts, you have shared line-up and stage with a lot of other bands. Which bands do you have the best memories of or did you have the most fun with?
Nachtmahr, Centhron, Xotox, SAM, X-RX, SITD.... there are too many of them. We're friends and party on every time we see them. And indeed while we're freinds...everyone is fan of everyone. Thats a big family.
Are there bands you would like to share stage with in the future?
Oh yes... but this is my secret. Inside my breast I'm not only musician... I'm a fan of someone too :)
If you had carte blanche: how would your personal festival line-up look, if you had no restrictions at all?
Combichrist
X-RX
Centhron
Xotox
Nachtmahr
SAM
VNV Nation
Faderhead
but... I can't descide who's the headliner :)
Indeed this festival would be without EISENFUNK... I have to spend my time drinking beer with the other bands :)
Can I conclude that these bands are also your biggest influences?
Some of them yes.
In October you are coming to Belgium, what can we expect from the concert?
It's our songs, us and you. We never went on PENTATOUR to Belgium, so we're playing a lot of the new songs and indeed a lot of the old songs. We went in Belgium years ago, so I think we have a lot of playtime :)
This time you are sharing the bill with Mirexxx, FGFC 820, Noisuf-X and Faderhead. Are you planning any special appearances or co-operations fort that night?
-- Top Secret --
You are playing in the city of Ghent, one of the oldest cities in Europe: is culture a point of interest of you? As you have played in a lot of cities, you must have seen your part of the world already?
I stopped going on holiday since I started with EISENFUNK. We always travel a lot and we try to take time for the POI's in every City. I think we will spend a weekend in Ghent, not only the venue day.
If I am correct, you have released something new almost every year since 2007. Is there anything new coming up in the near future?
We're working on a new CD at the moment.
After 5 years of making music: what would be your goal with Eisenfunk?
World Leadership, President of united Europe, something like that :)
Any message you would like to give along with our readers?
Stay tuned and party on. Everyday there is something good coming along to you!
Thank you for your time and lots of fun on stage!
Thank you for the interesting question.
Peter DOLPHEN
29/08/2012
---