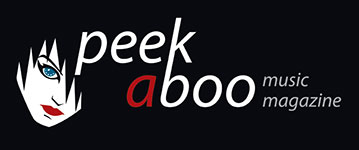 like this interview
---
AIBOFORCEN
Being on a compilation together with bands such as Bauhaus, Virgin Prunes , Gary Numan and Christian Death is very pleasant.
10/10/2012, Jurgen VANVLASSELAER
---
AIBOFORCEN was born nearly 20 years ago in Charleroi, Belgium. Founders were Benoît Blanchart and Seba Dolimont , also known from their work with Side-Line Magazine. A few years ago Seba left the project and Benoît started to work more closely with the people from Regenerator, who both got a more important role in AIBOFORCEN which resulted in their latest and excellent album Dédale.
Welcome both. Benoît, you were one of the people who started the wellknown muzicmagazine Side-Line. I presume being in the middle of the scene gave you the feeling, the urge to start with your own band.
Benoît : Yes indeed. I've been listening to a lot of alternative music since the mid-eighties, swapping tapes, attending concerts, buying lots of records (vinyl at the time). I was introduced to Seba Dolimont by a mutual friend when I was around 15 because we shared the same musical interests. Then, when he started the Side-Line magazine he offered me to work with him and use my musical background! It was a time without internet and mobile phone. We were all students and shared our passion.
I also remember going to Germany to attend concerts and festivals quite often. We had to opportunity to see bands like Apoptygma Berzerk, Leaether Strip, Project Pitchfork or even Das Ich when they were barely known. It was almost a kind of logical evolution for us to start trying doing our own "music". As far as I can remember, our first "track" was a cover of Cat Rapes Dog. I started with a kind of toy-synth (a casio), then we bought a roland D-20 (that synth was almost the only instrument we used for our first tape, Black Slang) and an Atari 1040 (without hard!!!). Actually our first track (Enjoil!) was recorded at Fuze Box Machine's home, another band hailing from Charleroi and with whom we were in contact. Manu from Fuze Box Machine helped us, taught me a few things about sequencers and mixing and then we moved a bit further. He also lent us his ensoniq sampler, which we used on that first tape. Then we released a second demo tape, which was never officially released, that we sent to various record labels and we were picked up by Celtic Circle Productions. We were both fans of yelworC and thus being on the same label was a challenge and honour for us (it was at the top of our wishlist together with Zoth Ommog of course). Next, we recorded our first album, with better equipment (akai sampler, roland jd-800, drum machine) and in two different studios. It's obvious that all the music we were listening and reviewing gave us the impulse but also influenced us in the way we shaped our sound and style. A mix of the Belgian old school (with bands like à;GRUMH…, Front 242 and The Klinik) and the new german sound (yelworC, X- Marks The Pedwalk,…). We knew a lot of bands from the scene and thus decided to give it a try.
AIBOFORCEN is Necrofobia spelled backwards. In the early days the band's name was spelled like AiBoFoRcEn <-. Why did you choose for that name and why the whole letterplay with the capitals ,the small letters and the little arrow at the end?
Benoît : It was Seba who choose that spelling because he wanted something that would catch the eye and was somehow difficult to grasp. Maybe it also reflected our leaning towards the dark side and a bit our schizophrenic attitude at the time. Later on we came with a more sober and clean spelling and typo which was also easier for us and the audience to rely on.
Was AIBOFORCEN your first project ?
Benoît : Before working with Seba, I had been experimenting a bit with my Casio, a broken guitar and some other tools. I recorded a few "tracks" on tape but the quality was obviously poor! ;)
I know you were in several sideprojects, can you give us a little overview?
Benoît : Before the release of the first album I also worked with Manu D. and Stephane F. from Fuze Box Machine. I wrote a few tracks, arranged some others and recorded their first album with them in studio. I was pretty much involved and also played live a few times. But then I decided to concentrate on AIBOFORCEN which was much more my "style", with a somewhat darker and sometimes industrial sound. I also wrote a few tracks with Stephane F. and Johan Van Roy under the Toxic Shock Syndrome alias. We released a tape and a track on a CD compilation. There was also Nerve Conflict with Oliver from the Swiss ebm band Sleepwalk. It was intended to be a bit more raw and industrial then AIBOFORCEN. We released one tape and a few tracks on compilation as well. After that I concentrated a bit more on AIBOFORCEN and lost contact with Oliver who was also busy with Sleepwalk.
Living so far away and without internet at the time probably led to the end of this project. Keep in mind that, when we started this project, we were exchanging tapes through normal post and handwritten letters! ;) Also the demise of our German label CCP contributed to a slow down of our musical activities. It was only a few years later that we started again recording music under the AIBOFORCEN name and on our own label Alfa-Matrix. This label was created to promote and support electronic bands from all over the world but also to allow us to develop our own projects with total freedom and control.
I recently found Oliver back on facebook and he's still a very nice guy, but there aren't many chances to see this project back on the track. I am also involved in Skanda. This project is a collaboration with J@3 singer from à;GRUMH… We're from the same city and I contacted him a few years ago for a potential collaboration with AIBOFORCEN. We became friends and he eventually sang a few tracks on Kafarnaüm, our last album. After that we decided to record a few other tracks with a more aggressive edge. We put aside the melodic side of AIBOFORCEN and concentrate on a harsher sound. We recorded a track for an Alfa-Matrix compilation and I have a few demo tracks done. The problem is that I'm most of the time really busy and therefore it takes ages to record new tracks.
Who is in AIBOFORCEN these days? Is it just you or can we see Patrice Synthea from REGENERATOR as a full member now?
Benoît : Yes, it's mainly me at the music side but we can see Patrice as the main vocalist and Wrex (also from REGENERATOR) as lyricist. They also give me some advises and tips and record all the vocals in their home studio which makes it really easy for me. It is sometimes slow but most of the time I'm pleased with the vocals they provide me and thus I think we'll continue like this! But this doesn't prevent me from asking the help of other guest vocalists when I think it could suit a certain track. It also gives a bit more variety to the whole. And as I like to go in many different directions it's always interesting to work with other people and bands. I had discovered REGENERATOR through their first album on Hyperium and came in contact with them through a remix they did for Ghost Of My Life. Then we asked them a few times to appear as guest vocalist on our releases but with the Dédale album they clearly became a full member.
Patrice : Ooooh yes, it is true, I am now an official full time member and loving every minute of it! :-)
The first AIBOFORCEN release was the tape Black Slang, these days a collector's item. How do you look back on that release? I listened to it again a few days ago and it still sounds pretty cool I have to say, very old school :-)
Benoît : Yes, it sounds a bit dated today. These were our first steps, we were young, inexperienced and we had very limited equipment. Vocals were recorded "live" in just one take. But it was fun and probably a bit more thrilling than nowadays. We had to borrow some tools and we recorded everything in our bedrooms at home. The first sequences, drum patterns, melodic lines are gathered on this tape with a rather raw and spontaneous sound. The tape was sold through the small Side-Line "tape label" on which we also released various tapes (compilations and so on). As far as I can remember, there were probably less than 100 copies. It's indeed very old school sounding nowadays. Let's say we're part of the second generation of Belgian electro bands together with bands such as IC434, Ionic Vision, Lescure 13 ,Suicide Commando etc.
In the early days AIBOFORCEN even entered the stage a few times. I remember 3-4 gigs in Belgium and a few in Germany if I am correct. Why did you stop performing live?
Benoît : We played very few times and our most important appearance was at the Celtic Circle Production Festival in Germany, where we played on the two days in a large hall with other bands from the label including Sixth Comm / Mother Destruction. The concert was filmed and me or Seba have a video tape of that event. We only played live with our two first cd's (Elixir Lytique and Face Of Death) and when we came back with our Sons Palliatifs album on Alfa-Matrix we kind of decided we wouldn't do anymore concerts. This is mainly due to the facts that we were both very active with the label and other activities as well as private life and that we couldn't find the time to prepare for a professional show. Now things have even become more difficult since Patrice is living in the United States and thus it would be expensive to organise such an event. Sadly this is a bit of a drawback for us because concerts are doing much for the popularity of a band, especially for the younger audience who don't know us, and it also helps to sell a bit of merchandise like cd's and t-shirts. We get some offers sometimes but always have to decline, so clearly it has become more like a studio project now. Maybe if I become unemployed someday I can think about this seriously! ;-)
Patrice : I for one, would love the opportunity to perform live with AIBOFORCEN! It's a magical thing to bring music to the stage. Let's all talk Benoît into making it happen… ;)
A lot of great artists contributed on your releases. VNV Nation, Icon Of Coil, Leatherstrip, Regenerator , Neuroactive , Plastic Noise Experience, etc..did a remix or guestvocals. Who is still on your wish list?
Benoît : Yes, we had the opportunity and chance to work with a lot of people from the scene (we also had Darrin from Psyche as guest vocalist a long time ago) and there are indeed still a lot of people on our wishlist. At the moment I'm thinking of bands like Fading Colours, Morthem Vlade Art (though they stopped their activities), Velvet Acid Christ , Norma Loy just to name a few.
With Side-Line you gave a lot of artists their first platform in the musicbusiness by interviewing / reviewing them or using one of their tracks on the Side-Line compilations. Maybe a question you don't want to answer, but from all the people you interviewed for Side-Line, who made the biggest impression and who was the biggest disappointment ?
Benoît : Ooh, difficult question! I've not been very active with Side-Line recently but I recall a pleasant interview I did with Bernard with Gavin and Guggi from Virgin Prunes a few years ago when they re-released all their stuff on Mute Records. I also recall an old interview I did at the very beginning of Side-Line with Sopor Aeternus. I had received the answers in a handwritten letter with a special stamp and so on :-) Face to face interviews are most of the time more interesting than others, when you can meet and re-act in live to the person. We had the pleasure to meet and interview bands such as Die Form, Das Ich, Apoptygma Berzerk. I even remember talking with Rudy from Wumpscut at a party in Germany a long time ago (probably at the time of Music For A Slaughtering Tribe era), a very nice guy actually! As far as disappointment, there are indeed some bands who clearly don't want to invest much time in doing interviews and just keep replying yes or no to the questions you submit but that's pretty scarce and I wouldn't name anyone here! :-)
Patrice : Indeed, Side-Line music magazine had a very important place in the scene. I used to run the US office and set up merch stands at live shows. Side-Line truly was an important vehicle to let listeners know of up and coming artists, as well as read about their favorite bands. I miss it! :-(
You are also involved in the Belgian label Alfa-Matrix. Everybody knows running a label is pretty hard these days. And I presume Alfa-Matrix is feeling the whole illegal downloadcrisis as well. How do you see this evolve?
Benoît : Sales are steadily going down and down. Even bands that were selling a few thousands CD's 5 years ago, see their sales shrinking. We also need to invest much more time and energy to promote new bands or releases than before. Record shops are closing one after the other and sometimes it's even easier and faster for people to illegally download an album then just buying it. We have to keep a high level of quality both musically and visually. Our products and packages need to be nice, not too expensive. That's why we still rely on limited editions to offer the people who buy cd's a bit of extra material. Nowadays cd's are almost like a kind of luxury items. Fortunately, we have some good followers and some fans who buy and collect a lot of our releases. Unfortunately, this doesn't apply to the younger generation who find it odd to pay for music. I was used to buy a lot of music when I was young, hunting for new bands, vinyl and so on. Sometimes you had very few information about a special band, you had to search, talk with other people. Nowadays you just have to write down the bandname in google and you get dozens of photographs and mp3 at your disposal.
Patrice : Music fans must buy the music they love. It is the only way to keep the scene alive and kicking.
Any great releases that we have to keep an eye on?
Benoît : Check www.alfa-matrix.com for more info.There will be a few surprises in the coming months!
Last year you released Dédale. I really liked it and for me it's the best one you've made so far. The guest appearances (Claus Larsen from Leather Strip , amGod and Ayria for instance) are again from a high level and as a Regenerator fan I was pleased to hear a lot of contributions by Patrice and Wrex.
Benoît : Thanks for the compliment! Dédale is our 5th album and it took us quite a long time to release (7 years actually). There was no real pressure to release a new album, so I took my time for each track working a lot on sound design, samples, atmospheres. As usual it is rather varied with more poppy and danceable tracks as well as some more industrial sounding cuts. Globally I would say that it's a more mature and deep sound, slightly less aggressive than on the previous Kafarnaüm album. A bit less bpm but some more melodies and melancholic tunes, though there are a few up-tempo and harsher cuts, such as the collaboration I did with Acylum or Leaether Strip, both tracks appear on the limited disk of Dédale.
Patrice : Thank you! It is nice to hear you are a Regenerator fan also. Over the past few AIBOFORCEN albums, we have contributed a bit more with each one. Wrex and I consider it to be a full time project like REGENERATOR, and it is as important to us. We hope that AIBOFORCEN fans recognize this as you have. It is very interesting to receive the raw tracks from Benoît, then have Wrex come up with lyrics and record my vocals. After we send it back to Benoît, it is exciting to wait and see what the finished results of the team effort will be.
I really loved the Technoir remix of Time & Space. How difficult is it to choose the right band to remix a certain track?
Benoît : We selected bands that we liked or were in contact with or even bands we thought that would fit a particular track. But in the end we always offer them the possibility to choose among a few remix kits. They have to like the track and feel that they can add something and offer a personal view on it. A good remix is when you still feel the original track but also recognize the style and influence of the remixer. We asked quite a lot of bands, some refused or had no time but generally we had positive answers and results.
Patrice : This too is one of my favourites, but there are many great mixes.
Were there remixes that never made the album for some reason? How do you let a band know for instance that their remix of one of your tracks, is not good enough ?
Benoît : Remixes are most of the time like a "hit or miss" thing. Some bands clearly invest a lot in doing a remix other simply change the sounds or rather change it completely just keeping the vocals. I'd have to say that I've been pleased with the work of all remixers. Of course there are some that I prefer more, such as the one completed by PreEmptive Strike 0.1 or Acretongue. Also since we had too many remixes and some extra songs that we couldn't include on the limited disc, we decided to release a download only ep called L'errance. This ep features two more cover versions: She's Lost Control (Joy Division) with Claus from Plastic Noise Experience on vocals and Sandpaper Lullabye (Virgin Prunes) with Jacquy Bitch on vocals.
AIBOFORCEN exists 20 years next year. What were the highlights and the downsides so far? Are you going to do something special for that 20th birthday?
Benoît : Oh my god, I didn't realise we were that old!? :-) Maybe we could do a special free download with some remixes and/or unreleased tracks for the fans. Let me think about this! As far as highlights since our beginning, I'm pleased to have been able to release several albums on cd's (with the current market situation, it wouldn't probably the case if we would start now), I'm also pleased that some tracks like Sheperd's Deathline, Twilight World or Not Unique got a good recognition and are appreciated. Being on the Black Bible compilation together with bands such as Bauhaus, Virgin Prunes, Gary Numan and Christian Death is also pleasant. Being able to meet other bands physically or through the internet and collaborate with other artists is also a great experience and rewarding. There were a few downsides I'd rather forget such as the Dying Rose videoclip on which we worked a lot and never clearly satisfied us or a few aborted collaborations. In general I'd say we had lots of great moments. Sometimes exhausting (lots of hours spent in front of a screen) but always rewarding in the end. The support from the fans and the press reviews we receive are also important for us to keep on doing our passion.
What does the future hold for AIBOFORCEN ?
Benoît : I'm busy working on a few new tracks. One of these tracks will most probably appear on the Absolute Grrrls Manifesto [chapter 1] 4CD compilation. I've also started working on a new cover version of The Cure's song Cold. I'd probably make a new remix of the Joy Division cover I did with Claus of Plastic Noise Experience. There is also a video planned for the track Light but that's a very long and slow process.Hopefully a new album or ep in 2013 or 2014.
Patrice : Ok, here is where we pester Benoît some more for live shows!!! ;) We are already producing new songs even since Dédale has been completed. Benoît does not rest. I can hardly keep up with him. Ha! Wrex is finishing up our next REGENERATOR cd, so this allows me more chance to sing which I love, so I am thrilled that Benoît continues to prepare new tracks for us.
A Final word ?
Benoît : Thanks for the interest in AIBOFORCEN! I hope that our fans will keep on listening to us and buy our cd's. Anyway we won't stop making music!
Patrice : Peek-A-Boo, I like the name of your magazine - Siouxsie Sioux reference. ;) Thank you for your support and for spreading the word about AIBOFORCEN!
Thank you both for the answers and all the best with AIBOFORCEN and REGENERATOR!
Jurgen VANVLASSELAER
10/10/2012
---