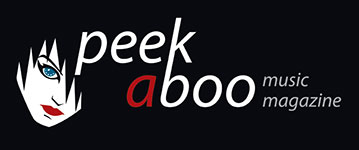 like this interview
---
IRIS
I always believe, if you aim for a higher standard than you can easily reach, you're likely to end up with something good, whether it's writing songs or anything else in life.
17/02/2013, Jurgen VANVLASSELAER
---
One of the most interesting synthpopbands from the USA is without a doubt IRIS.Their latest album Blacklight is already 3 years old ,so I was curious what Andrew Sega and Reagan Jones were up to these days. But let's start with the begining...
Welcome Reagan. How did it all start?
I was just as a voracious consumer of music with no ambitions to join a band, but when the opportunity presented itself I was compelled. The foundation had been poured because I was so mesmerized by the sounds coming out of Houston; a mix of European imports and American bands riding the techno pop wave. That sound was really dominant in Texas back then; it was tearing up the clubs and radio at the same time.
I lived in a semi-rural area two hours north of town, but we got our hands on plenty of DJ mixes and cassette tapes, and also there were phenomenal records shops like Record Rack in Houston where all the stars stopped by to say hello. Houston was really like the Manchester of synthpop, I'd say it even surpassed NY and LA in that regard. It was a breakout market for several billboard charting bands like Cause & Effect and Anything Box, and was also home to legendary clubs like 6400, Xcess, and NRG. Those DJ cassette tapes would find their way up US 59 and get played around. Over a two year period it became the music of my life, and when you're into a sound like that, it's natural to want to make it yourself should the window open, and it did.
Were you in other bands before?
No I rode dirt bikes and was really into motocross, so my ambitions, unrealistic as they were, had everything to do with being on team Honda and nothing to do with music. I mean, I was a consumer of music but I had no ambitions to make my own. That all happened when I met Marc Schultz and then Matt Morris soon after at SFA, the university we attended. That's more than 20 years ago.
You started as a duo with Matt Morris. But he left IRIS after your debut Disconnect. What was the reason he left the band?
I probably wasn't the easiest to work with and second, he was getting married and I think he had new priorities. We're still close friends, I respect Matt more than just about anyone on the planet.
After Matt left you ran into Andrew Sega, who is still your partner in crime these days. How did you meet him?
Matt knew about Andrew somehow and he sent me a couple tracks. I heard Winter and was blown away, so straight away I went into recruiting mode. The timing was good because Andrew was at a place where I don't think he knew where he wanted to take his own work. He'd already developed a pretty devoted following as Necros and The Alpha Conspiracy, so I think he saw this synthpop thing as maybe an easy challenge, to come in and take production to a different place, not just in IRIS but in the scene itself.
He's never said that, and would never say that, it's just my take. Anyway, I'd written maybe 7 songs since Disconnect and as we went through those I think he saw he could take them in an interesting direction. Honestly he could have worked with anybody, I was just in the right place at the right time.
With Andrew in the band the sound changed a bit as well. The guitar gets a more important part. Did you immediately agree with that move or did you first have some doubts about that change?
Guitars weren't something Andrew was pushing really, he was always telling me we ought play to our own strengths and not worry about the rest. He might have resented my urge for guitars but I was just getting more brash and probably wanted to prove that we could exist on other playing fields. Then something really interesting happened. Andrew proved to be a very unique guitar player for a band like IRIS. It wasn't like he was being a guitar player in the usual sense. He was just being Andrew, doing what he does, only with a guitar instead of a synth. The results weren't what I'd envisioned, they were better. He found a way to introduce guitars that wouldn't dissolve our sound or make us pretentious.
You are hailing from Texas. A part of the US that we always cliché wise link with country music etc. Is there an electronic scene in Texas?
With new generations and everyone so connected I think there's an electronic scene just about anywhere. Texas has a small scene if you consider goth, industrial, and modern synthpop bands but there's some cool hipster electronic bands emerging, 90% of whom I don't even know but who have a sound similar to the late 80's retro underground.
Historically though, Houston and Dallas were major hubs for new wave and post modern, and techno pop as they called it was everywhere. Depeche Mode, Morrissey, New Order, Cetu Javu, Xymox, Book of Love, Information Society … there were so many, but the retro scene was totally mainstream in TX from around 1987 - 1992. Everyone always thinks this is so European but before grunge came rolling through like a belligerent, uninvited guest America made European music not so European anymore, it was just accepted as cool in that brief moment. The underground was more intriguing than the mainstream, and thus became the mainstream because of it.
IRIS stands for great decent synthpop, excellent melodies and great lyrics. As we always have to wait several years for a new IRIS album I presume you put a lot of effort in making new tracks.
It has to hit a certain standard and generally I'm shooting for something I have a hard time reaching. Some artists' cup over floweth while others dig a deeper well to find water, and that's me. Anyway, I can't release something that doesn't hit the mark for me personally, I have to believe it's good, and generally if you're 93% confident in a track then others will like it. For me at least, that takes time.
I've lightened up now and it's gotten easier to wade into things without too much pressure, but I've always held strict opinions about music and I hold myself to that measurement. I always believe, if you aim for a higher standard than you can easily reach, you're likely to end up with something good, whether it's writing songs or anything else in life. And if you can reach it, even better!
Difficult to choose, but my favourite IRIS track is Disintegrate from the latest album Blacklight. What is your favourite track and why? With which track did you think "Yes this is it, this is spot on!"
It's weird to say it, but I like every track on Blacklight. That was a deep well, I worked very hard writing for that record, trying to sculpt every track into something special, pushing my limit, and Andrew provided an exceptional sonic landscape.
I guess Closer To Real was the one I was most excited about because it embodies the sound of Blacklight so well. It has a vibe I'm really proud of. I like how XWires and The Marianas Depths came out a lot, but I'm just very pleased with every track honestly. Sometimes, I think if another band had come out with Blacklight it might have been more successful. Maybe it's like being an actor, if you play a part and people expect that from you, it's hard to get your audience to see you in other roles. I'm not exactly sure where this record failed to engage some of the synthpop audience but maybe it's because people don't expect us to sound that way.
We earned a lot of new fans actually, maybe from a more disperse group, but it works out. I try to think about Psykosonik and their album Unlearn. It basically bombed compared to their earlier work, but imo it's 20x better so that's a precedent I embrace.
The latest album Blacklight was released in 2010. Can we expect a new album in the near future?
No I don't think Andrew or I really want to consider it right now. I mean, we just released a track called Another Way on Soundcloud (https://soundcloud.com/andrew-sega/iris-another-way-2013), and there's always that exhilaration, waiting to see responses. I could honestly see us releasing future tracks that way, just totally unannounced. The dust is still settling from making Blacklight, I think we both just wore ourselves down, but we still work on music separately. That's just a part of life for me, like I guess video games are for some people. Inevitably we'll release something in the future, but how that looks and when it happens is hard to predict.
I've seen IRIS a few times live (in Germany) and I was always pleasantly surprised by the strong live set. A lot of synthpop artists glide into a cliché-like performance, but that wasn't the case at all with you guys.
Well thank you but honestly that's always been our weak point imo. I mean, if I was 20 years old and in this hipster electronic scene it would be perfect because they enjoy the luxury of standing still and looking weird while performing. I love that.
We came into this with Depeche Mode looming as the standard bearer for stage performance, but dancing around and trying to entertain was just never my thing. It's not me, and as a result our live shows have generally haunted me. I feel I've held us back from being what we could've been. That's firmly on my shoulders and looking back I wish I could have tried other things, like going stationary behind a synth or just something unique to what you tend to expect from bands in this scene. I try to bury myself behind the mic and convey feeling more than rhythm. That translates well for some, but to really achieve acclaim in this scene I think people expect a show and I was never interested in giving them one. Not like that anyway.
You've been remixed several times and you did a lot of remixes yourself. Is there a certain track or band that you really want to give an IRIS treatment?
I'm a bit out of the loop on things so I haven't given much thought to remixes lately. I probably should, particularly if I start releasing a few solo tracks. I thought about just putting the vocals out there and letting people try things, that could be interesting. I think Rich from Mesh did a wonderful job with Lands Of Fire, and he's become such a talented mixer as well. His work really has a depth to it that's hard to achieve, so having him remix or even mix would be super cool.
With Appetite you even scored a number one hit in the mainstream charts in Poland. How did that story go?
I'm not sure what happened exactly, we just heard it was climbing a mainstream chart in Poland so we started watching it, then it just kept on climbing. I remember the morning it hit number one, I texted Andrew to go look at the chart, I mean we were both pretty stunned. We went over there and did this signing at the Media Mart and all these people were waiting for us. I guess that's as close as we ever got to knowing what it feels like to be in a well-known band, but interestingly I don't think it was something where, once we had it, we needed it. It was just an interesting experience.
Something completely different now. You are known as an environmentalist. Can you tell us something about that?
I feel like I need to have done something to earn that title, so we might say I'm an "aspiring" environmentalist, conservationist, and animal welfare advocate. Over the next 20 years my goal is to live a purposeful life that's driven by a desire to promote new attitudes about the legitimacy of animal suffering and the compassion for life of all kinds. It started with my parents who're weren't hippies or anything, in fact I grew up in more of a 1950's conservative household, but it was also a home of free thinkers.
We lived outside of town and in addition to the lost dogs my mom would bring home, my parents gave me one rule I never forgot because it stood out … I couldn't kill a snake found close to the house unless it was venomous, and I learned early how to tell the difference. The rule also meant I couldn't kill any snake, even venomous, if it was out in the woods behind our home. That slight complexity in decision making probably awakened my sense of compassion and responsibility for other creatures, and the seed grew deep roots within me. I grew up realizing that respect for living things was not a hippie philosophy, not a liberal philosophy, but the correct philosophy.
All this has come home to roost over the last few years, and I think I know what I'm here to do now. I have several initiatives I want to drive, I just don't know exactly how that's going to work yet. It's about finding new ways to move people who are generally apathetic into taking a whole new look at these things. Everything from how our food gets to the table, to the quality of our pet's lives, to just taking an increasingly progressive stance for wildlife and animals in general. When you think about it, we as a species won so the least we can do is be a good sport and show benevolent kindness to the others who also occupy this world. That makes sense to me but right now I see little of that sentiment, so essentially my goal is converting apathy to compassion, shifting compassionate attitudes into a higher gear, and turning the dial on these issues significantly within my lifetime.
In 2013 IRIS exists 20 years! Are you planning something special for celebrating that birthday?
I'm not really hyped about the 20 year mark for some reason, I haven't thought about it. I tend to focus on the here and now and what I want to do in the future. That's a cool milestone but right now I'm interested in Voice in the Wilderness, which is a fresh start that comes right at this 20 year mark. It's a nice segue.
What's on the IRIS agenda the next couple of weeks or months?
Just more time with an easier pace. If I came up with a track I really thought could be interesting, I'd probably send it to Andrew with complete vocals attached. That way if he wants to work on it we can release it on Soundcloud like Another Way, and if not then no big deal. I think we're both pretty open to that method.
A final word?
Keep your optimism. No one in this world is better than you, not one. Everyone has their strengths but even your weaknesses can be overcome with hard work and focus. No one is smarter -- intelligence is so complex that no one alive can glimpse it. Albert Einstein says "imagination is more important than knowledge" and I think he would know, so no matter what they say or how they make you feel, you matter as much as they do and probably a bit more. Hold your head high and dig a deeper well until you find water.
Thank you very much for your answers Reagan,and I really hope we can welcome a new IRIS album one day!
Jurgen VANVLASSELAER
17/02/2013
---