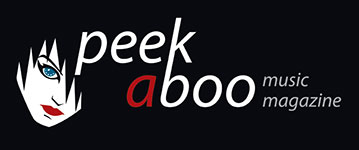 like this interview
---
THE KLINIK
We just picked things up where we left in 1991 but with the touch of today. Everything fell into place...
09/03/2013, Chris KONINGS
photos: © Marquis(pi)X
---
With a new album just out, we could not help but ask Dirk Ivens a few things about the renewed Klinik. Marc Verhaeghen is also back again creating music with that old school Klinik-touch, but live it's Peter Mastbooms who is delivering the firework.
Hi Dirk, how does it feel to be such a busy man?
It's not that bad ha, ha. I think ,I have more free time than other people and it's only a matter of planning and music is what I do, so.....

After the reunion at BIM 2003, you started playing regularly again. What was the trigger for making a new album?
The reactions where so good after that reunion gig that we had a lot of requests to play more so we said why not. After 5 years we already talked about doing some new stuff and we started working on it and tried some things out on stage. But then Marc got sick, we put everything on hold and I concentrated on my other projects. People were wondering what was going on and I decided that we should work and finish it with the material we already had. So in the last months we picked up everything and suddenly everything fell into place.
When you say you took the material you had and finished the album like that, do you feel it has been rushed? For me the album does not sound like an immediate classic like Sabotage or Fever. Quality yes, but the only really special moment on the album is the song "Stay" (for me that is).
No totally not, everything was just "on hold" but then we realized it was no use to wait any longer to finish it. Of course everybody will have his favorites and regarding the reactions I read I can only say they are all different and that's only a good thing because we tried to create different moods and atmosphere. This album will grow like cancer.
About the song Stay, what is it about? Immigration problems?
With The Klinik we always found us a bit the outcasts in the musicscene. A lot of people who see us with our leather jackets and bandages have unpleasant feelings because they can't see any expressions on our face. To them we say that we don't belong here and we keep our distance.

The promo sheet says that this is The Klinik in its original line-up. That's not really true, is it? How are things going with Peter in the group?
Because of Marc was not really feeling good, he decided not to perform onstage anymore, Peter became the second man beside me onstage but in the meantime we can say that he's officially the third member of The Klinik. It's been 22 years ago that Marc and myself put something out together, so it's back to the roots. How it will develop with Marc is anybody's guess, at the moment he concentrates on new music for The Klinik but we hope he recovers soon and that he will be able to join us again on stage soon.
It was 22 years since you jammed with Marc, did that change a lot of things? Since both of you have evolved in that time.
We just worked in the same style. Marc recorded some basics, then we came together and created the song structures, then I took them home and started writing lyrics. Last part is adding my voice to it and mix it.
I don't really hear an evolution in The Klinik sound however, it still sounds just like it's 1988. No ambient parts like the Hands albums nor any of the 90's sound Marc was doing back then...
We just wanted to pick things up where we left in 1991 but with the touch of today. For ourselves we make the songs we like to hear as real Klinik-fans. And we go far for that. Even the voice was recorded on tape, not digital, to achieve that. The same instruments, the same voice, the same spirit and a good mastering done by Eric van Wonterghem who was also a Klinik-member in the past.

I guess you have the labels for the choosing and you have your own labels as well. Why the release on Out Of Line when you have Minimal Maximal and others…
If you want to play on the well known and bigger festivals in Germany like Mera Luna then you need a big German label who is doing a great promotion. Out Of Line asked The Klinik for years and years and years , so with this release we thought that would be the best option because they do a great job and they have more influence than a smaller label and to be honest, the musicindustry is not what it was 10 years ago. We need all the backup we can get.

Did you sent any cd's to radiostations? Or is that from past times, or maybe you just don't bother anymore?
Of course we bother about the promotion but I have no idea how they handle the radiostations. Like I say, a lot changed. In this digital area I think they also spread out files through the internet because I cannot imagine that they can send the cd out to everybody who ask for promo's. Because of the internet the world has gotten smaller, everybody knows everybody but that would be really too much for them.

Why the difference in the tracklist between the cd and the vinyl version? Which one feels best in your opinion?
Simply because we divided the time of the tracks to get around 19'30"" minutes on each side of the vinyl but the order we have in mind is the one from the cd version.

Dirk, you have four musical children. Which one is your most beloved one?
The youngest is also the one you look at the most, so for now it's the new Klinik ha, ha. But all in all, I have done so many things but always at certain times, so every record has his own time, place with certain memories.

You're a huge recordcollector. What's the most insane thing you ever done or bought?
I have many records indeed where a lot of people would do crazy things for, several collectors or records that are very hard to find. I still buy a lot, I am a music addict but I listen to all I buy, it's not just for collecting and putting it in a closet. I always say that the value from a record depends on how badly a person wants it. I spend a nice amount on a limited 7 inch from Muslimgauze while it's of no interest for others, it's very personal.

When surfing through the net, it struck me that you can easily download all the albums by The Klinik. What do you think from that?
And no one has the right for it to put them online. I'm afraid there's not much to do against that. We are little fish so I can imagine that for people like David Bowie who just released a new album it's much worse, however he doesn't need the money so badly ha ha.

There is a huge interest in South America for the electronic scene. Have you already got propositions to play over there?
As a matter of fact we are invited to play Sao Paulo / Brazil again, we have a lot of fans there and the people are overwhelming. A pity that it's such a big distance otherwise I would try to go more often that direction.

Surely a lot of upcoming shows, Bimfest maybe? Which ones can you confirm?
The ones who are confirmed now are Out Of Line Weekender / Berlin – Rewind Festival / Ghent - DMF Festival / Munich – Mera Luna Festival / Hildesheim, more dates will be added soon but we are working on it. You can find all info on our website.

Thanks for the interview!
Chris KONINGS
09/03/2013
---