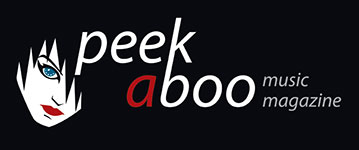 like this interview
---
PARADE GROUND
We're the musicians of tomorrow. Our course is a race for eternity.
02/03/2013, Didier BECU
photos: © Marquis(pi)X
---
On the latest album by Mesh there's a superb track named Never Meet Your Heroes. True as they only can disappoint you, but not if they're named Jean-Marc and Pierre Pauly. Those brothers are better known as Parade Ground. They are probably the weirdest band in the music-scene. Sometimes I call it genius synthpop with a harsh edge which is created for melancholic schizophrenics. Don't look too surprised as Pierre describes his music as puke. And yeah, that's what is...puke comes from the stomach and that's where Parade Ground-songs are coming from as well. I could fill our whole website with words of praise for the most underrated band ever, but I guess it's better that Jean-Marc and Pierre are explaining it.
Hello guys, I know it's unthankful after all those years, but how would you describe Parade Ground for those who haven't heard your sound yet….
Jean-Marc: It's music or poetic vapors for the milky way mixed with the rage felt inside towards all of the miseries of the world and injustice. It's melodic and spiritually-inspired as well as dreamed during the passing of more millipede trains and images from before the second world war's cinema.
Pierre: Two kids watching themselves in a mirror.
Anyway, I'm lucky I know you for decades. Let's first talk a bit about the 80's. Whether you hate or love Parade Ground, men must admit that you created a very own sound. Somewhere in the past everyone had (even crap bands), but today that's gone. How come?
Jean-Marc: Maybe people are too easily satisfied with what they can get directly from the electronic devices. There's also a very human feeling needed , a more personal touch of artistic Onirism, like sculpting sounds or shaping the air.
Pierre: At the beginning of the eighties everything has to be made, invented, created. New sounds with all the new instruments that appeared at the time. We've always wanted to divert, make what was unexpected , we even created our own tuning. I think computers have leveled everything. Everyone's an artist nowadays. All the bands have the same sound and the same rhythm. Very basic and down to earth booom, booom, boom, everybody does techno, there's no swing or sensitiveness, whereas it really is the most peasant that can be.
I don't want to give our readers the idea that this is a chat between two old men, but I often think the past was better. I mean, Pierre and Jean-Marc, today we have all possibilities to say something, but everybody's shutting up. Was the past better?
Jean-Marc: Tomorrow's a key of catchable luminousness like sand being projected on a wall. Feeling how is a cry. The future is always chiseling.
Pierre: The past doesn't interest us at all. I think it is pathetic that people should 'deify' the sound of the eighties. It is a proof of powerlessness because nobody achieves to do any better or at least as well. One must get rid of this idea of the beautiful and the ugly … As to painting, the concession is color, as far as music is concerned , it's the bass drum.
In the 80's it was perfectly normal to see you on television, today it's even difficult to see you on stage. We can't say the cultural interest from people has evolved, not?
Jean-Marc: Music business was more open-minded , now it's just a vain shimmering.
Pierre: With internet ,everybody has an encyclopedic knowledge. But everyone is so shy ,tidy and academic. There's no will to discover or to put oneself in danger. Money rules everything, look at Brussels : the capital of Europe which doesn't dispose a museum of modern art. Everything works through little arrangements between friends, there's no more integrity, one sends the elevator back. Certain bands pay (or their record company) to be able to play or to be part of a CD sampler in a big magazine or to get an article. We want an anti-art, anti-music.
Your early records are collectors and due to that fact, they've been re-released. Now on stage, you certainly aren't a jukebox. Aren't you tired that people think Parade Ground is related to those 80's-sound?
Jean-Marc: We're the musicians of tomorrow. Our course is a race for eternity.
Pierre: This is the point of non-understanding : when we came back we didn't want to play our old numbers 'we are not human juke-boxes' and we only played our numbers from 'Rosary'. But since we have worked again on our 'hits' from the eighties, it is the base (with new numbers) from our live set. These are numbers which have as much soul , but in a different way and are now very catchy and punchy while keeping the melodies.
The current Parade Ground-sound has changed a lot. There's much more anger in it. How did that evolution came?
Jean-Marc: The anger was there from the beginning but it's more art than violence that you should fear at all.
Pierre: The music we did in the past was like vomiting on a frame of velvet. Today, we erased the frame.
Parade Ground is also a band that throws it right in your face. I know quite some people who are shocked by your approach in music. Do you think you're extreme?
Jean-Marc: Rosary was extreme because of its truth. Now we're true because of our veins.
Pierre: We have found a way to mix melodies , tension and dreams. What we play on stage nowadays is totally mainstream, pop and melodic but our power , our truth and sincerity remains.
You're not talking to a stranger. You know you're my hero, but sometimes they say it's better not having heroes. What do you think?
Jean-Marc: Except Jesus. But he's so much more than a hero !
Pierre: I have no problem with that, you're my hero too ! I know, that it may sound demagogic but I consider the people who love our music as being part of our family. The same feeling, the same sensibility. We are no more transparent through the pain.
You once told me that your music is your puke. It was the most touching way I ever heard when someone described his art. You still think art is puke?
Pierre: Yes, definitely. It's the most sincere expression of being dead. Artistic creation, birth, existence and death are puke too. We become ants for the cruelty of becoming ants.
Jean-Marc: It's pulsing life instead.
Talking about art. Do you anything else art-wise besides Parade Ground?
Jean-Marc: Drawing lines on a schedule and setting free birds free. I also write stories for kids. Every form of art interest us.
Pierre: I'm more involved into plastic art, conceptual or rather de-conceptual. We have created the arealistic and UX movement. We want to create what cannot be create.
Parade Ground might be one of my absolute fave bands, Pierre. But there are times I'm too scared to listen to it. Do you think there are any limits?
Jean-Marc: It's a matter of personal feelings and receptibility.
Pierre: To me there never are any limits to art, creation and existence. Our vomiting is without bounds. Alone…Solid…Solitude…Badly shaped…Life hasn't brought anything…
People who see you on stage say you don't have limits. You know, I saw in my life thousands of concerts on a daily base. When I saw you performing at Body Farm at Magasin 4 to celebrate your 25th anniversary, I came outside and I started crying. I knew by then that I would never see a show that could be better than that. Do you sometimes feel like such as well?
Pierre: It's exactly the way we feel for each of our concerts. I have never enjoyed performing live and still don't because it's too much suffering, almost unbearable. It's urgent…It's an emergency…The aesthetism of nausea.
Jean-Marc: Curiously enough , I feel exactly the contrary. I've never enjoyed playing live as much as I do now. It has become a vital breath for me.
Talking about Body Farm. Is there a chance there'll be another one?
Pierre: We talked about it with Patrick Codenys from Front 242 and we still think it was a great project and concept and we'd love to go for this again in the future but with different bands and different shapes.
Is music dead in 2013?
Jean-Marc: To me music will never die and we shall always feel the echoes from the nine choirs of angels.
Pierre: Music isn't dead , there still are great bands but music is vegetative , under perfusion and monitoring. It doesn't seem to evolve anymore.
I want to ask you something about your inspirations. Where do you find them?
Jean-Marc: The Holy Trinity and the Virgin Mary are everything to me. They make my singing alive. 'I know a flowered path the beast can't soil' , quotation from a Parade Ground-song.
Pierre: It all comes through psychiatric experiences, suffering, pain and dreams. I'm very interested in every kind of sounds, crying, shouting and empiricism.
If I hear your music, I hear a person who's not that happy….
Jean-Marc: Happiness is a matter of truth.
Pierre: One doesn't ask a corpse what it is doing in its coffin. The thing I reproach to today's musicians is to be hedonists and sensualists. It isn't in any case the best way to create.
Something about today. Is there a new album in the make?
Jean-Marc: We're working on a new album. Most numbers are almost ready.
Pierre: After Rosary, which for me, was close to perfection, we really wanted to achieve something new that would prove that even a band from the eighties still can be innovative from the new generations. Anyway it will be a return to our electro roots with the quality of what we do best : melodies and Jean-Marc's voice.
Jean-Marc: We hope this new album will be a quintessence of fireworks leaving the listeners open-mouthed and gaping with the whole sky filling their torso like a merry-go-round.
Pierre, you are also involved in Maria, your solo project. How's that today?
Pierre: It is a project that matters to me. It's a good project, but the concept is sufficient. In the beginning, I wanted to create numbers that would be 'different' for Parade Ground. Go 'elsewhere' … I don't want to make any concessions and keep the mystery and the freshness, stay outside of the system ; record, concert … I'd like to make an exhibition in a slaughter-house or on a carousel …
I always ask it to everyone so to you as well…. What's your favorite record of all time and please state why.
Jean-Marc: Sparks 'Kimono My House' , magnificently produced, very inspired and inspirational, great lyrics and humor. A masterpiece.
Pierre: 'Always Now' by Section 25 For the music, of course, but also because of the best cover ever and the brilliant production. A desire form.
With whom wouldn't you mind to be alone with in an elevator for 8 hours and what would you do?
Jean-Marc: The Virgin Mary. We'd pray the rosary together.
Pierre: Antonin Artaud. We'd write desperate clouds …
Last question. Do you think they'll play Parade Ground in heaven?
Jean-Marc: Where else ? And the angels of goodness will sing with us !
Pierre: Yes, they already have our records dedicated !
Didier BECU
02/03/2013
---