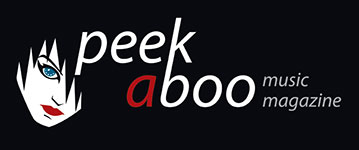 like this interview

---
PARADE GROUND
'We play with our figure as acrobats. We see the audience as instruments and love to play with them.'
03/10/2017, Sophi KATZ
---
Parade Ground was created by two brothers Jean-Marc and Pierre Pauly in 1981. Considered as pioneers of cold wave, synth pop and EBM, their first 7" was released in 1983 produced by Daniel B and Patrick Codenys (Front 242) on the New Dance label. After various maxi singles, still produced by members of Front 242 but also by Colin Newman (Wire), their first album was released in 1988 under the title 'Cut Up'. Parade Ground would then write and compose on two Front 242 albums ('Up evil' and 'Off'). After several years devoted to other activities, namely literary and plastic art, the brothers made their come back in 2007 with a new album 'Rosary' produced, this time, by Patrick Codenys (Front 242).
In 2011, a vinyl compilation album 'The Golden Years' was released on Dark Entries Records USA. In 2012: the release of a vinyl album 'The 15th Floor' including unreleased tracks from the eighties. In 2014: career-summarising CD 'Strange World' on Infacted Recordings 'Classic Series'.
The future is now!
Band members:
Jean-Marc Pauly
Pierre Pauly
Let's shake, rattle and roll…

How did you came up with the name Parade Ground?
JM: It came as a reaction against the obligatory military service, Pierre was a soldier of misfortune at that time.
P: But also because of the ballet 'Parade', written by Erik Satie about a poem of Jean Cocteau.
Which bands or artists have affected you the most so far?
P: It's much more plasticians, writers, choreographers, architects, fashion designers: Man Ray, Duchamps, Burroughs, Artaud, Céline, Klein, Broodthaers, Josef Beuys, futurism, surrealism, Dada, that have made what we are.
What are your songs about and do you hold back things you would like to scream out or do you just go for it?
JM: My lyrics are thought as short movies yelled so loud you can see the ears on the floor jumping like fish. We create castles of sound.
P: Jean-Marc is the last crooner, all of our songs are based on scansion and the scarification of sounds.
Have you ever been in other bands/projects before?
JM: We existed under the name MHZ before becoming Parade Ground. We've always created and composed together since we could walk. I reckon we have been playing on stage for about 40 years now.
Would you like to start another band or project alone or with others? In which genre?
JM: As far as I'm concerned, I give everything with Parade Ground.
P: So do I! Except that I have a side-project called MARIA – which I define like Disco decay-Kill me. It's a live project only.
How was working together with Front 242?
JM: It was cool, really. Especially with Daniel and Patrick who have a great sense of humour and they're incredibly talented.
P: They are true friends. It was impassioning to discover all the new instruments from that time: synths, rhythm-boxes, sequencers, with them.
Also, having worked and composed with them on two of their albums has drawn our friendship tighter. It's rare to be able to witness the creation process from another band so closely.
Which kind of music do you like more? Any guilty pleasures you wanna share with us?
JM: It is not so much the kind of music that we like but the sincerity of the bands.
P: It's much more sounds that we like. The way to transpose emotions and suffering.
Which instruments do you play and which instruments would you like to learn to play?
JM: We play with our figures as acrobats. We see the audience as instruments and love to play with them.
How is the atmosphere in Belgium for a band like yours to perform your show?
JM: They say you can't be a prophet in your own country but I must admit the atmosphere is very good.
P: We've always been apart, nobody helped us, we only have the audience to thank.
Do you miss the 80s or do you enjoy this time as much to perform your shows and how is it to come back after a while?
JM: We're looking forward to performing our next shows. Coming back after a while was real happiness -
and meeting a young audience.
P: Only the future exists. Did the 80s really exist?
Which things or subjects did you create or touch on in art and how was the public response? Would you like to expose it during performance or keep it seperate?
JM: We love the French movies from before the second world war: Renoir, René Clair, Carné, Duvivier and also surrealistic cinema. All this is contained in our songs.
P: Yes, I do create artistic objects: collages, diversion. It would be really nice to exhibit them during a concert. Why not on stage? I would love it.
How was the atmosphere in the 80s when you just started and what motivated you to bring music out in this world?
P: The 80s were fantastic in the sense that everything seemed open and possible at that time.
We discovered new forms of creations. Everything was new, naked, to be done.
Are you more inspired during the day or during the night to write lyrics and make music?
JM: I prefer writing at night. Composing always seemed a nightly thing to me.
That's when the stars shine. Sometimes they shine by day.
Are you working on a new album we can expect soon?
JM: Yes we are, actually. But we will keep our secret sacred.
P: 15 tracks have been recorded but we would like to work with Patrick/Front 242 and since he has very little free time…
If it was up to you would you like to release music on CDs, vinyl or cassette and why?
JM: Well, it is already the case with Parade Ground.
P: I guess on CD and vinyl. We did miss the very object itself, almost alive: a piece of art.
The analogic sound: incomparable.
People that don't know our subculture / underground scene kind of have a certain vision of it, how do you think they come to such a way of thinking?
P: We always play and create as if it were for the last time. The subculture has always been the reflection of a society. The stronger, creative, innovating it is, the more the society fights it.
For the time being, the society doesn't fight it anymore... It has been assimilated.
Who you would like to direct and shoot the music videos if you could choose?
JM: I think I'd go for Parade Ground again. It's part of the same world.
Any artist you like to collaborate with for the cover of your music album?
P: Too bad Man Ray or Marcel Duchamp are not available for the moment...
We'd love working with Peter Saville or the Flemish artist Panamarenko.
But maybe after all these years, we'd prefer doing it ourselves...
How is going on stage and what was the most memorable night and why?
JM: A concert in Torino where Pierre and I played like children on stage and my brother danced like Pina Bausch.
It was awesome.
P: The stage is the most important thing for us: it's the place where everything is possible.
You have to put your skin on the table, you must pay for it.
With which bands would you like to go on tour?
JM: A gipsy band could be fun.
P: One should ask what would be the bands that would like to go on tour with us...
In which country would you like to play when you are on tour and do you prefer to play for a small audience or big audience and festivals or in a club?
JM: We love Italy and just about every place where we've been was an experience and a kick.
P: I think: big audience in a club.
Are you excited to perform at BIMfest 2017 in December and are you preparing a mind blowing show or a raw, pure, "rock and roll" gig?
JM: It's gonna be a vintage set. It should be quite a blast. Haha.
What are you personal thoughts on our subculture these days? What would you like to see diffrently or do you prefer that it stay like it is?
JM: Sub to what? It's just different, that's all.
P: I'm afraid it is more and more endangered. It becomes more and more calibrated and well-ordered.
Less than mainstream like Tomorrowland but... and you can find 'subculture' clothes, style, at H&M or Zara.
You know, we have seen London in 1978 and played in Berlin in 1983!
Tell us your most beautiful dream or the worst nightmare you had?
JM: I always avoid the nightmare of a dream...
P: The worst nightmare is to be born. To die is nothing but to be born...The aesthetism of nausea.
If you could dress a famous person to your personal taste who would you pick and how would you dress that person?
JM: I'd pick Sophi Katz and I'd dress her in a princess gown.
P: I think that I would dress the person's soul first and then dress it up with melodies and sounds.
If you could design a game which kind of game would it be and which character would you choose to be?
JM: I'd be the angel of paradise. I'd be my brother's dance.
P: One doesn't ask a corpse what it is doing in its coffin...
Do you see dancing shadows at night that whisper melodies in your ear?
JM: I danced with the sky and swallowed a bird three times entirely then I was a singer on my shoulder.
P: Is tragedy the only desire? Through this, we don't belong to music anymore.
https://paradeground.bandcamp.com/album/the-golden-years
Sophi KATZ
03/10/2017
---