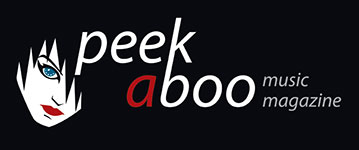 like this interview
---
VERSUS
'TO PRODUCE A COMMERCIAL ALBUM WAS NEVER OUR INTENTION'
17/09/2017, Stef COLDHEART
---
Versus is a German formation that was founded in 2001. They released their official debut album "Different Twilight Places" in 2010 on Echozone. After that promising electro-pop debut it took them 7 more years to accomplish the second full length album. The band has now joined hands with Trisol to release "FreakWaves", which I would describe as an intelligent electro-pop format. It's an album that will appeal to electro-pop lovers. I got in touch with the creative spirit and singer of the band André Steinigen.

Can you briefly remind us who's hiding behind Versus and how and when did you set up the band?
André: I founded the band in 2002 and I know it sounds like a super cliché but the band consisted of school friends. After several changes among the cast, the actual members are Roman, Daniel and myself. Roman was already a live member of VERSUS and I knew Daniel in the beginning only as a musician friend, who had his own band FOD. VERSUS is yet again a band where all the musicians are friends, which makes the whole work progress much easier.

"FreakWaves" is your first new album in seven years! What happened in the meantime and how would you analyse the evolution in sound and influences from "Different Twilight Places" to "FreakWaves"?
André: We actually never stopped producing music during our seven years break. We still wrote songs, we played concerts and continually announced this new album. Unfortunately, we struggled within the band, that impeded our creativity. Besides that, we also changed label. Nevertheless, this rather 'dark' time had a positive impact on us: I enlarged my personal music taste, we also gathered more experience and maybe we matured as well. In other words: I found the strength to write lyrics in my mother tongue and to be more open towards new music styles.
Eventually therein lies the big difference between our last, rather unwieldy album "Different Twilight Places" and "FreakWaves", which has a more positive vibe and a more commercial acceptance. I would like to emphasise that to produce a commercial album was never our intention. We rather aimed to produce songs which are catchy. And I think, we did a pretty good job on that.

You define your music as 'AhojPop'! Can you tell us a bit more about the deeper significance of this 'genre' and what are the main differences with 'electro/synth-pop'?
André: Actually it's a funny story. Everyone seems to wonder; which music style we have. My answer to such inquiry was: a mix of synth-pop, electro, EBM, Techno, hip-hop, punk etc. but after a certain time, I got bored listing all those music styles, the audience got a bit confused and our former label had some issues announcing our band correctly as well. Hence, and due to German quirks, we decided to found our own genre.
We chose to acknowledge our favourite shot, which is Vodka-Ahoj and knowing that we are going to produce more pop-songs, the name of the genre was set to be 'AhojPop'. We branded the genre by naming our fans 'Team Ahoj' and adding a stage performance team with the name 'Team Ahoj Garde'. It is now obvious, that the naming has no 'musical' background, but should give a hint about our will to interact with the audience during our concerts. Nevertheless, it makes it very easy for us to perform any music style we like and to kind of hide behind the genre. We don't have to keep ourselves within any set norms, if we would like to add a guitar, we just add one. If I would like to rap rather than sing, I'll do it.... cause it's AhojPop.

Lyrics clearly are an important element of the production, right? So what did you try to express and do you feel like being 'a band with a message for their fans'?
André: It is up to the audience to decide if they like the song or not. The impact on the music, I tend to consume, lies within the content and lyrics. The topics don't have to always have a profound meaning but I really like if the artist masters the right choice of words, telling me a nice story within the song. I believe that I managed to master this on our last album, though we did not have one particular topic. I think that we are a band, which rises a critical voice and which also addresses unpleasant topics. We don't want to lecture but to provide food for thought. In principle, I tend to compose the lyrics out of my point of view, adding my experiences but the artistry is to keep it open for interpretation for any outsider although some of them have a clear message.
"FreakWaves" is a personal album, which is a fascinating fact for this album. Every song has a personal background – I can tell with each song a personal life-story. I am showing my inner-me to the audience. I experienced so much the last seven years: positive and negative things, which all blend into the songs. There were no critical songs at the beginning of the production but nevertheless the actual global situation is worsening. Though homophobia, poverty and various strokes of fate like being on the run or living conflict areas, inspired me to add the songs like "Love2Go", "Gloaming" or "Wir Sind Anders". I would again like to emphasise the ratio of German towards English lyrics on our album: I really like the fact that after seven years of break, I braved up to write and sing in my mother tongue.

Tell us a bit more about the writing process of the album and its possible influences that inspired you composing danceable cuts at one side and more electronic ballads at the other side?
André: I can't really describe the process since I don't have a fixed one. Sometimes I start with lyric fragments spinning in my head, out of which I write the final lyrics. Sometimes it's just a melody, which I dictate to my phone and finalise it to a demo. I recorded the initial melody to "My Friend" while commuting on my iPhone then I finalised it at the studio. There are days on which I tend to focus on a particular song style. But, generally, focusing on a particular song style is rather difficult for me, since I write more from the heart than from the head. Daniel can do that much better than me. He also has the higher technical knowledge, which facilitates the song writing process enormously. Roman has the talent to express his opinion about a song in a way, where he understands what the crowd desires. The decision if a song is a ballad or a dance track is usually made in the studio. Though I write more ballads, which turn out to be dance tracks than to be ballads in the end.
Stef COLDHEART
17/09/2017
---