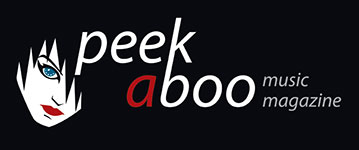 like this interview
---
DICEPEOPLE
'Electro with an Industrial/Gothic edge and broad range of other influences'
17/08/2017, Stef COLDHEART
---
London based Dicepeople was set up by Matt Brock. By the newest self-released EP "Synthetic" the line-up also featured Atashi Tada (vocals) and Rafael Filomeno (visuals). Dicepeople deals with a wide range of influences but often carried by a solid pop basis. The global sound production became more elaboratedand I dare say 'more intelligent'. Dicepeople is a band with a huge potential, which I hope they will realise on their next album.

Tell us a bit more about the background history of Dicepeople and what were the musical references and possible sources of inspiration?
Matt: I'd been involved with a number of projects and felt it was time to focus on one band that distilled everything I wanted to say musically and lyrically into something coherent and intense, blending my broad range of influences in the process. Dicepeople grew out of that and has gone from strength to strength. We're influenced by film and visuals as much as music, which adds a cinematic quality to the music and also comes across strongly in our live performances which incorporate significant visual content.

You've now been active for a few years and seem to reflect certain 'DIY' attitude. What does that mean to you as 'artists' and what's your perception of 'working' with labels?
Matt: The challenge is finding a relationship with a label in which a wider audience can be reached with everyone being on the same page musically and artistically. I'm involved with a new label called Syndicol Music which was set up by Charlie Dawe from Ventenner. We're signing a whole range of great artists, so it may well make sense to release some Dicepeople material on Syndicol.

I noticed you're inspired by a wide range of bands and different music styles. How do you transpose influences into your own music style and how would you analyse your own sound?
Matt: All sorts of influences have driven me over the years when writing - from metal to post-rock to EBM to synth-pop. My aim is to integrate this range of genres into a coherent fusion that conveys the atmosphere and message I'm trying to get across, whilst blending some retro sounds with a modern production. It's always very hard to categorise yourself but I use the term 'dark electro' to mean electronic/electronica with an industrial/gothic edge and a broad range of other influences.

You already did multiple live shows in the UK. What kind of live band is Dicepeople and what have the contacts (and reactions) been with other countries thus far?
Matt: We put on highly immersive shows, with musical performances closely synchronised with visual projections. We get nice feedback on our shows - the audience seems to get drawn in and transfixed which is very much the intention and people often wish we'd played for longer! We're getting increasing interest from bigger promoters and are hoping to broaden our appearances to more venues across the UK and potentially other parts of Europe. Our next show is a night we're putting on with LegPuppy at "The Water Rats" in London on19th August with a range of great artists and DJs.

Your newest EP "Synthetic" reveals a sophisticated and fully accomplished electro-pop style. What's your perception of this song in the band's discography so far and what does it reveal about the new album you're working on?
Matt: Our last album "End Of Line" hinted quite strongly at 'pop' territory and I wanted to explore that further with "Synthetic" and "Strangelove", both of which have gone down very well and even inspired musical legend Carlos Perón to re-master the song and video for "Synthetic" with fantastic results. The new album will explore darker territory again whilst maintaining that kind of song crafting, so hopefully it will be the best of both worlds.

You recently covered the song "Strangelove" originally written by Depeche Mode. How was it working on this cut and what did you try to express in this version?
Matt: Yes, we just released the single on 31st July in fact, as a free download with the video plus a remix on the B-side. It was very difficult to choose a Depeche Mode song to cover where I thought justice could be done to it. "Strangelove" is a great song but I felt there were areas in the arrangement where we could add something worthwhile. I hope we succeeded in enhancing the song's concept and vibe and adding an 'edge' to it. The video offered an excellent opportunity to explore the themes and atmosphere of the song in a really creative and unexpected way and both song and video have gone down very well so it seems we did something right!
Stef COLDHEART
17/08/2017
---