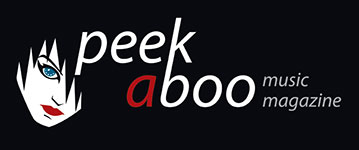 like this interview
---
LIQUID TRAUMA
OUR MEMORIES OF A BETTER PAST ARE OFTEN FAKE
03/08/2017, Stef COLDHEART
---
Liquid G + TraumaSutra = Liquid Trauma. Peter Van Bogaert (Liquid G) and Peter De Koning (TraumaSutra, Hedera Helix, Hybryds, Intens) joined hands releasing the vintage EBM-sounding album "Distorted Memories". The album has been released on the Belgian label Wool-E Discs and will appeal to all lovers of early Belgian EBM music. This is a dark opus featuring spooky vocals, icy sequences and haunting atmospheres. This is how old-school EBM has to sound!

How did you guys get in touch and what were the initial ideas (and sound direction) to start this new project?
Liquid Trauma: In the past we sometimes shared the same stage and became friends. Later on, we did guest appearances on each others shows: Liquid G., Intens, TraumaSutra.. The combination of soundscapes and EBM worked so well that we decided to create tracks together. Our recording sessions were really energetic and spontaneous, as if we had been working together for years.
What did you like in the work of each other?
TraumaSutra: Liquid G. has this classic Belgian EBM sound that I've always loved and combines this with a more industrial touch. But he also works very independently, uses the tactics of DIY punk culture. You can hear this punk mentality in all his songs.
Liquid G.: I love the soundscapes of TraumaSutra and how he creates them and the way Peter DK works on stage with the stuff he collected over the years, some call it garbage, we call it instruments… Also Peter DK is a fantastic piano player and singer-songwriter!
How did the writing and recording of "Distorted Memories" happened and did you follow an established way of working?
Liquid Trauma: Not really. Sometimes it started with new analog sounds, another time Liquid G. came up with a good rhythm. It works very naturally.

The sound clearly reminds me of the early days of Belgian EBM but it is first of all a kind of antidote to all contemporary formations using similar gear and similar sounds. What's your own perception of the scene today versus Liquid Trauma?
Liquid Trauma: We think that every generation has its own artists that are worth listening to. Sounding old-school was never a goal. I guess it's just what we are. Also, we do not mind what is in vogue. We just make what we want to hear ourselves.
What's the importance of the lyrical content and in, which way is it related to the title of the album?
Liquid Trauma: We think it's important to remain critical in a society where government (and big companies) control has become normal and wherein we see lots of fake images and ideas. People live their lives online and are sometimes losing touch with the world outside. On the other hand, our memories of a better past are often fake.

What are the further plans about Liquid Trauma (live shows, new songs…) and the other projects you're involved with?
TraumaSutra is involved in lots of projects. TraumaSutra itself performs a lot but mostly in a different scene: little art exhibitions, squats. He is also a part of lots of other projects: Hybryds, Hedera Helix, Dark Poem, Intens...
Liquid G.: Live gigs are currently not under discussion for me because I have too many health problems. When I feel better, maybe we will doing another live gig with Liquid Trauma.
We will continue creating new tracks, and maybe a new album within 8 years :-)
Stef COLDHEART
03/08/2017
---