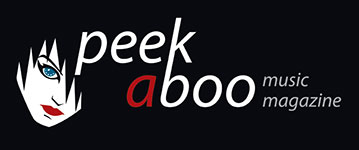 like this interview
---
BESTIAL MOUTHS
'BESTIAL MOUTHS HAS NEVER SOUGHT OUT TO RECREATE A CERTAIN GENRE'
14/06/2017, Stef COLDHEART
---
American formation Bestial Mouths is already active for a couple of years now. The debut full length "Hissing Veil" was released in 2011 on Dais Records, followed in 2013 by the self-titled work "Bestial Mouths" on Clan Destine Records. "Heartless" is the new full length, which has been released at the end of 2016 on Cleopatra Records. The work reveals the charismatic vocals of Lynette Cerezo featuring a timbre of voice à la Siouxsie Sioux while the music is more into electronics, bombast and epic arrangements. It for sure is an interesting piece of work, which incited me to get in touch with the band.

Your newest album "Heartless" was already released a few months ago now. How do you look back at this opus right now and are there some aspects you would have done a different way?
Lynette: I think that is always inevitable, but that is not a bad thing, it means growth and change. I am always searching for new and next level so I would definitely change and tweak a few things but I also feel it stands as a great representative of Bestial Mouths, and it hints as what's to come, and that Bestial Mouths has tons of possibilities (keeping listeners interested or engaged) for more exploration.

It's not that easy to define "Heartless", which sounds a bit like an offspring between different genres, but at the other side it also makes the originality of the album! What kind of album is it all about and was it the kind of work you'd in mind when starting the composition?
Lynette: You actually just described it and answered it perfect! "Heartless" is, I feel a culmination of Bestial Mouths past and present. Bestial Mouths draws from influences of music, life and art and what it creates is what flows from our veins. Bestial Mouths has never sought out to recreate a certain genre, it always strives and results what is in inside us. Ultimate goal is to make the listener notice and feel something. To not be afraid of what is dark and lurking in all of us, but a release.

Lynette, you've a very particular timbre of voice, which still is one of the main characteristics and strengths of the band. How do you take care of your voice and try to improve its production all over the years?
Lynette: Thank you, being something unique and characteristic is a great compliment to me. Of course health is always number one when caring for your voice, tour is very grueling on it. On tour I must take extra precautions which means plenty of sleep, nutrition and not talking much. It is very hard to stay disciplined when you want to be in the crowd and talk and meet new people (but if I do that too many nights I become hoarse). My live performances are very physical and emotional so I have to stay what appears withdrawn so I can give it all to the audience.
As far as improving, I am always looking to expand on new ways of singing or experimenting with ideas (one reason I love doing vocal collaborations with other bands/projects to take me to a new level I may have not done or tried or thought of before). I do try to vary deliver to match styles of music. I tend to listen to sounds of the world and nature and mimic them, listen to the song/notes and hear what it says to me.

I noticed Bestial Mouths already went through a few line-up changes, which I can imagine must have an impact on the production. What's the input of the new members and what makes the chemistry between you all?
Lynette: I have been beyond fortunate to have these opportunities to have created and collaborated with so many talented souls. We shared that and so many experiences together, all which you can hear in all the different releases. Each time you are paired with new people it's great to see how the chemistry works and what we all can contribute to the sound and songs. We can teach and learn from each other, each time I feel I grow and learn more and am pushed further, which is the goal I believe.
As in any relationship many factors lead to the chemistry, it is always a complex makeup of personalities, talent, and aesthetic.

Next to the line-up changes, I noticed you also worked with different labels. How comes and what do you expect from the new partner (Cleopatra Records)?
Lynette: Bestial Mouths once again has been beyond lucky to have worked with DAIS (who believed in Bestial Mouths from the very beginning and gave us a chance) to Clandestine Records and now Cleopatra Records. Having grown up on a lot of the bands who were on Cleopatra Records when I was a teen, there is something magical in being part of that now (something I would have never imagined). I am excited to see Cleo's rebirth and all the new bands it is supporting, love to be part of that energy.

Bestial Mouths seems to be a 'live band'. What does it mean for you to be on stage and what's the importance of the 'image', especially for someone who was previously involved in fashion design?
Lynette: Performing and bring the music to people live is very important to me. I feed off their energy and find reaching out to people can really express what Bestial Mouths conveys. I feel being on stage is the one moment I am truly free and my goal is to share and give this to others.
Well image, or aesthetic really, is an important factor for me in terms of art really. I believe all the senses, audio, visual, touch, are needed to make a whole. Everything we do stems from a concept and I carry it out through all medias. I believe it helps to really show what we are expressing properly.
Stef COLDHEART
14/06/2017
---